One of the most exciting opening three rounds in NCAA tournament history unfolded over the past week, and now the 2014 field for the Sweet 16 is set. A good mix of elite teams, surprising underdogs and dangerous seeds somewhere in between characterize the remaining March Madness squads, which ensures continual high-quality basketball.
With the number of games that have come down to the very end, most of the teams left have appeared vulnerable at times in the postseason. Others have caught lightning in a bottle after inconsistency throughout the regular season, making it all the more difficult to predict how the rest of the tourney will go.
It's going to be thrilling to watch regardless, so below is a look at the bracket information, along with the updated schedule, odds and predictions for each game. The analysis focuses on the most interesting matchups with regard to seeds, upset potential and other factors.
All Your Bracket Essentials:
NCAA Tournament Sweet 16 Schedule, Odds and Picks

| | | | | |
| --- | --- | --- | --- | --- |
| Thursday, March 27 | Spread | Time (ET) | TV | Pick |
| South - No. 10 Stanford vs. No. 11 Dayton | Stanford -2.5 | 7:15 p.m. | CBS | Stanford |
| West - No. 2 Wisconsin vs. No. 6 Baylor | Wisconsin -3.5 | 7:47 p.m. | TBS | Wisconsin |
| South - No. 1 Florida vs. No. 4 UCLA | Florida -5 | 9:45 p.m. | CBS | Florida |
| West - No. 1 Arizona vs. No. 4 San Diego State | Arizona -6 | 10:17 p.m. | TBS | Arizona |
| Friday, March 28 | Spread | Time (ET) | TV | Pick |
| Midwest - No. 2 Michigan vs. No. 11 Tennessee | Michigan -1.5 | 7:15 p.m. | CBS | Tennessee |
| East - No. 3 Iowa State vs. No. 7 Connecticut | Iowa State -1 | 7:27 p.m. | TNT | Iowa State |
| Midwest - No. 4 Louisville vs. No. 8 Kentucky | Louisville -5 | 9:45 p.m. | CBS | Kentucky |
| East - No. 1 Virginia vs. No. 4 Michigan State | Michigan State -2 | 9:57 p.m. | TBS | Michigan State |
Source: CBSSports.com, VegasInsider.com
Predictions
No. 10 Stanford over No. 11 Dayton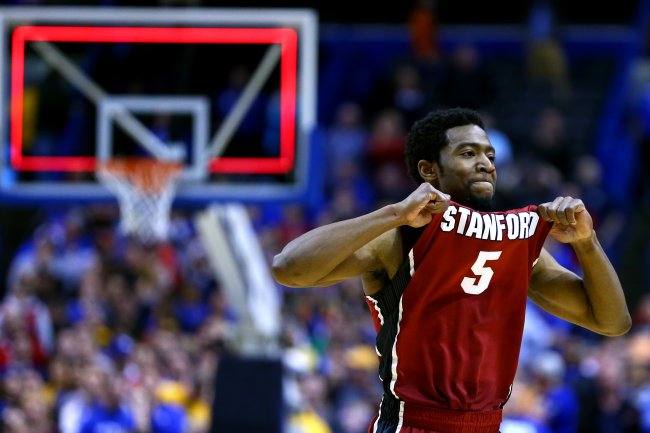 Dilip Vishwanat/Getty Images
It's difficult to believe the Cardinal appeared in danger of not landing an NCAA tournament bid for much of 2013-14, yet now will enter their Sweet 16 showdown with the Flyers as the favorite.
That just goes to show the madness and magic that can ensue in March. Coach Johnny Dawkins has gotten himself off the hot seat in his sixth season at the helm, making the most of his first trip to the Big Dance at Stanford.
Dawkins' emphasis on defense helped shut down the Kansas Jayhawks and Andrew Wiggins en route to a third-round upset victory, and he said he was pleased with the effort the Cardinal put together for 40 minutes:
We beat a very good Kansas team. Proud of our 40 minute effort. Looking forward to the next challenge in Dayton #40minuteFIGHT #GoStanford

— Johnny Dawkins (@Coach_Dawkins) March 24, 2014
ESPN's Jay Bilas noted how hot Wiggins was previously, which further accentuates the effort the Cardinal put forth:
KU's Andrew Wiggins scored 4 points (1 of 6 FG) v. Stanford. In his prior 4 games, Wiggins averaged 28 points, 7 rebounds and shot 50%.

— Jay Bilas (@JayBilas) March 24, 2014
Dayton is another team that prides itself on defense, which was key in upsetting formidable squads in Ohio State and Syracuse respectively. It won those games by a combined three points, getting timely baskets and stops down the stretch.
The Flyers had to sweat out buzzer-beating shots by two of the best point guards in the country in the Buckeyes' Aaron Craft and the Orange's Tyler Ennis, but here they are, keeping the Cinderella story alive.
Both Stanford and Dayton have thrived in underdog roles in this tournament, but it seems that the Cardinal will be favorites in this one. Their superior ability to score and better combination of high-low basketball make them a strong candidate to move on to the Elite Eight.
Great offense beats even the best defense, and when in doubt it's a little safer to go with the team that can score more. Plus, according to KenPom.com, Stanford is the higher-ranked squad in adjusted defensive efficiency.
Dynamic guard Chasson Randle also gives the Cardinal the most explosive scorer on the court, which will come in handy in crunch time. Center Stefan Nastic and forward Dwight Powell will also bother standout Flyers forward Devin Oliver enough to allow Stanford to advance in a close, defensive battle.
Prediction: Stanford 65, Dayton 58
No. 8 Kentucky over No. 4 Louisville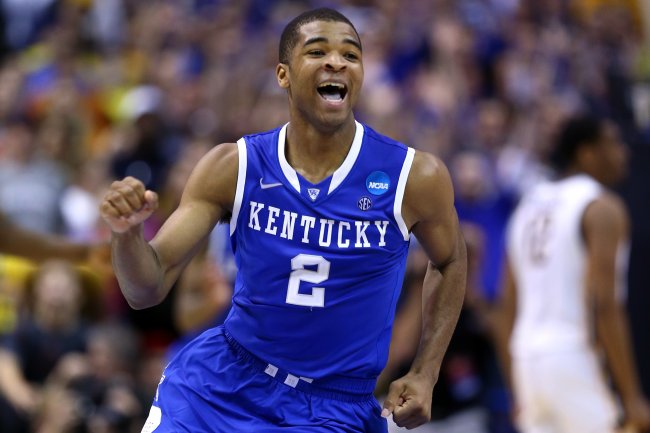 Andy Lyons/Getty Images
So we have last year's NCAA tournament winner in the Cardinals, whose coach Rick Pitino previously guided the Wildcats to national championship glory. Kentucky had one of the most hyped freshman recruiting classes ever, yet struggled to put anything together all season.
That is, until Sunday, when the Wildcats squared off against the Midwest's top seed in Wichita State.
It was as entertaining as any game in the 2014 tourney, and the young UK bunch answered every run the Shockers went on, displaying incredible, unprecedented poise en route to a 78-76 triumph.
ESPN.com's Paul Biancardi doesn't feel as though Wildcats coach John Calipari gets enough credit:
HC John Calipari is very good at and doesn't nearly get enough credit for his game coaching, and the development of his players and team.

— Paul Biancardi (@PaulBiancardi) March 24, 2014
An argument can be made there, because Calipari has had to deal with as many one-and-done departures as anyone in the modern era. That comes with the territory of recruiting such premium talent to Lexington. It's a nice problem to have, though, now that all the work he's put in is finally paying dividends.
Louisville is more experienced at its core, led by senior guard Russ Smith and other key members of last year's title-winning squad, along with Luke Hancock, Montrezl Harrell and Wayne Blackshear.
A surprising statistic from ESPN Stats & Info reveals that Kentucky has gotten the better of the encounters between Calipari and Pitino:
This will be 4th time that John Calipari and Rick Pitino meet in the NCAA Tournament as head coaches. Kentucky won the previous 3

— ESPN Stats & Info (@ESPNStatsInfo) March 23, 2014
The stat is a bit misleading, however. Kentucky is 3-1, but Pitino was the coach of Kentucky for their tournament wins over Calipari's UMass squad in both 1992 and 1996. Calipari coached the Kentucky squad that topped Louisville in the 2012 Final Four en route to the championship.
While the Cardinals' bigs are typically a mismatch for most opponents, freshman phenom Julius Randle and nimble center Willie Cauley-Stein give the Wildcats the personnel to combat that. Twins Aaron and Andrew Harrison are also coming into their own for Kentucky. Their length will bother the likes of Smith, whose ability to attack the rim is a big part of what Louisville does offensively.
Smith will have trouble finishing around the tin with Cauley-Stein and Randle on occasion patrolling the paint, and will struggle to get there with the Harrison brothers defending. That should be enough for Kentucky to continue piecing together what had been a disappointing season and advance to the Elite Eight amid an extremely tough Midwest region.
Prediction: Kentucky 74, Louisville 71
No. 4 Michigan State over No. 1 Virginia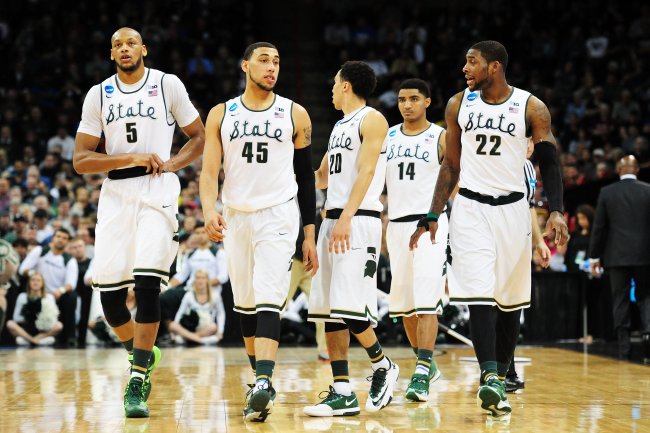 Steve Dykes/Getty Images
It says something that the Spartans are the far lower seed yet are two-point favorites amongst oddsmakers. Part of that is the experience head coach Tom Izzo brings, having made six Final Fours in his decorated career in East Lansing.
A lot of what the great Michigan State teams have been built on—physicality, defense and mental toughness—are all characteristics of this Cavaliers team, though. SI.com's Pete Thamel is hoping the officials let these two hard-nosed outfits battle it out without too much consequence:
Virginia vs. Michigan State in MSG is going to be fun. Please don't assign some whistle happy officials, NCAA. Let the boys battle

— Pete Thamel (@SIPeteThamel) March 24, 2014
Virginia hasn't lost by double digits since the new year rang in and have a deep rotation, with eight players logging significant minutes in their Round 3 victory over Memphis.
ESPN's Andy Katz feels as though the Cavaliers have lived up to their billing as a somewhat controversial No. 1 seed:
Virginia looking every bit like a one seed. If this keeps up may be time to halt handing Michigan State East title. UVA deserves respect.

— Andy Katz (@ESPNAndyKatz) March 24, 2014
When it looked as though Sparty would run away from Harvard in the round of 32, the Crimson were let back into the game as Izzo's bunch briefly lost a 12-point halftime lead before holding on for an 80-73 win. That bout with adversity will only help the Spartans as they prepare for the Sweet 16, though.
Which No. 1 seed is likeliest to be eliminated in the Sweet 16?
This will be the third season in a row Michigan State star big man Adreian Payne has reached this stage of the tournament, but on the two previous occasions the Spartans have been eliminated. Payne played possessed in the round of 64 en route to 41 points, but managed only 12 versus Harvard. Look for him to bounce back in a big way facing a Virginia team that lacks size down low.
The Cavaliers have just two players who average in double figures between Malcolm Brogdon and Joe Harris. Both guards have good length and athleticism, yet not enough to combat what Michigan State should be able to do on the inside in addition to dealing with Gary Harris and Denzel Valentine.
Keith Appling averaged 11.7 points this season, but has scored just six combined points for the Spartans in the NCAA tournament. Look for the senior to have a breakout game and aid Sparty's run to the Elite Eight.
Prediction: Michigan State 68, Virginia 62
The three games analyzed in greater depth could have more lopsided outcomes and even wind up not being the most entertaining games in the Sweet 16. Having said that, they offer the best bet for competition, entertainment and compelling storylines regardless of the winners.
It looked as though the parity of men's college basketball would reveal itself only to an extent in the first three rounds, and that most of the top seeds would remain intact. That notion seems ridiculous in light of what's happened thus far. The Sweet 16 should be a time where the truly elite squads rise to the top, but this is also the prime opportunity for those who are doubted to rise to the occasion and continue to shock the world.