Manchester United have secured an agreement with Sporting Lisbon to sign 21-year-old Portuguese international William Carvalho for £37 million, per Steve Bates at the Mirror, but could PEC Zwolle central midfielder Mateusz Klich be plan B if William's transfer to United falls through?
To cover that scenario, here is a scouting report on Klich, a 23-year-old Polish international.
Why William?
Full disclosure: With the exception of Benfica and Porto, Portuguese football is a blind spot in my scouting schedule this season.
While it is fine to do a slide on William in a slideshow, it is unsuitable for me to do a scouting report on him right now since I have not watched enough of Sporting.
So this section will be focusing on why William's transfer to United might go from seemingly a done deal to a transfer which collapses.
If you are a United supporter, you might be wondering: "Why William?"
Manchester City holding contacts with Sporting for William Carvalho according to Sky Italia. He is one of next big things

— Tancredi Palmeri (@tancredipalmeri) March 18, 2014
Barcelona are among the European top clubs that are keeping an eye on Sporting Lisbon midfielder William Carvalho (21). [sky via fichajes]

— barcastuff (@barcastuff) January 15, 2014
According to Portuguese football expert Tom Kundert, William has "perfect positioning," is a big-game player and has been "outstanding over recent months" for Sporting, per FourFourTwo.com.
Bleacher Report world football tactics lead writer Sam Tighe said William "is one of the finest young defensive midfielders emerging in the game," per Bleacher Report.
The club who buys William Carvalho in the summer will own the best defensive midfielder for the next 10 years. What. A. Player.

— Jan Hagen (@PortuBall) March 16, 2014
William's move to United makes sense from Sporting's point of view because the Portuguese club have a noted history of selling prospects to Premier League teams.
The obstacle to United officially announcing William's signing could be his £37 million transfer valuation.
Um verdadeiro monstro dentro de campo... O seu nome? William Carvalho! pic.twitter.com/ad86xgJtJ8

— SPORTING FANS (@SCPFANSOFICIAL) December 1, 2013
Former United manager Sir Alex Ferguson baulked at Sao Paulo's £37.7 [€45] million asking price for right forward Lucas Moura in 2012.
"I find it quite amazing that a club can pay €45 million for a 19-year-old boy," Ferguson said, per ESPN FC. "When somebody's paying €45 million for a 19-year-old boy you have to say the game's gone mad."
If United management listened to Ferguson in appointing David Moyes as manager, Ferguson could be the dissenting voice in the boardroom, which sinks William's transfer to United.
Going by that hypothetical situation, here is why United executive vice-chairman Ed Woodward must consider signing Klich of PEC Zwolle.
Positives
Klich plays, moves and thinks like a central attacking midfielder.
However, he has been operating from a deeper role, predominantly in a central midfield position in manager Ron Jans' 4-3-3.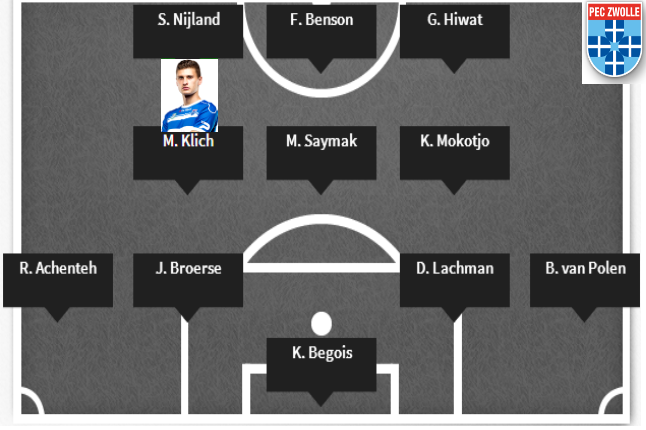 Source: VI.nl
Jans' tough-loving helped Liverpool deep-lying forward Luis Suarez transition into European football at Groningen, per Duncan White at the Telegraph.
You would imagine Jans has taken the same approach to coaching Klich, who is being pushed to be more effective without possession.
This was on show when Klich intercepted six passes in a 1-1 draw against Ajax, the current Eredivisie league leaders.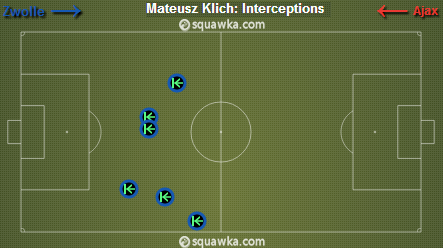 Source: Squawka.com
Klich has won back the ball 97 times (60 tackles and 37 interceptions) in 26 Eredivisie games, so his defending is headed in the right direction.
But what makes him special is his playmaking.
Klich's command of Zwolle's attack forecasts the possibility of him turning into a world-class midfielder.
In Zwolle's 6-1 win over ADO Den Haag, Klich was poised in possession, showed extraordinary vision and passed flamboyantly.
He anticipated Zwolle central midfielder Mustafa Saymak beating Den Haag's offside trap, who took Klich's flighted long pass in stride.
Around 16 minutes later, Saymak was the beneficiary of a lobbed through ball from Klich.
Zwolle centre-forward Fred Benson sprinted on to Klich's remarkable incisive pass deep inside his own defensive half.
When advancing deep into Den Haag's defensive half, Klich made a No. 10-type pass to Benson.
NEC Nijmegen' defence was caught off-guard by Klich's audacious trivela pass to Zwolle centre-forward Guyon Fernandez.
Against a stronger team in Vitesse, currently fourth (while Den Haag are 13th and NEC are 17th), Klich replicated his passing prowess with an instep pass to Zwolle impact sub Giovanni Gravenbeek and a key pass (pass that leads to a shot) to Fernandez.
Klich completes 82.2 percent of his passes, so there is control in his game and he can mimic Michael Carrick in being a reliable passing outlet having registered a 90 pass-completion percentage four times in league play this season, per Squawka.com.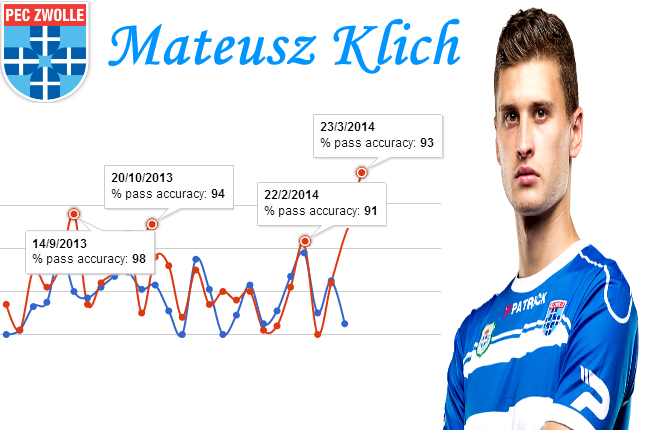 Source: PECZwolle.nl/Squawka.com
Negatives
The Eredivisie is an end-to-end, dynamic and offense-driven league catered to creative and technically skilled players such as Klich, so you expect him to flourish.
Whether or not he can bring his A-game from the Eredivisie to the Premier League remains to be seen.
Klich was not deemed good enough for Wolfsburg under Felix Magath, who has proven in the past he has time for diamonds in the rough, provided that they work hard and produce.
0 - Since Mateusz Klich is at Wolfsburg, he played 0 from 53 possible BL games and 12 from possible 52 Regionlalliga games. Loan.

— OptaFranz (@OptaFranz) January 31, 2013
Magath wants to get rid of Patrick Helmes, Sotirios Kyrgiakos, Jan Polak, Yohandry Orozco, Ja-Cheol Koo and Mateusz Klich in the winter.

— Norwegian Musings (@normusings) November 11, 2011
Edin Dzeko (Teplice), Grafite (Le Mans) and Zvjezdan Misimovic (Nurnberg) were signed from modest clubs and formed the core of Magath's 2008-09 Bundesliga-winning Wolfsburg team.
Another concern is Klich being a flat-track bully because minus a goal against Feyenoord, he has scored twice and accumulated seven assists against teams that are ranked 10th or lower in the Eredivisie.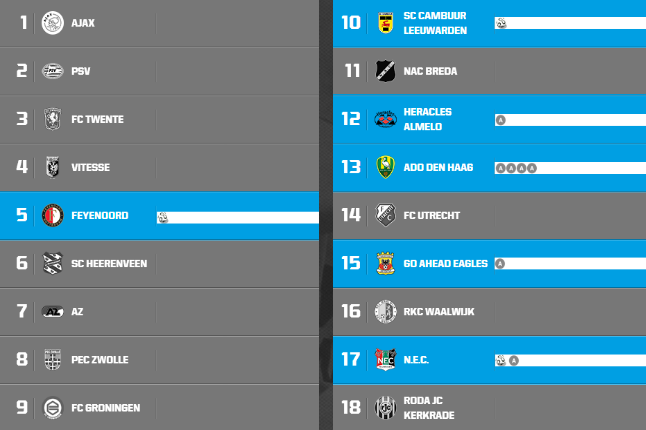 Source: Eredivisie.nl/WhoScored.com
Bottom Line
Klich is an abnormally talented passer, who would be a smart plan B if United do not end up sealing the deal for William, a la the Ander Herrera transfer fiasco in the last summer transfer window, per Sid Lowe at the Guardian.
Statistics via WhoScored