Sweet heaven, the 2014 Sweet 16 is finally here!
It's always incredible how fast the NCAA Tournament rumbles along every year, and this season's edition has been remarkably entertaining, which only further heightens this phenomenon.
All Your Bracket Essentials:
With just eight games on the slate between Thursday and Friday, there isn't quite as much going on moving forward on a daily basis as has been the case leading up to the Sweet 16. That said, the action should be all the more compelling as the end draws near.
Here's a look at the schedule, courtesy of CBSSports.com's Matt Norlander.
Sweet 16 TV Schedule

| | | | | | |
| --- | --- | --- | --- | --- | --- |
| Date | Time (ET) | Matchup | Location | TV | Predictions |
| March 27 | 7:15 p.m. | (10) Stanford vs. (11) Dayton | Memphis | CBS | Stanford |
| March 27 | 7:47 p.m. | (2) Wisconsin vs. (6) Baylor | Anaheim | TBS | Baylor |
| March 27 | 9:45 p.m. | (1) Florida vs. (4) UCLA | Memphis | CBS | Florida |
| March 27 | 10:17 p.m. | (1) Arizona vs. (4) San Diego State | Anaheim | TBS | Arizona |
| March 28 | 7:15 p.m. | (2) Michigan vs. (11) Tennessee | Indianapolis | CBS | Tennessee |
| March 28 | 7:27 p.m. | (3) Iowa State vs. (7) Connecticut | New York | TNT | Connecticut |
| March 28 | 9:45 p.m. | (4) Louisville vs. (8) Kentucky | Indianapolis | CBS | Kentucky |
| March 28 | 9:57 p.m. | (1) Virginia vs. (4) Michigan State | New York | TBS | Virginia |
CBSSports.com
Right off the bat, the game that stands out as a potential barn burner is the contest between Kentucky and Louisville.
As Kentucky Athletics pointed out, ESPN's Jeff Goodman recently called this rivalry the best in college basketball:
Jeff Goodman called Kentucky vs. Louisville the best rivalry. None of this Duke vs. North Carolina Stuff. pic.twitter.com/G8OOqfroUP

— Kentucky Athletics (@KentuckyFanPage) March 12, 2014
John Calipari's team must continue playing team basketball like it has thus far in the tourney, however, or the defending champs will take advantage with a full-on route. This has been a challenge all year for the Wildcats.
"It's so hard trying to figure out roles for guys when you got all these young guys here," Calipari said, as relayed by Yahoo Sports' Pat Forde. "And that means each guy has to sacrifice, each guy has to play the way he needs to play for the team."
It isn't crazy to envision both teams winning, but if Kentucky plays its best, then Louisville will go down.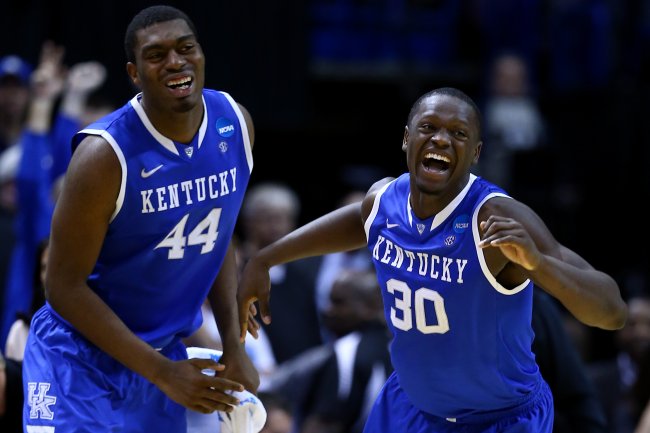 Andy Lyons/Getty Images
The game between Dayton and Stanford is tough to call, since both teams have already exceeded expectations by getting this far. Both squads have relied on stellar defense to get the job done, and there's certainly the potential for a total score under 100 points.
Furthermore, the matchup between the No. 10 and No. 11 seeds has rarely before been seen, as NCAA March Madness relayed:
No. 10 Stanford vs No. 11 Dayton will be only 2nd 10 vs 11 meeting since field expanded to 64 teams (FSU vs VCU in 2011). #MarchMadness

— NCAA March Madness (@marchmadness) March 23, 2014
Regardless of which team wins, at least one of them is guaranteed a spot in the Elite Eight, which was not something anyone outside of those programs expected heading into the tourney.
Another potential Cinderella team is Tennessee, which has been a veritable juggernaut through two games. As rock solid as Michigan's squad is, the Volunteers have continued to stay strong after nearly taking down Florida in the SEC semifinal.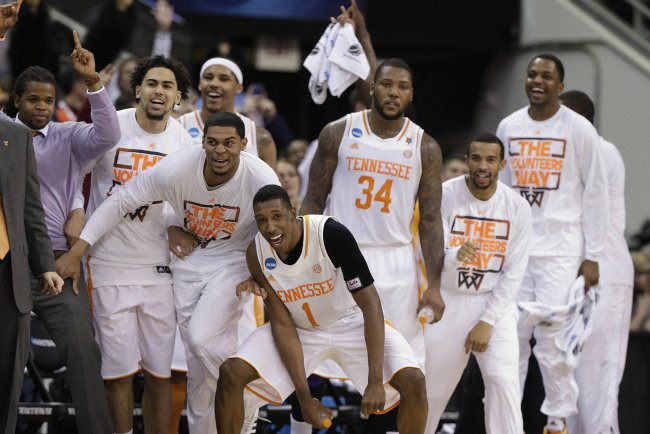 Chuck Burton/Associated Press
Wisconsin was considered to be among the favorites to win this year's tournament, but Baylor has been unconscious of late, as alluded to by Jon Rothstein of CBS Sports:
Baylor continues to be beyond dominant. Not many teams playing better than the Bears. Advance to Sweet 16 to face Wisconsin.

— Jon Rothstein (@JonRothstein) March 24, 2014
After the Bears took down Creighton with ease, it shouldn't shock anyone if they dispatch Wisconsin in similar fashion.
Every game on the schedule has the potential to become an instant classic.
This year's tournament was wide open when it started, and it remains so heading into the final rounds. Don't even think about planning anything else on Thursday or Friday night this week. If you do, then you'll miss out on some of the most exciting sporting action of the entire year.
This tournament still has plenty of drama left in it, and nobody can claim to know what will happen next.
Follow me on Twitter @JesseReed78