On Sunday, the UCLA Bruins made the Stephen F. Austin Lumberjacks look like a No. 12 seed. With upsets happening in every region of the NCAA tournament, the Bruins weren't having it on their watch.
Behind do-it-all point-forward Kyle Anderson's 15 points, eight rebounds and five assists, the Bruins easily beat the Lumberjacks, 77-60, in San Diego to advance to the Sweet 16.
The loss snapped Stephen F. Austin's 29-game winning streak. This one was never really in doubt.
Though the Lumberjacks kept it from becoming a complete blowout, the Bruins held firm command of the game throughout.
There's a good number of areas UCLA dominated this game, and that's obviously what prompted CBS Sports' Seth Davis to say this:
UCLA's just too much for SFA. Too much of everything.

— Seth Davis (@SethDavisHoops) March 24, 2014
One of UCLA's biggest advantages was in size. It didn't really manifest itself on the glass as the Lumberjacks actually out-scrapped the Bruins in that category, 36-30.
But it was clear whenever UCLA got the ball inside. Stephen F. Austin simply had no one to effectively protect the rim. This led to the Bruins' 54.7 percent field-goal shooting.
Myron Medcalf of ESPN put the size disparity into perspective:
UCLA's Kyle Anderson is listed at 6-foot-9. No player in Stephen F. Austin's starting lineup is bigger than 6-6 (Jacob Parker).

— Myron Medcalf (@MedcalfByESPN) March 23, 2014
Anderson's versatility doesn't get the attention it deserves. Because he isn't an above-the-rim athlete, his talents fly under the radar.
There aren't many other players in the nation at his size (6'9") capable of handling the ball the way Anderson does. He shoots effectively from the outside and is an ever-present force on the glass.
Adam Zagoria of NBA.com talks about Anderson's stat line and ESPN Stats and Info chime in on his career accomplishments:
Kyle Anderson is 1st UCLA player since Bill Walton in 73-74 to average 10 ppg, 5 apg and 5 rpg in a season.

— Adam Zagoria (@AdamZagoria) March 24, 2014
Since assists became official in 1983-84, Kyle Anderson (UCLA) is 1st D-I player with 500 points, 300 rebounds and 200 assists in a season.

— ESPN Stats & Info (@ESPNStatsInfo) March 24, 2014
The Bruins' roster is obviously deeper than Anderson. Jordan Adams had a game-high 19 points and Norman Powell added 16. Former head coach Ben Howland deserves the credit Javier Morales of Bleacher Report gave him with this tweet, as his much-maligned recruiting set the table for current head coach Steve Alford:
Howland criticized for recruiting but UCLA has mostly his guys. Howland will be heck of a hire. Alford very fortunate to follow him there.

— Javier Morales (@JavierJMorales) March 24, 2014
The Lumberjacks were simply beaten by a better team on Sunday. Still, they have nothing to be ashamed of. Coming from the Southland Conference and grabbing a tournament win makes this season a success.
Sophomore Thomas Walkup has a nice future. He had 22 points and 11 rebounds in the loss.
Keys to the Game
Poor Three-Point Shooting from Lumberjacks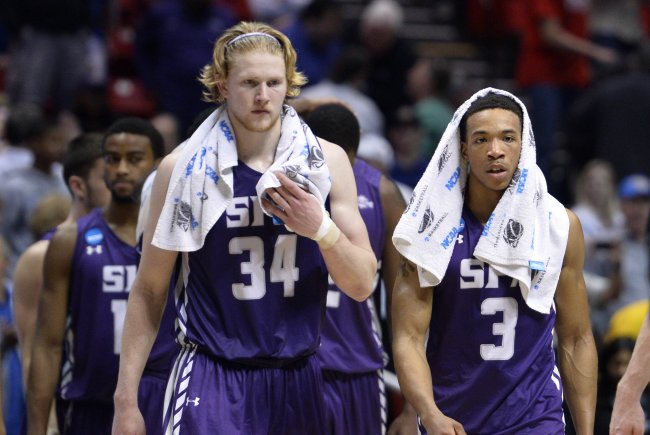 Robert Hanashiro-USA TODAY Sport
The only chance Stephen F. Austin had to win this game was to make a high percentage of its threes. That didn't happen. As a team, the Lumberjacks sank just 7-of-27 attempts.
Senior Deshaunt Walker was a 36-percent shooter from deep during the regular season. On Sunday, he was a woeful 2-of-11 from long range.
His struggles were symbolic of the Lumberjacks' overall problems.
Ball Control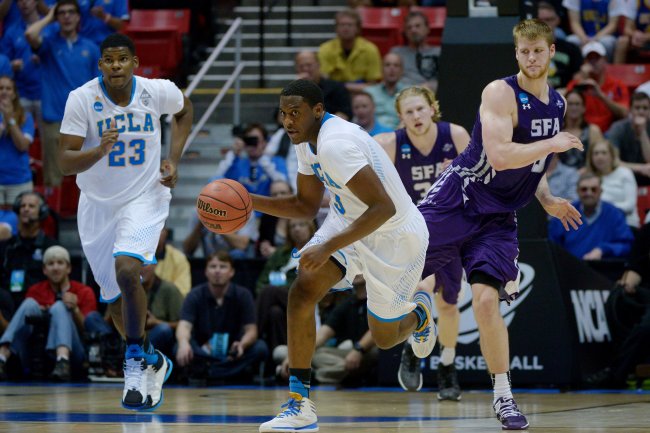 Donald Miralle/Getty Images
The Bruins took great care of the ball in this game.
Remarkably, UCLA had just four turnovers and 21 assists. That's an assist-to-turnover ratio of 5.25-to-1. That type of ball security and movement will lead to a boatload of wins.
How widespread was the passing epidemic on the Bruins' roster? The 6'10" senior Travis Wear led UCLA with six assists.
Looking Ahead for UCLA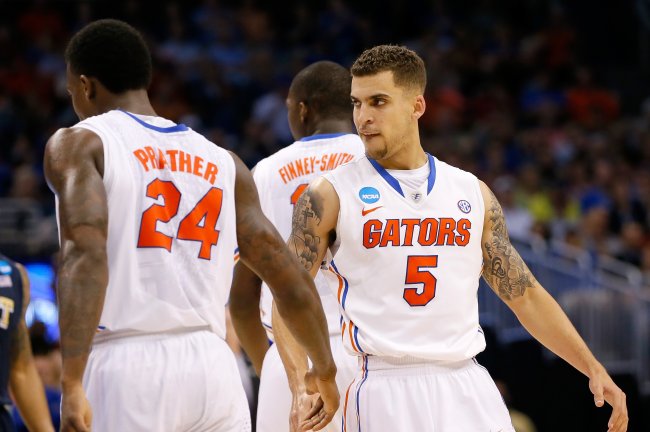 Kevin C. Cox/Getty Images
The Bruins will be tasked with ending another long win streak in the Sweet 16. The Florida Gators await and the tournament's top overall seed has won 28 games in a row.
Florida has also made a habit of eliminating UCLA in recent years.
As OnlyGators.com points out, all of Florida's past hardwood glory has gone through the Bruins.
Florida is 3-0 under Donovan vs. UCLA in NCAA Tournament. #Gators had to defeat #Bruins on way to both national titles.

— OnlyGators.com (@onlygators) March 24, 2014
However, that was the past.
These are new rosters and the Gators have to acknowledge how well UCLA is playing heading into this matchup. Stewart Mandel of Sports Illustrated talks about how the Bruins could give Florida problems.
UCLA has been outstanding since the start of the Pac-12 tournament. Will present an interesting challenge for Florida.

— Stewart Mandel (@slmandel) March 24, 2014
Without a doubt, UCLA's size and versatility make them a real threat to knock off the top seed. It should be a great one on Thursday in Memphis, Tenn.
Follow me. I'm addicted to hoops.