It's bargain-bin time for NFL executives.
Many of the top NFL free agents have already found new homes heading into the third week of the 2014 league season, but there are still some noteworthy players who've yet to be signed.
Some are worthy of competing for a starting role, while others will be brought on for depth and to do work on special teams. While these remaining free agents won't command big dollars or drive ticket sales, they could become key players for a playoff contender next January.
Here's a look at a few of the top remaining free agents, along with the latest buzz and predictions for where they'll land.
Mark Sanchez, Quarterback
Don't laugh.
Yes, Mark Sanchez has been the butt (pun intended) of many a joke around the league for the past few years, but there's a reason he was selected in Round 1 by the New York Jets in 2009.
It's the same reason an unnamed coach said, "We'd take Sanchez. He'd be the starter as soon as he walked in the door for us," back in January, as noted by Brian Costello of the New York Post.
For all his laughable faults, Sanchez has the talent to succeed in the NFL, much like Alex Smith before Jim Harbaugh changed his NFL life forever.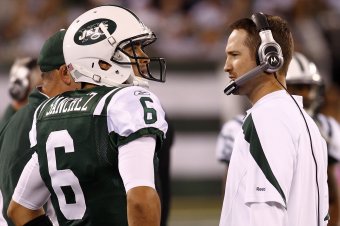 Jeff Zelevansky/Getty Images
ESPN's Rich Cimini believes the St. Louis Rams would be an excellent landing spot for Sanchez, and he provided some excellent reasoning: "Sanchez has a connection with offensive coordinator Brian Schottenheimer, his first coordinator with the Jets. Sam Bradford is coming off ACL surgery, and their only backup is Austin Davis."
Marc Sessler of NFL.com concurs, and both analysts listed Buffalo and Cleveland as potential destinations for the quarterback formerly known as "The Sanchize."
In the end, a reunion with Schottenheimer seems like the likeliest solution for Sanchez.
Predicted Landing Spot: St. Louis Rams
Jared Allen, Defensive End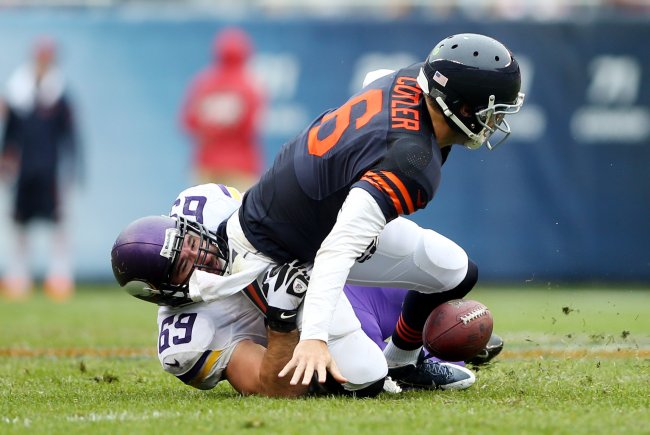 Jerry Lai-USA TODAY Sports
It's remarkable how little buzz Jared Allen generated this offseason.
All the guy has done in the past 10 years is rack up 128.5 sacks and 30 forced fumbles, and he's tallied at least 11 sacks in each of his last seven seasons.
Unfortunately for him, Allen's age is a big issue as teams look to get younger and more athletic, and he'll be 32 when the 2014 season begins.
The Seattle Seahawks have reportedly extended an offer to Allen, per ESPN's Ed Werder, who also mentions Dallas is the only other team the player is known to have visited. The Cowboys don't have the cap space to realistically sign the pass-rusher, leaving Seattle as the logical destination.
However, Allen isn't ready to commit.
He and his family left Seattle without signing a contract, and it's quite possible he's weighing retirement.
Ian Rapoport of NFL.com reported on March 12 that Allen would "be at peace" with retirement if he doesn't receive a contract offer that matches what he perceives as "fair value":
Jared Allen wants his fair value after averaging 13 sacks. I'm told he'd be at peace living his life without football if he doesn't get it.

— Ian Rapoport (@RapSheet) March 12, 2014
That said, it's hard to imagine Allen would retire at this point in his career. He's still one of the most effective pass-rushers in the league, and he'd make a huge impact for the Seahawks as they attempt to repeat as Super Bowl champs.
Predicted Landing Spot: Seattle Seahawks
Arthur Moats, Linebacker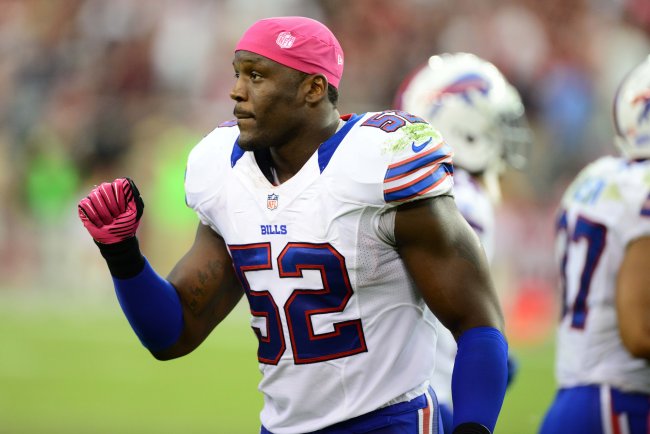 Mark J. Rebilas-USA TODAY Sports
Though not a nationally recognized name, former Buffalo Bills linebacker has been a productive player in the league the past four years and could be a huge steal at this point in the proceedings.
Since joining the NFL as a sixth-round pick out of James Madison in 2010, Moats has tallied 141 tackles and five sacks.
The Pittsburgh Steelers are apparently interested in the linebacker. Alan Robinson of the Pittsburgh Tribune-Review points out the club will host Moats, likely on Monday:
Steelers to meet with free agent LB Arthur Moats, probably on Monday. RB LaGarrette Blount pushed back to Friday.

— Alan Robinson (@arobinson_Trib) March 23, 2014
This could be a terrific fit for both parties.
Moats played both inside and outside for Buffalo, leading Mike Wilkening of Pro Football Talk to compare him to Lawrence Timmons: "The 26-year-old Moats may have the ability to play inside and outside in the Steelers' 3-4 scheme, a la Lawrence Timmons."
Pittsburgh certainly needs the help.
After years of sporting one of the league's most intimidating defenses, the Steelers were nearly toothless in 2013, totaling just 34 sacks and ranking among the middle of the pack (No. 13) in total defense.
Moats' diverse skill set makes him a great fit for the Steelers, and at this point, it's hard to imagine he'll leave Pittsburgh without a contract.
Predicted Landing Spot: Pittsburgh Steelers
Follow me on Twitter @JesseReed78