Another year, another 50-win season for the San Antonio Spurs, who have continuously defied odds with their consistent success. In the midst of a historical win streak, the team has popped up on league radars and has the world buzzing.
While many questions are directed towards the improbable consistency of individual players, the true question regards the team.
How do they do it?
How, after collectively aging yet another year, after experiencing a series of seemingly devastating injuries, has this "declining" team somehow improved?
Around them, the Western Conference is growing younger and more talented, and yet, despite remaining incredibly constant from a roster standpoint, the Spurs have maintained a firm grasp on their contending status.
This isn't anything new; the team has been something of a world wonder for the past few years.
Even so, despite this remarkable consistency that has been on display since Tim Duncan's arrival as a game-changing centerpiece, the 2013-14 campaign stands out among the rest.
As mentioned, the veteran squad has only grown older, and incessant health problems and early-season questions rendered the team a questionable contender.
Until recently, that is.
Currently on a 14-game win streak, the Spurs sit atop the league, as we at home try to answer that frequently asked question:
How do they do it?
Recap
Though their current state might suggest otherwise, the Spurs began the season targeted with questions regarding their ability to contend.
It took the team nearly half a season to acquire their "signature win" as they seemingly fell short against every top-ranked opponent during the opening months.
The Spurs can't win against good teams, that's a major concern going forward.

— Brett Poirier NBA (@BrettNBA) January 26, 2014
However, these struggles have become a thing of the past. After a rout of the Miami Heat during early March, though, any questions quickly disappeared.
That said, a lack of early consistency against contending squads was hardly the Spurs' sole problem. Injuries plagued the team following the turn of the year, as the team lost significant contributors like Manu Ginobili, Tony Parker, Kawhi Leonard, Danny Green and Tiago Splitter for significant spurts.
The Spurs have sustained 18 injuries this season, via @SuchAGoodMan's infographic: pic.twitter.com/27QYPMsb9m

— Quixem Ramirez (@quixem) February 24, 2014
Yet, despite issues that would derail the average team, San Antonio proved once again that it was anything but average.
Though they did show signs of struggle—especially on the defensive end—during their studs' extended absences, they remained on course and picked up the slack once health was completely restored.
Remaining on track, though, was anything but simple, and only a special kind of team could manage such an extraordinary feat.
Fortunately for the city of San Antonio, the Spurs are that kind of a team, and the following factors ensured that success would remain prevalent despite apparent setbacks.
Depth and Balance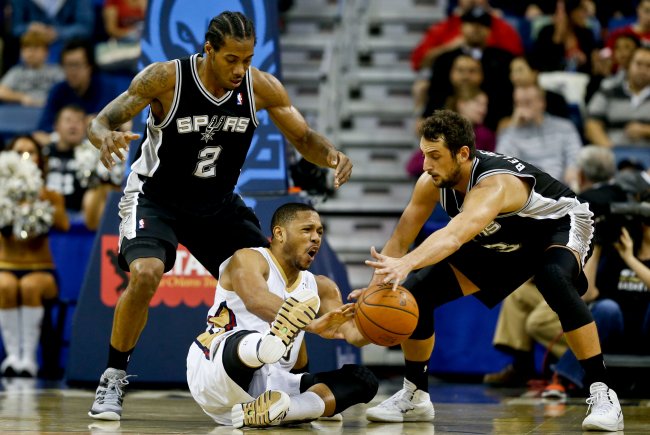 Derick E. Hingle-USA TODAY Sport
Unlike a handful of the Association's best squads, the Spurs success cannot be attributed to a single player. Rather, it has been each player's ability to come alive at the right time and work together in a cohesive unit that has made San Antonio so dangerous.
While the Spurs have star power at the top—Tim Duncan and Parker have both been tremendous—it has been the under-the-radar contributions from guys like Ginobili, Leonard, Splitter, Patty Mills and Marco Belinelli that have brought the squad over the top.
Equally important has been each player's ability to get hot whenever the other performers are either injured or slacking.
Take Mills for example. Though Parker, the usual starter, was forced to miss a good chunk of February, the backup point guard filled in nicely, posting career stats and catching the public's eye.
His case was only one of several that occurred within the Spurs' system. Marco Belinelli became a frequent contributor off the bench, working in tandem with Ginobili and Green to ensure that the Spurs could always expect quality production from the shooting guard slot.
When Leonard missed time, Boris Diaw stepped up to fill a role that he normally avoids, although he performed quite admirably.
Since his return, Leonard has been on fire, making up for a slow start to the season. Similarly, Tiago Splitter has been on-off, although he has managed to be an integral contributor to the team's success on the frequent occasions in which he does catch fire on both ends.
On Tiago Splitter, you've heard the #Spurs are 22-0 when he scores 10+ points. Well, they're 29-0 when he scores 7 or more points. #Spurs

— Paul Garcia PS (@PaulGarciaPS) March 24, 2014
And, of course, the outputs from Parker and Duncan deserve endless praise. Parker has retained his consistency while orchestrating and scoring at a high rate, while Duncan's two-way prowess has earned him a spot on the NBA.com MVP ladder.
Overall, though, the true success on the court is team success, rather than individual achievement. Working cohesively to fill in the gaps, the Spurs' incredible deep bench and balanced attack is unrivaled throughout the year, and has been an essential component in the team's prosperity.
Gregg Popovich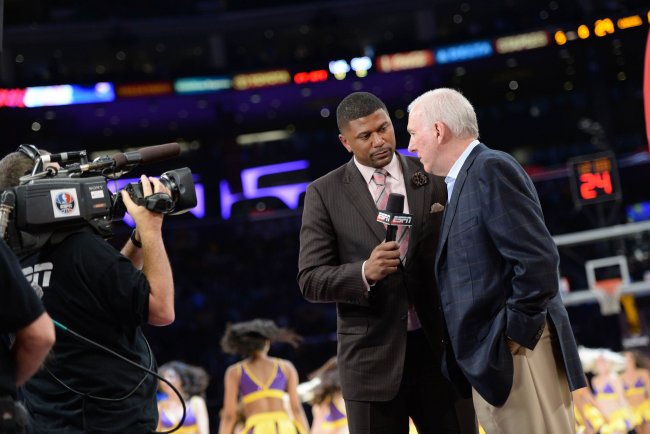 Noah Graham/Getty Images
While you can't credit any individual player for the Spurs' perennial success, Gregg Popovich can take a large amount of credit for his service on the sidelines.
While the Coach of the Year award will likely fall to a Jeff Hornacek-type, whose 2013-14 achievement was bringing his team out of the doghouse, it would be foolish to think that Pop's name is not in contention.
So far, his execution and management have been incredible, especially given the circumstances.
It is often said that San Antonio is able to find hidden jewels in the draft, though it is becoming apparent that their ability to turn nobodies into legitimate contributors is far from luck.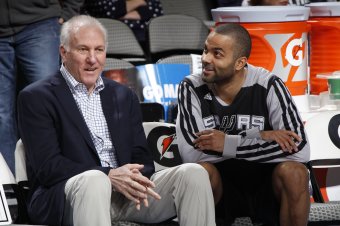 Glenn James/Getty Images
With Patty Mills having made a jump this season or Marco Belinelli turning from an inconsistent journeyman to one of the league's most reliable deep shooters, there is an evident track record these players' respective successes are the products of a system.
Additionally, the manner in which he has handled his players' usage has been masterful.
Only Tony Parker (30.3) is averaging over 30 minutes per game, a stat unheard of in any other top team. This tactful conservation has been integral in ensuring that the Spurs have the firepower for both a late-season run and one in the playoffs.
And, due to Pop's incredible vigilance, the former is in the midst of happening and the latter seems entirely possible.
In the end, no matter how far the Spurs go, it will be the players that ultimately bring the title home. But, every step of the way, you can bet that the team's sideline stalwart will remain the motivating factor that ultimately drives this initially troubled squad to any success that they may receive.