Sunday facilitates the conclusion of Round 3 in the 2014 NCAA tournament, where the final eight participants for the Sweet 16 are to be determined. Since the first portion of the round of 32 wasn't quite as exciting as the preceding March Madness action, there is bound to be more chaos before the next stage of the tourney.
Double-digit Cinderellas in Stanford and Stephen F. Austin are taking to the hardwood in an effort to keep their improbable runs alive. No. 11 Tennessee and No. 14 Mercer are facing off against each other in an unlikely matchup, too. Meanwhile, several favorites are seeking to keep the momentum going in their national title bids.
Perhaps the most intriguing battle will be top-seeded Wichita State taking on the Midwest's eighth seed in Kentucky. The Shockers are undefeated but have the toughest road back to the Final Four, and facing a dangerous but young Wildcats squad will be a terse examination of where they stand.
Scores for all of Sunday's games will be updated throughout the day, along with a recap of what's transpired and the complete schedule.
All Your Bracket Essentials:
Sunday Round of 32 Scores and Schedule

| | | | | |
| --- | --- | --- | --- | --- |
| When (ET) | Region | Matchup | Watch | Score |
| 12:15 pm | South | No. 2 Kansas vs. No. 10 Stanford | CBS | Stanford 60, Kansas 57 |
| 2:45 pm | Midwest | No. 1 Wichita State vs. No. 8 Kentucky | CBS | Kentucky 78, Wichita State 76 |
| 5:15 pm | Midwest | No. 3 Iowa State vs. No. 6 North Carolina | CBS | Iowa State 85, North Carolina 83 |
| 6:10 p.m. | Midwest | No. 11 Tennessee vs. No. 14 Mercer | TNT | Tennessee 83, Mercer 63 |
| 7:10 p.m. | South | No. 4 UCLA vs. No. 12 Stephen F. Austin | TBS | UCLA 77, Stephen F. Austin 60 |
| 7:45 p.m. | West | No. 3 Creighton vs. No. 6 Baylor | truTV | Baylor 85, Creighton 55 |
| 8:40 p.m. | East | No. 1 Virginia vs. No. 8 Memphis | TNT | Virginia 78, Memphis 60 |
| 9:40 p.m. | West | No. 1 Arizona vs. No. 8 Gonzaga | TBS | Arizona 84, Gonzaga 61 |
Source: CBSSports.com
Recap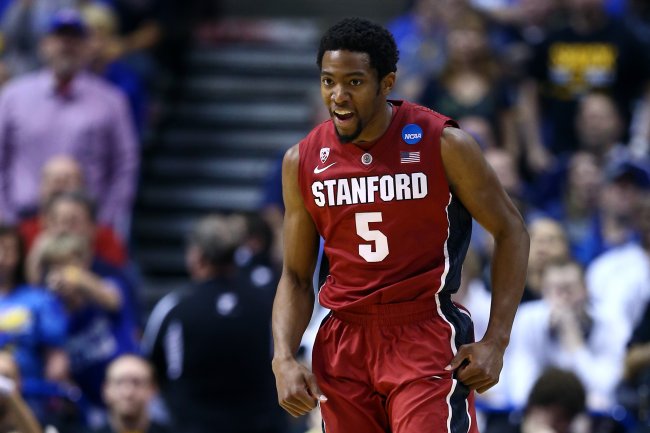 Andy Lyons/Getty Images
A rather suspense-free Saturday, save for Dayton's upset over Syracuse, was remedied in short order by the Flyers' impending Sweet 16 opponent. The No. 10 Stanford Cardinal seized control of their game against second-seeded Kansas and punched a ticket to the Sweet 16 with a 60-57 victory.
There will be a double-digit seed in the #Elite8! Stanford stuns Kansas 60-57 to set date with Dayton. #MarchMadness pic.twitter.com/5u0g4RUD3a

— NCAA March Madness (@marchmadness) March 23, 2014
Disappointing form from the highly touted freshmen in this tournament continued, as Jayhawks star Andrew Wiggins scored just four points and had four turnovers in a losing effort. Wiggins figures to be a top pick in the upcoming NBA draft, but this type of disappearing act is not an ideal way to close out his collegiate career.
That added to a horrible effort from Duke's Jabari Parker in a loss to Mercer, as two of the best first-year phenoms are out early in the tourney. The Big Lead's Jason McIntyre expressed sadness regarding this development:
And the college career of Andrew Wiggins is over. No Jabari Parker, Andrew Wiggins or Joel Embiid in the Sweet 16. Bummer.

— Jason McIntyre (@jasonrmcintyre) March 23, 2014
Stanford center Stefan Nastic talked about how critical it was to focus in on Wiggins in outlining his strengths before the game.
"High motor. A big-time motor," said Nastic, per NMNAthletics.com. "Definitely talented and player with a great attitude. So you have to bring your best game whenever you play against someone like that."
Mission accomplished.
A lot of credit is due to the victors, because the Cardinal looked like a borderline tournament team for much of the year. Lights-out shooting in the second half and savvy play by frontcourt stalwarts Dwight Powell and Nastic—who played roughly the last five minutes with four fouls apiece—were key to preserving the lead.
Powell scored a team-high 15 points, while guard Chasson Randle had 13 points and six steals to make up for seven turnovers he coughed up that allowed Kansas to stay close.
SI.com's Stewart Mandel didn't believe Stanford was worthy of the Sweet 16 when he saw it earlier this season, but improved play down the stretch has morphed the Cardinal into a force to be reckoned with:
March is crazy. Saw Stanford in person twice & on TV several more this yr. At no point did I think "Sweet 16 team." Getting real.

— Stewart Mandel (@slmandel) March 23, 2014
Stanford struggled with the full-court press the Jayhawks deployed toward the end yet managed to do just enough to pull this one out.
The absence of big man Joel Embiid was a big blow for Kansas, but forward Tarik Black stepped up to lead the Jayhawks with 18 points before fouling out in the final few minutes. Conner Frankamp came off the bench and poured in 12 of his own, but his three-point attempt to tie was off the mark as time expired.
HIGHLIGHT: @stanfordbball withstands the final shot to upset Kansas. (by @CokeZero) #MarchMadness http://t.co/YIX34hC6AS

— NCAA March Madness (@marchmadness) March 23, 2014
Dayton can't score well, yet it did enough offensively to crack Syracuse's vaunted zone in Round 3, which it figures to face versus Stanford, if CBS Sports' Seth Davis' key observation is any indication:
Stanford's extensive use of the zone is part of the Boeheim influence. Dawkins hired former Cuse asst Tim O'Toole to help teach it.

— Seth Davis (@SethDavisHoops) March 23, 2014
One double-digit seed will play in the Elite Eight, and don't put it past the Cardinal to be the ones to advance to that stage. The Flyers have played excellent defense in toppling Ohio State and the Orange, but so has Stanford, and the high-low game it has shown has been extremely impressive.
As long as the Cardinal can handle the ball a bit better and work on breaking the full-court press if Dayton opts to try and trap them, they should be slight favorites on Thursday in Memphis. Then again, the Flyers have been underdogs throughout as well, making the impending showdown between these two surprise Sweet 16 participants all the more intriguing.
The showdown between Wichita State and Kentucky certainly lived up to the hype, and the Wildcats' highly touted freshmen had enough to get by the Shockers 78-76 in a magnificent thriller.
SHOCKER! No. 8 Kentucky hands No. 1 Wichita State its 1st loss of season, 78-76. #MarchMadness pic.twitter.com/JkVKQaxDjb

— NCAA March Madness (@marchmadness) March 23, 2014
Despite 31 points from determined Wichita State senior Cleanthony Early and a six-point halftime hole, Kentucky never wilted. Kyle Tucker of the Courier-Journal noted how prominent of a role the Wildcats' young starting lineup played in the breakthrough victory:
Kentucky beat the nation's only undefeated team, a No. 1 seed, with five freshmen starters scoring 68 of 78 points.

— Kyle Tucker (@KyleTucker_CJ) March 23, 2014
Forward Julius Randle did nothing but make plays in the second half on the inside, while twins Andrew and Aaron Harrison played at a high level in the backcourt to drive the upset in scoring 20 and 19 points apiece.
The sheer quality of basketball in this game was the best so far in the tournament. Both teams contested shots well on defense, yet each squad shot well over 50 percent from the field. Momentum swung both ways, and the teams answered each other with big runs and game-altering plays.
ESPN's Skip Bayless provided his take on the Wildcats' win, while network analyst Jay Bilas essentially told detractors of the program's recruiting strategy to buzz off:
Kentucky began season & now ending it as nation's most talented team. But now have figured out what works. Going to be hard to beat.

— Skip Bayless (@RealSkipBayless) March 23, 2014
Now, can everyone stop with the nonsensical "one and done" bashing? Those "kids" can play. And, Calipari can teach and coach. Amazing.

— Jay Bilas (@JayBilas) March 23, 2014
In the end, Kentucky indeed had just a bit more talent on its side, and a three-point effort by Shockers point guard Fred VanVleet that would have won the game went long and right at the buzzer.
On tap for the Wildcats is a date with the reigning national champion Louisville Cardinals. The battle of head coaching wits between Kentucky's John Calipari and ex-Wildcats coach Rick Pitino will be a compelling undercurrent to what transpires on the floor.
This Calipari team has fought to find synergy all season long. After grinding out a win over Kansas State in the round of 64, it seems Kentucky is clicking at the perfect time. Even with a tough region still to navigate ahead, it's conceivable that the Wildcats could reach the Final Four if they play to the level they did on Sunday.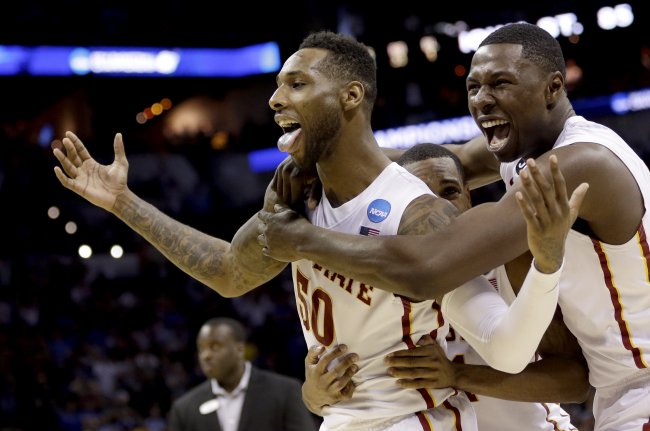 David J. Phillip/Associated Press
The trend of one-possession games continued when the Iowa State Cyclones overcame the loss of Georges Niang and rallied after blowing a halftime lead to beat North Carolina 85-83.
Four Iowa State players scored in double figures to keep its high-octane offense going, but senior guard DeAndre Kane was the clutch contributor toward the end. Kane took a near full-court pass and gave the Cyclones a late lead.
After two unlikely made free throws by Tar Heels big man James Michael McAdoo, Kane promptly dribbled down the court, willed his way to the paint and banked in the winning shot from close range:
Kane had 24 points, 10 rebounds and seven assists, refusing to allow his team to lose in what could have been his final collegiate game. It felt as though North Carolina would eventually pull away after building a sizable lead in the second half, but Kane and Co. turned it up in the final five minutes to stage a rousing comeback.
CBSSports.com's Jon Rothstein noted the significance of the victory for the Iowa State program:
The Sweet 16 is a major step for Fred Hoiberg and Iowa State, especially without Georges Niang. Cyclones are full fledged national program.

— Jon Rothstein (@JonRothstein) March 23, 2014
Now the Cyclones will square off with the seventh-seeded Connecticut Huskies in the Sweet 16.
Pete Abraham of the Boston Globe expressed enthusiasm about the impending matchup of young coaches who also enjoyed success as collegians:
UConn's and Kevin Ollie vs. Iowa State and Fred Hoiberg. Two 41-year-old guys who were damn good college players and may be better coaches.

— Pete Abraham (@PeteAbe) March 23, 2014
The East isn't the most difficult region, so it's feasible that Iowa State could continue forging on without Niang in the frontcourt. The Huskies don't have a lot of size to speak of up front, which will help compensate for the void Niang leaves.
North Carolina was able to take advantage of that with its personnel, as Kennedy Meeks had 15 points and 13 rebounds and McAdoo played much better in the second half with Cyclones forward Dustin Hogue in foul trouble. UConn has no such luxury, though its defense on the perimeter should give Iowa State some problems.
But since the Cyclones scored 85 points against an extremely athletic adversary on Sunday without Niang, whose versatile skill set and scoring prowess has been so vital, don't expect them to slow down too much.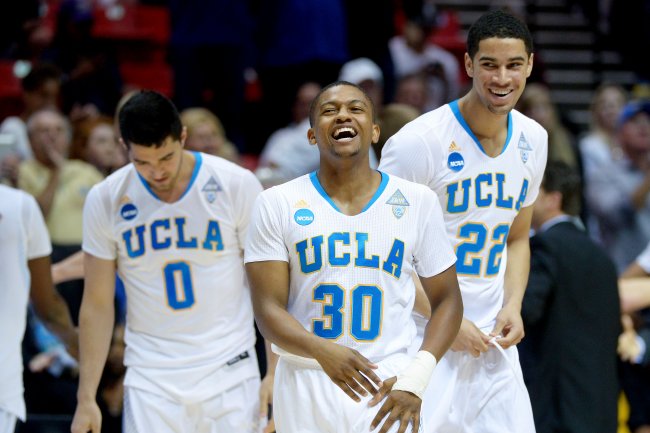 Donald Miralle/Getty Images
The UCLA Bruins put together a solid overall performance against the Stephen F. Austin Lumberjacks on Sunday, emerging victorious by a score of 77-60.
UCLA is back in the Sweet 16 for 1st time since 2008. Stephen F. Austin has its 29-game winning streak snapped

— ESPN Stats & Info (@ESPNStatsInfo) March 24, 2014
UCLA got off to a fast start, putting up points and forcing Stephen F. Austin's offense to take shots with less-than-ideal looks.
The Bruins offense was on point, lighting up the scoreboard early and often. Guard Jordan Adams was the go-to guy throughout the contest, has he was stellar from the field.
UCLA doesn't have a great deal of size, but the team's speed and aggressiveness make the Bruins an unstoppable force once they get going.
The Bruins thrive off of turnovers and steals, using their quickness to score quickly in transition. That became a problem for Stephen F. Austin throughout the game.
At the half, the Bruins led 42-32, and with their offense clicking, the Lumberjacks didn't have much of a chance to climb back into contention.
No. 4 UCLA has a comfortable 42-32 lead over No. 12 SFA at the half: http://t.co/NAKuyfNRyK

— Sports Illustrated (@SInow) March 24, 2014
UCLA cruised to victory in the second half, holding the Lumberjacks to just 28 points after the break. The Bruins maintained a stout defense to match their offensive prowess, and the result was Stephen F. Austin shooting just 35.1 percent from the field as a team.
The Lumberjacks were able to flourish inside, as the team's size allowed them to out-rebound the Bruins 36-30 on Sunday.
However, that didn't matter to UCLA, as the team shot 54.7 percent from the field and kept its foot on the gas throughout the game.
As you wish, Mr. Gminski. UCLA. Sharpie.

— Seth Davis (@SethDavisHoops) March 24, 2014
Three starters scored double-digit points for the Bruins against Stephen F. Austin. Adams led the way with 19, followed by Norman Powell and Kyle Anderson with 16 and 15, respectively.
Since assists became official in 1983-84, Kyle Anderson (UCLA) is 1st D-I player with 500 points, 300 rebounds and 200 assists in a season.

— ESPN Stats & Info (@ESPNStatsInfo) March 24, 2014
UCLA advances to the Sweet 16 where it will get its toughest matchup of the tournament. No. 1 Florida is next up on the slate for the Bruins. Florida's defense is one of the best in the nation, and the Bruins will have to maintain this same kind of well-balanced teamwork if they are to continue on to the Elite Eight.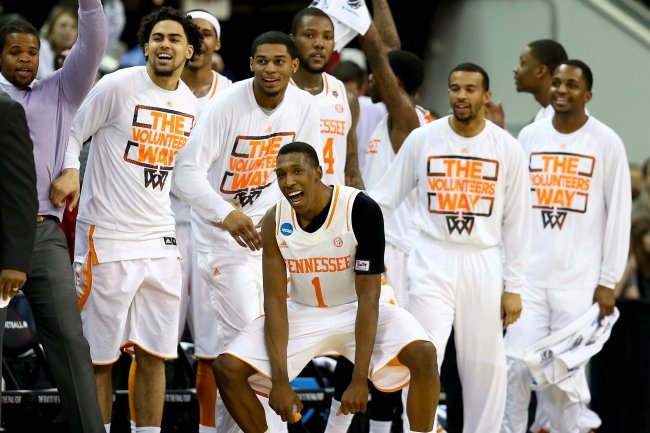 Streeter Lecka/Getty Images
The SEC kept on rolling in the 2014 NCAA tournament, as the No. 11 Tennessee Volunteers handled the No. 14 Mercer Bears with ease, winning by a score of 83-63 on Sunday night.
HIGHLIGHT: Tennessee advances to the Sweet 16 with an 83-63 win. (by @InfinitiUSA) #MarchMadness http://t.co/YaytScs4DC

— NCAA March Madness (@marchmadness) March 24, 2014
The Volunteers offense was on fire once again, as four of its starters posted double-digit points. Tennessee's offense was led by Josh Richardson. He was on point over the duration of the contest, connecting on nine of this 13 attempts from the field for a game-high 26 points.
Forward Jarnell Stokes dominated the boards all day long. He accumulated an impressive 18 rebounds while putting up 17 points for the game's only double-double. Stokes' performance was a driving factor in the Volunteers' ability to out-rebound the Bears 41-19.
Tennessee uses its size and strength to manhandle Mercer and advance to the Sweet 16: http://t.co/ScoPUZeI2j

— Sports Illustrated (@SInow) March 24, 2014
Mercer put forth a valiant effort, with four players scoring double-digit points. Langston Hall did everything he could to keep his team in the game, recording 15 points and six assists against Tennessee.
Unfortunately for the Bears, it just wasn't enough.
After the game, Tennessee guard Jordan McRae commented on the SEC's tournament dominance during a press conference with the Associated Press, via ESPN.com. Said McRae, "I've been hearing that the SEC has been a football conference for a long time but I don't know how you can still say that when you've got three SEC schools in the Sweet 16."
There are three double-digit seeds in the Sweet 16, Stanford (Pac-12), Tennessee (SEC), and Dayton (A-10).

— Jay Bilas (@JayBilas) March 24, 2014
The Volunteers will now move on to the Sweet 16 to take on the dangerous No. 2 Michigan Wolverines. Tennessee is on a great run and have looked like one of the tournament's most complete teams. This impending game should be very interesting.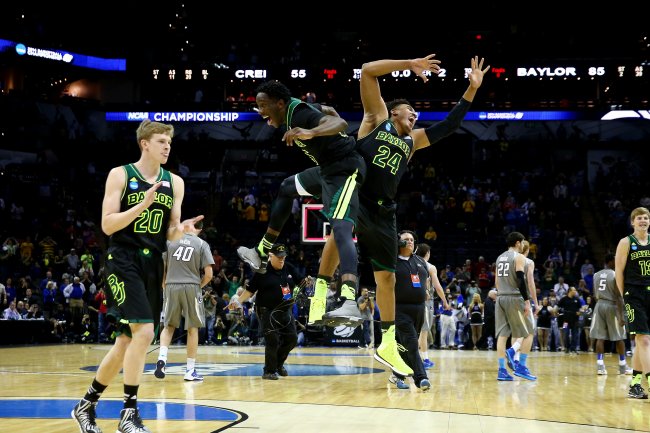 Tom Pennington/Getty Images
No. 3 Creighton's run came to an end on Sunday night when the team met a very well-balanced Baylor squad. The Bears sliced through the Bluejays defense, creating a near insurmountable lead early in the game. This resulted in a decisive Baylor victory by the score of 85-55.
Creighton's Doug McDermott has been fantastic this year, but the lack of a truly efficient supporting cast was the team's downfall in the round of 32.
6-seed Baylor blows out 3-seed Creighton, 85-55. Doug McDermott finishes w/ 15 Pts, 3,150 in his brilliant career (5th-most all-time).

— SportsCenter (@SportsCenter) March 24, 2014
McDermott shot seven of 14 from the field for 15 points; however, the team couldn't generate enough offense to keep pace with a dynamic Baylor team.
The Bears are a very deep, experienced team. This was on display Sunday night, as all five of its starters scored double-digit points.
Baylor: 3-0 all-time in Round of 32 games (also won in 2010 & 2012), Creighton now 0-8 all-time in the Round of 32

— ESPN Stats & Info (@ESPNStatsInfo) March 24, 2014
Isaiah Austin and Brady Heslip were an unstoppable duo against Creighton, as each player scored 17 points on the day. The Bears' size matched up against Creighton's squad nicely, as the they out-rebounded the Bluejays 32-22.
The difference in scoring efficiency was the most lopsided statistic of the game. Baylor shot 63.8 percent against Creighton's porous defense. Conversely, the Bluejays could only muster a 40.0 shooting percentage from the field as a team.
Baylor nets the 3rd-largest margin of victory by a 6-seed (30 pts). That's what happens when you shoot 64% from field pic.twitter.com/cKXFXHqR11

— ESPN Stats & Info (@ESPNStatsInfo) March 24, 2014
Baylor looked as good as it had all season long on Sunday. They will have a very difficult matchup in the Sweet 16, as No. 2 Wisconsin is next on the slate.
The Badgers earned a decisive 85-77 victory over the surging Oregon Ducks in the round of 32 and figure to be a huge factor going forward. However, if Baylor plays how it did on Sunday night, we should be in for one wild ride when these teams clash.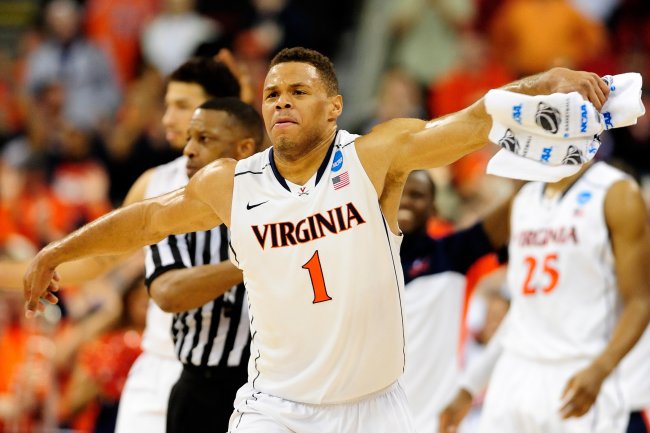 Grant Halverson/Getty Images
If defense wins championships, then the Virginia Cavaliers have one great shot at going the distance in the 2014 NCAA tournament.
Virginia made quick work of the Memphis Tigers on Sunday night, emerging victorious by a score of 78-60.
Virginia will be the lone representative from the ACC in the Sweet Sixteen. Cavaliers defeat Memphis 78-60. #MarchMadness

— ESPN College BBall (@ESPNCBB) March 24, 2014
Over the first half of action, Virginia's stout defense was well on display. The Tigers weren't afforded many good looks and finished the half shooting just 26.7 percent from the field. The Cavaliers aggressiveness and size was also visible, as the team out-rebounded Memphis 19-10.
The Cavaliers entered the break up 35-20. With their stout defense, that deficit is almost impossible to overcome. Pete Thamel of Sports Illustrated noted that phenomenon in a halftime tweet:
Virginia has been clinical. Memphis has been Memphis. UVA leads 35-20. That's like a 30-point deficit to a normal team.

— Pete Thamel (@SIPeteThamel) March 24, 2014
During the second half, the teams traded baskets; however, Virginia maintained a comfortable lead.
With Cavaliers head coach Tony Bennett deciding to substitute his starters in the middle of the second half, Virginia began to give up some points to Memphis, allowing 40 to the Tigers over the game's final 20 minutes.
Virginia never lost its grip on the game though, and completed its rout of Memphis by scoring 43 points of their own in the second half of the game.
Three of Virginia's starters and two of its bench players scored double-digit points on Sunday, showcasing the depth and experience of the team.
The Cavaliers now move on to face No. 4 Michigan State in the Sweet 16. The matchup should be one of the ages, and college basketball guru Ken Pomeroy tweeted his excitement for the upcoming contest:
Virginia v. Michigan State should be a doozy.

— Ken Pomeroy (@kenpomeroy) March 24, 2014
Michigan State is a very well-rounded team and is capable of maintaining a stout defense while putting some gaudy offensive numbers. Virginia will have to play a very stout game once again if the team is to advance to the Elite Eight.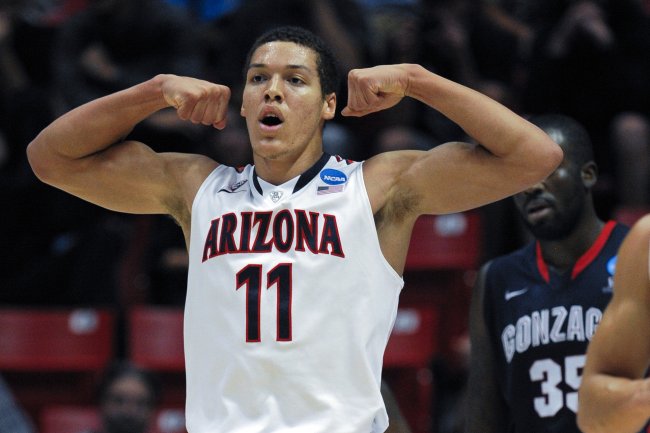 Denis Poroy/Associated Press
What a show No. 1 Arizona put on Sunday night. In the final match of the round of 32, the Wildcats showed why they held one of the nation's best records throughout the regular season, disposing of a solid Gonzaga team by a score of 84-61.
Bear Down! 1-seed Arizona blows out 8-seed Gonzaga, 84-61. Aaron Gordon dominates: 18 Pts, 6 Reb, 6 Ast, 4 Stl pic.twitter.com/badHkaX8UA

— SportsCenter (@SportsCenter) March 24, 2014
If there was ever a thought that Arizona's schedule made them seem better than they actually were, this contest against the Bulldogs should quell any further doubts.
Arizona: 16-4 all-time in Round of 32 games (won 4 straight)

— ESPN Stats & Info (@ESPNStatsInfo) March 24, 2014
Aaron Gordon and Arizona's offense got off to a hot start on Sunday, lighting up the scoreboard in a feverish manner. Even against Gonzaga's well-rounded squad, the Wildcats still dominated, outscoring the Bulldogs 47-34 in the first half.
No. 1 Arizona playing like a No. 1 seed, up 47-34 against No. 8 Gonzaga at the half: http://t.co/f3J6vJn9YD

— Sports Illustrated (@SInow) March 24, 2014
Not only did Arizona keep up the momentum over the second half, but its defense seemed to improve as the game went on.
With a comfortable lead, Arizona made Gonzaga force shots from downtown, as the Bulldogs were deep in the hole and were trying to climb out.
Gonzaga didn't get many solid looks and that showed in the team's 40.7 percent shooting from the field. Not a terrible average, but well below what the Bulldogs generally produce.
With Gonzaga struggling from the field, Arizona continued to pile up the points, shooting 49.2 percent as a team. This continued throughout the second half, as the Wildcats outscored the Bulldogs 37-27 after the break.
Arizona relies heavily on speed and quick points off of transitions to generate wins. This was apparent on Sunday. The Wildcats forced 21 turnovers and recorded 15 steals in their blowout victory.
Good bounce back for Arizona after the shaky Weber State game.

— Dan Wolken (@DanWolken) March 24, 2014
The Wildcats now move on to the Sweet 16 to face No. 4 San Diego State. The Aztecs looked good in the round of 32, beating a surprising North Dakota State team by a score of 63-44. Arizona's win on Sunday night is sure to set up a fantastic Sweet 16 showdown in the West Region.