Sunday got off to an upsetting start at the NCAA tournament in St. Louis, Mo., as No. 10 seed Stanford beat No. 2 seed Kansas, 60-57.

After hitting a pair of late threes, Kansas guard Conner Frankamp missed one from beyond the arc as the clock expired. Just like that, we had a No. 10 seed into the Sweet 16, and a fabulous start to Sunday's action.
More on that game below, but first, have a look at the scores and schedule for Sunday.
All Your Bracket Essentials
NCAA Tournament Scores and Schedule for March 23

| | |
| --- | --- |
| Matchup | Score/Time (ET) |
| No. 10 Stanford vs. No. 2 Kansas | Stanford, 60-57 |
| No. 8 Kentucky vs. No. 1 Wichita State | Kentucky, 78-76 |
| No. 6 North Carolina vs. No. 3 Iowa State | Iowa State, 85-83 |
| No. 14 Mercer vs. No. 11 Tennessee | Tennessee, 83-63 |
| No. 12 Stephen F. Austin vs. No. 4 UCLA | UCLA, 77-60 |
| No. 6 Baylor vs. No. 3 Creighton | Baylor, 85-55 |
| No. 8 Memphis vs. No. 1 Virginia | Virginia, 78-60 |
| No. 8 Gonzaga vs. No. 1 Arizona | Arizona, 84-61 |
West Region: (1) Arizona 84, (8) Gonzaga 61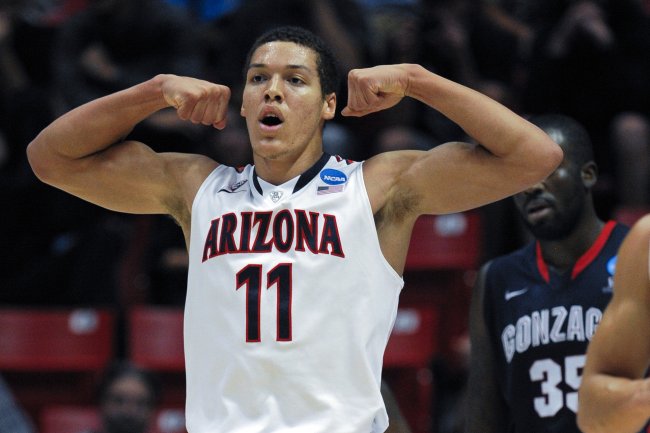 Denis Poroy/Associated Press
Note to any perspective opponents of the Wildcats: Don't turn the ball over.
Gonzaga, normally a dangerous offensive squad, couldn't deal with Arizona's half-court pressure and the results were disastrous—the Zags committed 21 turnovers, leading to 31 fast-break points for the 'Cats, who rolled to a 84-61 win.
Defensively, you likely won't find a team better than Arizona. And when that defense leads to offense and they are able to run instead of settling into their half-court offense, the Wildcats are unbelievably dangerous, and that was on display Sunday night.
Freshman Aaron Gordon had 18 points, six rebounds, six assists and four steals, while Nick Johnson added 17 points, five rebounds, five assists, three steals and four blocks, and both were problems in the open court for the Zags.
Rondae Hollis-Jefferson chipped in 18 off the bench to go with five rebounds, five assists and four more blocks, giving the Cats an astounding 15 steals and eight blocks on the night.
CBS Sports' Jon Rothstein put it simply:
Championship level performance tonight by Arizona. Wildcats were razor sharp on both sides of the floor. Advance to play San Diego State.

— Jon Rothstein (@JonRothstein) March 24, 2014
San Diego State, like Arizona, is a tremendous defensive squad, but Xavier Thames will need help on the other end if the Aztecs want to avoid a repeat of Nov. 14, when the Wildcats went into Viejas Arena and beat SDSU, 69-60.
The rematch will be Thursday night in Anaheim.
East Region: (1) Virginia 78, (8) Memphis 60
Virginia stumbled out of the gate in the second round against Coastal Carolina, but the Cavaliers didn't mess around against Memphis, as they shot 55.6 percent from the field in a 78-60 no-nonsense win.
Joe Harris scored 16 points to lead the Wahoos, who had four other players—including Anthony Gill (13) and Justin Anderson (10) off the bench—score in double figures. They were knocking down seemingly everything they attempted, and as D1scourse.com's Patrick Stevens put it, that left the Tigers with practically no chance.
Not much Memphis can do if Virginia's going to shoot like this.

— Patrick Stevens (@D1scourse) March 24, 2014
Not only were they efficient on offense, hitting five of their 11 three's and 13 of their 16 free throws, but the Cavaliers were their normally suffocating, cohesive selves on defense, holding the Tigers to 40.7 percent shooting and not allowing anything easy.
This sets up a dream Sweet 16 matchup with Michigan State. The ACC and Big 10 conference champs are both physical, talented teams playing like legitimate national championship contenders right now—if they didn't have to play each other.
Mark your calender—Friday, 9:57 p.m. ET at the "Mecca of Basketball," Madison Square Garden. There's a good chance it will be the best game of the round.
West Region: (6) Baylor 85, (3) Creighton 55
This was about as comprehensive as it gets. Baylor dominated both sides of the ball on Sunday night, shooting a scorching 63.8 percent from the field and holding Creighton to just 40.0 percent en route to a 85-55 victory.
ESPN Stast & Info put the win in historical perspective:
Baylor nets the 3rd-largest margin of victory by a 6-seed (30 pts). That's what happens when you shoot 64% from field pic.twitter.com/cKXFXHqR11

— ESPN Stats & Info (@ESPNStatsInfo) March 24, 2014
Long, athletic interior force Isaiah Austin and outside sharpshooter Brady Heslip each scored 17 for Baylor, which shot 61.1 percent from beyond the arc and had each of its five starters in double-figures.
But Greg McDermott's squad has been torched on the defensive end for a large majority of this season. More impressive was the Bears' defensive effort, holding Doug McDermott to just 15 points and frustrating the normally white-hot Bluejays into 5-of-24 shooting from beyond the arc.
It's an unfortunate way for Dougie McBuckets' illustrious career to end, but he has no reason to be disappointed:
Doug McDermott had 15 points in defeat for Creighton. he finishes with 3,150 points for his college career (5th-most all-time)

— ESPN Stats & Info (@ESPNStatsInfo) March 24, 2014
Wisconsin awaits Baylor in the Sweet 16 on Thursday at the Honda Center in Anaheim. Frank "The Tank" Kaminsky better be ready, because the Bears team is not only clicking on all cylinders, but it has some ferocious size underneath.
South Region: (4) UCLA 77, (12) Stephen F. Austin 60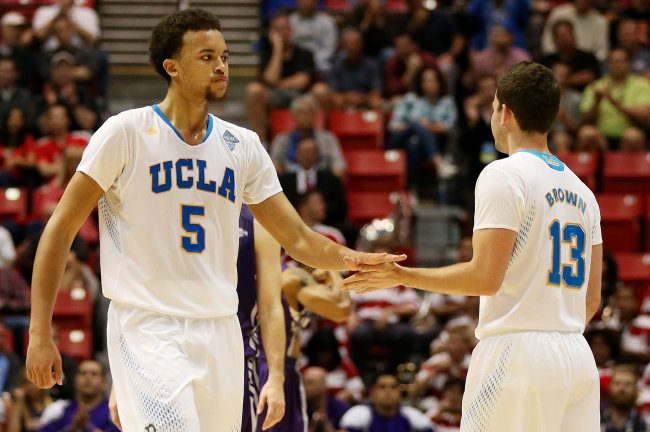 Jeff Gross/Getty Images
UCLA had little trouble solving Stephen F. Austin's aggressive half-court defense, as the Bruins shot 54.7 percent from the field and handed out 22 assists en route to a 77-60 win.
It was a truly impressive offensive effort from Steve Alford's squad. SFA entered the game forcing turnovers on 24.1 percent of its defensive possessions, which, according to kenpom.com (subscription needed), was the fourth-best mark in the country, but the Bruins coughed up the ball just four times.
With 63 possessions, UCLA ended with a minuscule turnover rate of 6.3 percent.
Jordan Adams led the Bruins with 19 points, Norman Powell chipped in 16 and big point guard Kyle Anderson was at the center of the attack, scoring 15 points to go with five assists and just one giveaway.
As he told reporters following the game, via Rush the Court's South Region Twitter feed, the team's work isn't complete:
Kyle Anderson: "Our work is not done. They don't hang Sweet Sixteens up in Pauley."

— RTC South Region (@RTCSouthRegion) March 24, 2014
UCLA gets No. 1 overall seed Florida at FedEx Forum on Thursday, and UCLA's red-hot, clicking offense vs. the Gators' physical, ultra-efficient defense is highly compelling.
Midwest Region: (11) Tennessee 83, (14) Mercer 63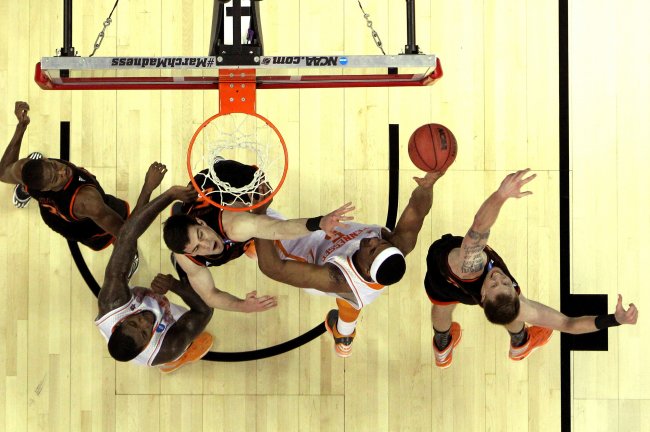 Streeter Lecka/Getty Images
Tennessee did what Duke couldn't—dominated the interior against a mostly-small Mercer team, ending the Bear's Cinderella run with a 83-63 victory.
Behind unmovable inside forces Jarnell Stokes and Jeronne Maymon, the Vols absolutely controlled the glass from start to finish. They finished with a 76.7 defensive rebounding percentage (23 DRB to Mercer's seven ORB) and an absurd 60 percent offensive rebounding percentage (18 ORB to Mercer's 12 DRB).
Stokes led the way with 18 'boards (eight offensive) to go with his 17 points and five assists, which as ESPN Stats & Info noted, was a first since Ed O'Bannon 20 years ago:
Jarnell Stokes (Tennessee): 1st player with 17 Pts, 18 Reb, 5 Ast in an NCAA Tournament game since Ed O'Bannon for UCLA in 1994

— ESPN Stats & Info (@ESPNStatsInfo) March 24, 2014
In the scoring department, Josh Richardson paced Tennessee, which got 81 of its 83 points from its starting five, with 26 on just 13 shots.
The win sets up a compelling Sweet 16 matchup against second-seeded Michigan on Friday at Lucas Oil Stadium. With the Wolverines' guard play and ability to score in a hurry against the Volunteers' defense and interior advantage, something will have to give.
East Region: (3) Iowa State 85, (6) North Carolina 83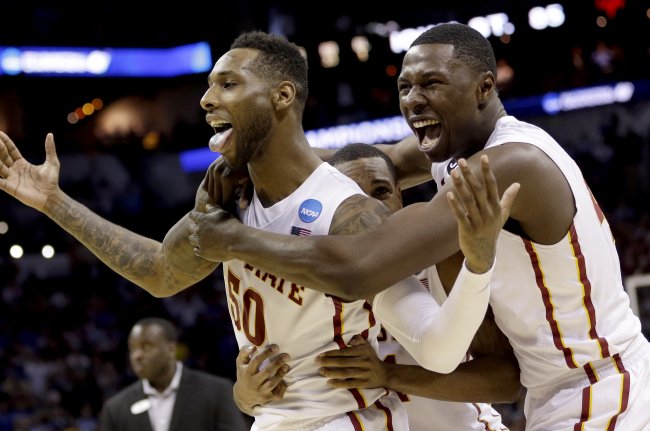 David J. Phillip/Associated Press
Issues with the clock at the end of this contest marred an otherwise fun contest. There were just two seconds left on the clock when North Carolina started its final possession. The clock started late, and the result was catastrophic.
North Carolina tried to call a timeout, but the clock should've already been expired. The end result was the game limped to an end without the Tar Heels getting their final shot.
Iowa State's DeAndre Kane hit the game-winning shot on a layup with two seconds left. It was fitting that Kane made the final bucket, with 24 points, he was the game's high scorer.
In all, five players combined to score all but three of the Cyclones points in this back-and-forth game. Their biggest advantage came from the charity stripe where they finished 15-of-21 compared to North Carolina going 9-of-15.
Midwest Region: (8) Kentucky 78, (1) Wichita State 76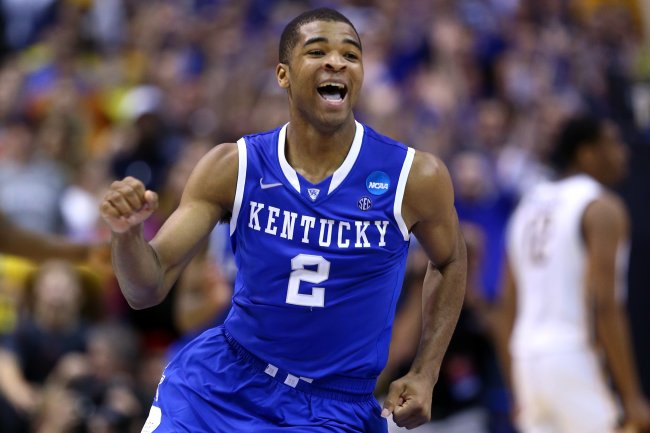 Andy Lyons/Getty Images
Despite Cleanthony Early's 31 points, Wichita State's undefeated season came crashing to an end when Fred VanVleet missed a three pointer at the buzzer.
The Willdcats, who went 16-of-22 from the line, were clutch from the charity stripe late in the game to keep their hold on the lead. Twin brothers Andrew and Aaron Harrison came up huge for the Wildcats scoring 20 and 19 respectively.
In all, the Wildcats had four players score in double digits, as they had the balance that the Shockers lacked. Ron Baker posted 20 for the Shockers, but he was the only Shocker other than Early to score in double digits.
The win sets up a Kentucky rivalry in the Sweet 16, as the Wildcats will face the No. 4 seed Louisville Cardinal.
South Region: (10) Stanford 60, (2) Kansas 57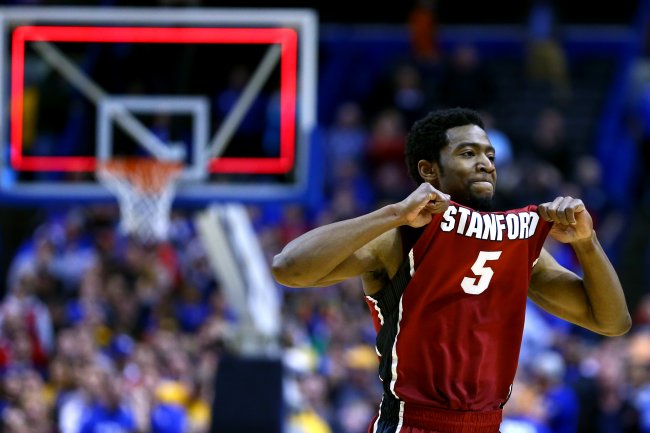 Dilip Vishwanat/Getty Images
This wasn't the prettiest game. It was riddled with fouls and missed shots. Still, it was entertaining, and we got another upset.
Senior forward Dwight Powell led the way for Stanford with 15 points, as the Cardinal used a solid team effort to shoot 44.7 percent from the floor and pull out the win. They need to thank their defense for the victory.
Stanford was sending multiple defensive looks at Kansas, and it was working. The Jayhawks, who finished 22nd in the nation in scoring at 79.6 points per game, scored just 24 points in the first half while shooting just 32.1 percent from the floor.
Of course, the Cardinal weren't the only team playing some serious defense. In the first half, Kansas held Stanford to shooting 32 percent from the floor, which included the Cardinal missing all seven of their three-point shots.
The Jayhawks grabbed momentum at the end of the first half when Jamari Traylor made a play on the offensive glass to get a bucket with 33 seconds left. Kansas then forced a Stanford into a turnover, and Frankamp drilled a three as the clock expired.
Frankamp finished the game with 12 points on 4-of-8 shooting with all but one of his shots coming from beyond the arc.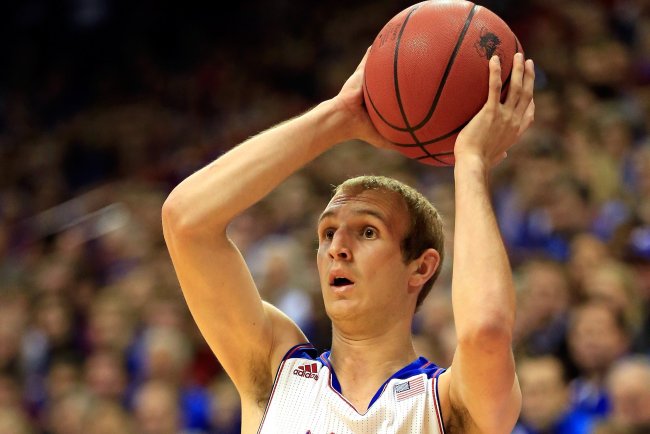 Jamie Squire/Getty Images
His three at the end of the half handed the Jayhawks their first lead of the game. Kansas held that lead for the opening minutes of the second half, but Stanford battled and regained the lead at 30-28.
Stanford went on a small run, and after Chasson Randle made a steal and converted a layup, the Cardinal had the lead at 36-30. Kansas answered right back. The Jayhawks started bringing intense full-court pressure, and Stanford couldn't handle it. The Jayhawks used that to close the gap to within one at 48-47 after a pair of Andrew Wiggins free throws.
That was one of the highlights of Wiggins' day. The freshman, who may end up being the No. 1 overall selection in the NBA draft, struggled.
Stanford's zone took Wiggins completely out of his game. Fox Sports' Sam Amico was not impressed:
Sorry, not seeing what all the fuss is about with Andrew Wiggins.

— Sam Amico (@SamAmicoFSO) March 23, 2014
Wiggins wound up with just four points and four rebounds. He was 1-of-6 from the floor, and anyone watching could tell he lacked the aggression needed to excel.
Meanwhile, Stanford weathered Kansas' defensive storm and managed to hit enough shots to seal the win.
Stanford's win sets up for a unique matchup in the Sweet 16, as the Cardinal will take on No. 11 Dayton. The Flyers beat Syracuse 55-53 on Saturday.
The majority of Stanford's success against Kansas came through the use of their zone. Dayton proved while beating Syracuse that they won't disappear in the face of a zone.