No. 10 Stanford stunned No. 2 Kansas in the third round of the 2014 NCAA tournament Sunday, upsetting the Jayhawks, 60-57, in St. Louis to reach the Sweet 16 in the South Region.
SportsCenter on Twitter announced the upset:
STANFORD IS HEADED TO THE SWEET SIXTEEN! Dwight Powell goes for 15 Pts as Stanford upsets Kansas, 60-57. » pic.twitter.com/4Cm3PqGo8M

— SportsCenter (@SportsCenter) March 23, 2014
With the win, the Cardinal become the second double-digit seed to advance to the tournament's second week.
All Your Bracket Essentials
The Jayhawks, who were without talented big man Joel Embiid, were out-rebounded and shot just 32.8 percent from the floor in the stunning loss. While Tarik Black led the Big 12 powerhouse with 18 points, Kansas freshman superstar Andrew Wiggins struggled throughout, finishing with just four points on 1-of-6 shooting and committing four turnovers.
Stanford's upset of Kansas prompted a reaction from former Cardinal Richard Sherman, current star of the NFL's Seattle Seahawks:
Always feels good when my Alma Mater silences more critics... congrats @stanfordbball way to stand up! Great defensive effort! Keep it going

— Richard Sherman (@RSherman_25) March 23, 2014
Sherman added:
March 23, 2014
No. 10 Stanford 60, No. 2 Kansas 57

| | | | |
| --- | --- | --- | --- |
| | 1st | 2nd | Final |
| (10) Stanford | 22 | 38 | 60 |
| (2) Kansas | 24 | 33 | 57 |
ESPN
Dwight Powell led the Cardinal, scoring 15 points and pulling down seven rebounds. Stanford's leading scorer, Chasson Randle, finished with 13 points and six steals.
Before the game, the junior guard was optimistic that his team could pull off the upset and stay true to their game at the same time, per the San Jose Mercury News' Jeff Faraudo.
"I would hope we could just win it by playing Stanford basketball and not needing a miracle," Randle said. "But I'll take a win any sort of way."
Stanford started strong on Sunday, taking it to Kansas from the opening tip. Led by Powell and Randle, the Cardinal raced out to an early lead and wouldn't trail until halftime. Kansas' Conner Frankamp nailed a three-pointer at the first-half buzzer to put the Jayhawks ahead 24-22 at the break, as Yahoo Sports' Pat Forde noted:
Kansas plays a miserable half and somehow gets out of here with a lead, 24-22. And Stanford's Anthony Brown looks like he hurt himself.

— Pat Forde (@YahooForde) March 23, 2014
As ESPN 850 WRUF's Daniel Gillman highlights, defense ruled in the early stages:
And like the early games yesterday, scoring is at a minimum here early in Kansas-Stanford.

— Daniel Gillman (@DanielGillman) March 23, 2014
CBSSports.com's Jeff Borzello provided some analysis midway through the opening half:
Kansas' half-court offense is struggling mightily right now. Stanford's size causing some issues. Getting back in transition too.

— Jeff Borzello (@jeffborzello) March 23, 2014
Marc Woizinski had some early advice for the Jayhawks:
Kansas getting nothing offensively vs Stanford's zone, if they want to win theyre going to have to force misses & TOs to score in transition

— Marc Woizinski (@_Marc_W) March 23, 2014
But as the half wore on, Randle and Powell continued to make their presence felt, combining for 12 points, six rebounds, three steals and a blocked shot in the first 20 minutes.
However, a nearly seven-minute-long field-goal drought prevented Stanford from taking full advantage of its stellar defensive play and building a big lead. Kansas closed the half on a 13-4 run to take the lead.
At halftime, the two teams had eight turnovers apiece and were shooting just 32 percent from the floor.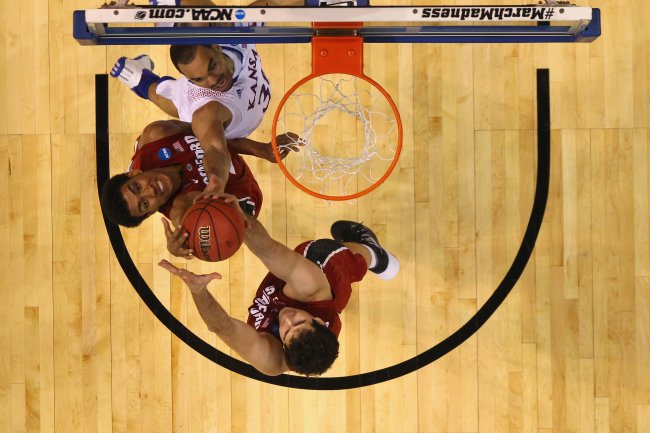 Dilip Vishwanat/Getty Images
The difference was beyond the arc, where Frankamp's two three-pointers gave the Jayhawks a plus-six advantage over the Cardinal, who went 0-of-7 from downtown in the first half.
The two teams continued to struggle offensively to start the second half, but Stanford was able to draw fouls, putting the pressure on Kansas' defenders. The Jayhawks picked up five team fouls less than three minutes into the half.
Stanford capitalized with a 7-0 run to take a 30-28 lead moments later, per the New York Post's Zach Braziller:
7-0 Stanford run. Back-to-back hoops from Chasson Randle. I bet Kansas knows him now. Has a game-high 10.

— Zach Braziller (@NYPost_Brazille) March 23, 2014
The Cardinal suffered a blow at the 14-minute mark, though, as referees whistled Powell for his fourth personal foul, calling attention to Stanford's lack of depth.
Despite being undermanned, Stanford would continue to impress at both ends of the floor, taking a seven-point lead and maintaining it with under seven minutes to play despite falling victim to Kansas' defensive pressure on multiple occasions, per Zach Winslow:
You have to run the full court press in college basketball. Case in point -Kansas vs Stanford

— Zach Winslow (@zachwinzslow) March 23, 2014
Sensing that the game was getting away from them, the Jayhawks continued the full-court pressure, turning defense into offense in a 7-1 run that brought Kansas within a point.
Stanford turned the ball over five times in a nine-possession stretch late in the game.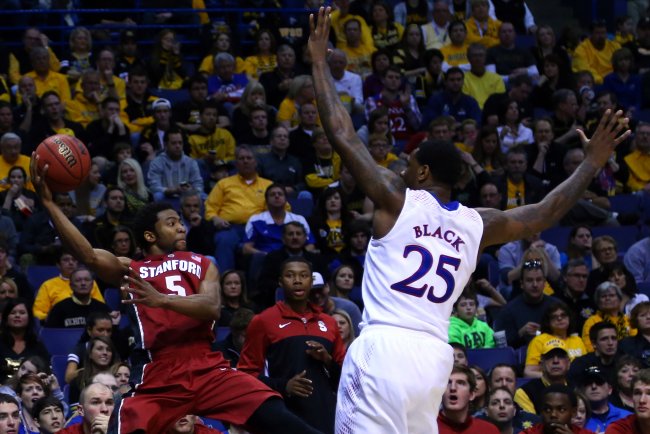 Dilip Vishwanat/Getty Images
But in a sloppy game, the Cardinal held on in the wild final moments, sinking key free throws and securing loose balls at the defensive end to lock up one of the tournament's biggest upsets thus far.
Next up, Johnny Dawkins' squad will take on No. 11 Dayton in the South Regional semifinals Thursday. But in order to get past the surprising Flyers, Stanford will have to shoot much better from downtown. The Cardinal went 0-of-9 from long range against Kansas.
But if Stanford can continue to limit second-chance opportunities and force turnovers, it will have a tremendous shot to reach the Elite Eight and make a run at a stunning Final Four berth this spring.
Follow Bleacher Report Featured Columnist Patrick Clarke on Twitter.