The third round of the 2014 NCAA men's basketball tournament culminates on Sunday with several marquee matchups, and fans are looking to find the latest predictions and projections for each game.
With several top seeds still alive and Cinderella teams still in the mix to advance to the next round, Sunday's college basketball action will make this one of the most memorable days of the entire tournament.
Here is all the latest bracket information, the entire schedule for the remainder of the third round and predictions for each of Sunday's games.
All Your Bracket Essentials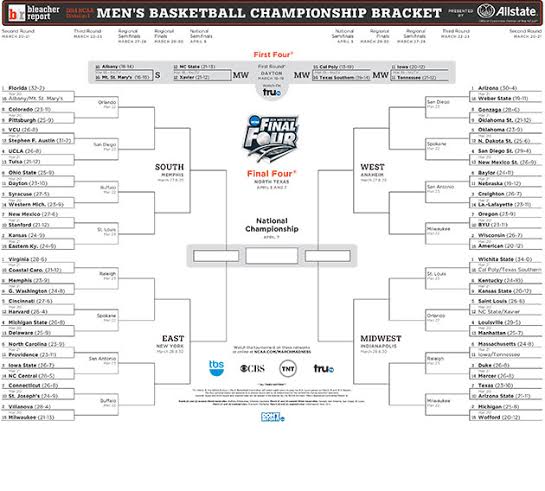 Bleacher Report
Sunday's Schedule and Predictions

| | | | |
| --- | --- | --- | --- |
| Time (ET) | Matchup | TV | Predicted Winner |
| 12:15 p.m. | (10) Stanford vs. (2) Kansas | CBS | Kansas |
| 2:45 p.m. | (8) Kentucky vs. (1) Wichita State | CBS | Wichita State |
| 5:15 p.m. | (6) North Carolina vs. (3) Iowa State | CBS | North Carolina |
| 6:10 p.m. | (14) Mercer vs. (11) Tennessee | Turner Network Television | Mercer |
| 7:10 p.m. | (12) Stephen F. Austin vs. (4) UCLA | TBS | Stephen F. Austin |
| 7:40 p.m. | (6) Baylor vs. (3) Creighton | truTV | Creighton |
| 8:40 p.m. | (8) Memphis vs. (1) Virginia | Turner Network Television | Virginia |
| 9:40 p.m. | (8) Gonzaga vs. (1) Arizona | TBS | Arizona |
Source: NCAA.com
Most Intriguing Matchup: No. 4 UCLA vs. No. 12 Stephen F. Austin
While there are better teams that will play Sunday and other Cinderella programs looking to shock the Big Dance, there is no more intriguing matchup on the final day of the third round than the No. 4-seeded UCLA Bruins taking on the No. 12-seeded Stephen F. Austin Lumberjacks.
After Stephen F. Austin's stunning overtime victory over VCU, the program has become the ultimate bracket buster, according to Mike Humes of ESPN:
Goodnight, Irene: No more perfect brackets out of the 11 million on http://t.co/JFPdrCPpD8 with SF Austin's win

— Mike Humes (@MikeHumesESPN) March 22, 2014
Led by the Lumberjacks' scoring ability (76.5 points per game) and shooting efficiency (.464 field-goal percentage), Stephen F. Austin has built serious momentum after winning the Southland Conference championship and upsetting VCU.
UCLA has been playing just as well, though.
The Bruins are riding momentum of their own after winning the Pac-12 Conference championship by upsetting Arizona, and a decisive win against Tulsa in the second round proves the team is looking to make a deep run.
Head coach Steve Alford spoke to the Associated Press via ESPN about the prestige of the UCLA program and the expectations for this season and beyond:
There is not another place in the country that hangs 11 national championship banners. There is not another place in the country that has an icon legend like John Wooden that's done that much for basketball on and off the court and a bar that's raised like that. You can't be good one out of every four years. You've got to be relevant every year. That's the culture that we want to continue at UCLA.
With the Bruins boasting one of the best offensive units in the entire tournament and Stephen F. Austin not afraid of the challenge, this matchup will be the perfect embodiment of what this tournament should be.
UCLA is a perennial powerhouse and the most decorated program in the sport. On the other hand, the Lumberjacks are a relative unknown to casual fans and looking to make a deep run in the tournament to cement their spot in history.
The bitter battle of contrasting programs will result in the best game of the day.
Predicted Final Score: Stephen F. Austin 75, UCLA 71
*Stats via ESPN.com.