If Chelsea are to progress under Jose Mourinho, they must make sure to keep hold of Eden Hazard.
The club must also stave off interest from Spanish giants Real Madrid, per Metro's John Payne.

Per Metro, a bumper offer of £200,000 per week will be offered to the midfielder to entice his stay, after a £50 million bid from Paris Saint-Germain last summer.
The Belgian midfielder has been influential for the Blues this season, bagging 14 goals to top the club's league-scoring charts.
According to WhoScored.com, the 23-year old has scored two strikes and assisted two goals in his last four league matches.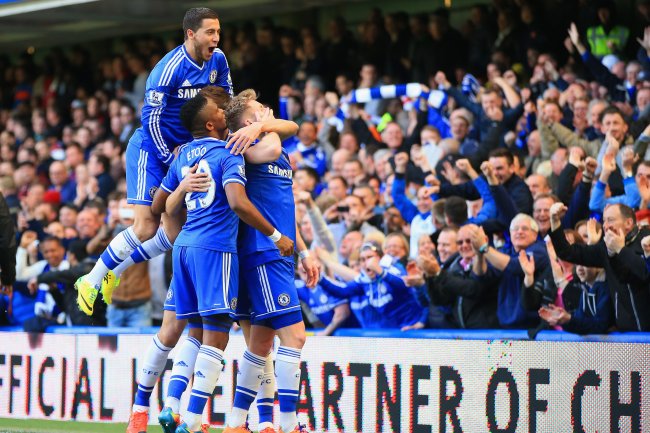 Richard Heathcote/Getty Images
His penalty during the club's 6-0 demolition of Arsenal showed his cool, calm and collected nature to slot his side into a three-goal lead after just 16 minutes.
Speaking at a press conference, Hazard played down his chances of winning the Ballon D'or.
However, he also alerted Real Madrid by stating that he would like to test his skills against Cristiano Ronaldo, per Goal.com's Peter Thompson:
The problem is I have to play well in every game. I am in good form, that is true, so I have to work hard and try to have lots of good games. I have more consistency in my football. I have more experience. Last year was a good season for me. In Lille I had good seasons as well so, yes, I think that my form is more settled. I've managed to play well so that's good for me.

It's an aspiration for me to be as good as Ronaldo and Messi. I watch a lot of games they play in and I try to be on the same level. For me, for a young player, it's very important to test myself against Ronaldo or Messi, just to be on the pitch with them would be good and I would try to do well.
The talismanic, creative player took to his Instagram account after the game to tell of his delight at the thumping win:
As shown by Hazard's above post, it's clear that the player is enjoying his game at the club.
It's this kind of player that Chelsea must keep hold of, if they are to ensure long-term success at Stamford Bridge.
Young and hungry, Hazard will be targeting success for both club and country over the next few years.
His athleticism and endeavour all over the pitch will go some way to ensuring that the club maintain their title push until the end of the season.
As tweeted by Squawka, Hazard's heat map shows how important he proved against the Gunners, both attacking and defensively:
HEAT MAP: Eden Hazard has been all over the attacking third today, completing 4 take-ons along the way. #CFC pic.twitter.com/cbGACuyFCP

— Squawka Football (@Squawka) March 22, 2014
Chelsea could entice the midfielder to stay at Stamford Bridge by continuing to challenge in the Champions League.
Whetting his appetite against the Spanish giants in Europe would see his desire to play against Ronaldo and Co.
It would also allow the player to impress on the biggest of stages, proving why he should keep his place in the national side.
Speaking with L'Avenir recently, Belgian boss Marc Wilmots stated that Hazard must improve and be "more decisive" for his country, per Goal.com's Chris Davie:
I once played with [Zinedine] Zidane. The ball was a part of him, nothing was impossible. I have the same feeling when Hazard has the ball. Eden knows what I expect of him and that I will not tolerate any laxity in matches.

Drop once in effort, it is one too many times. If one day, I feel it is not in this spirit, I will do without him. He needs to improve his stats with the national team. Five goals, including two penalty kicks, in almost fifty games? This is not enough.

I scored 29 times for Belgium and was less talented. Eden, I love him, but I ask him to be more decisive.
With Wilmots' words ringing in his ears, Hazard will know that he has to continue his excellent form if he is to play his part at the World Cup.
He will also know that if he wishes to continue on his path to emulating the likes of Ronaldo and Lionel Messi, he must be winning trophies.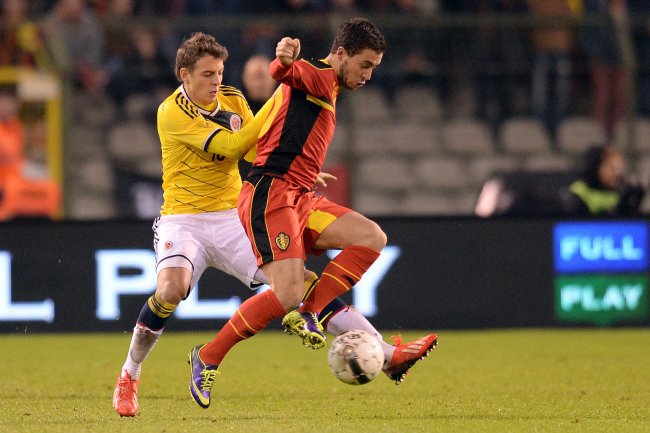 Geert Vanden Wijngaert/Associated Press
The return of Jose Mourinho will help bring success back to the Bridge, with the club on course for the title.
Also, still in Europe, the Blues take on Laurent Blanc's PSG for a two-legged chance at the Champions League semi-finals.
With Real Madrid still in the competition, the chance for Hazard to face Los Blancos still presents a good chance.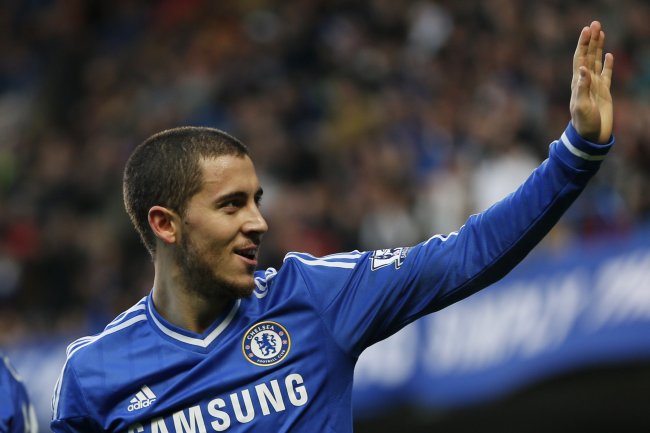 Lefteris Pitarakis/Associated Press
But for Hazard, it is important to keep his feet on the ground and focus on winning the double with the Blues.
He may look at Gareth Bale's rise to stardom after moving to Santiago Bernabeu and feel that he could emulate the Welshman.
However, as stated by Wilmots, the player must continue to be influential on all stages before dreaming of a big move abroad.