The Michigan State Spartans are among the teams playing their best basketball at the right time. On Saturday, the Spartans held off a pesky Harvard Crimson team and advanced to the Sweet 16 of the NCAA tournament with a 80-73 win.
The win was typical of the Spartans and head coach Tom Izzo for this time of year. Michigan State has never lost a round-of-32 game in the tournament, per ESPN Stats and Info:
Michigan State survives against Harvard. Spartans now a perfect 10-0 in Round of 32 games as a top 4 seed

— ESPN Stats & Info (@ESPNStatsInfo) March 23, 2014
Marc Raimondi of Fox Sports gives Izzo much-deserved praise:
Tom Izzo has been to 12 Sweet 16s in 18 years at Michigan State. Best coach in the country at this time of year. #sparty

— Marc Raimondi (@marc_raimondi) March 23, 2014
The later games on Saturday's schedule were close, as the NCAA March Madness Twitter account indicates:
Michigan State 58, Harvard 57 Wisconsin 80, Oregon 77 Fingers 5, Nails 0 #MarchMadness

— NCAA March Madness (@marchmadness) March 23, 2014
The Spartans led 49-33 early in the second half, but Harvard wouldn't quit. If you turned away, you may have found yourself feeling like NBA.com's Keith Langlois:
Wait ... Harvard tied Michigan State? Did they switch to a "Jeopardy" format?

— Keith Langlois (@Keith_Langlois) March 23, 2014
After briefly losing the lead in the second half when the Crimson went on a 29-11 run, the Spartans responded with a mini run of their own to drive the lead back to eight points.
Per Ian Cull of KXLY in Spokane, Izzo warned his team that Harvard wouldn't quit:
MSU Coach Tom Izzo: "every time we were up 12, I kept telling my team (Harvard) is going to hang around." pic.twitter.com/sUI9HUQYPG

— Ian Cull (@IanKXLY) March 23, 2014
Travis Trice, Denzel Valentine and Gary Harris drained clutch three-pointers to take the air out of Harvard's late upset bid.
Harvard was led by Ivy League Player of the Year Wesley Saunders. He had 22 points in a losing effort.
In the second round, Adreian Payne exploded for 41 points to lead the Spartans to a 93-78 win over Delaware. On Saturday, it was Branden Dawson's turn to light up the scoreboard.
He finished with 26 points to lead all scorers to go along with nine rebounds. He wasn't particularly strong in the second half, as 20 of his points came before halftime. Still, CBS Sports' Doug Gottlieb recognized Dawson's energy early, per Steve Finamore:
"Brandon Dawson has 20 points...it's all from playing hard." -Doug Gottlieb #PTRW #Spartans

— Steve Finamore (@CoachFinamore) March 23, 2014
Here's a look at the keys to the Spartans' close victory.
(Click here to see the most updated bracket.)
Keys to the Game
Ball Movement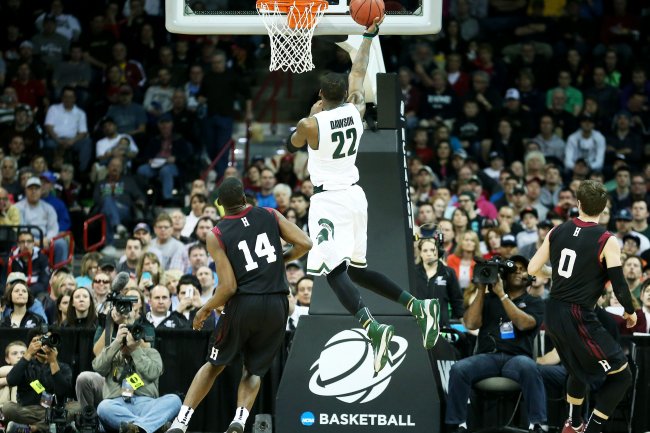 Stephen Dunn/Getty Images
The Spartans were at their best when they were moving the ball to find open looks. Michigan State had 17 assists as a team compared to just eight for Harvard.
The penetration and ball movement helped Dawson get most of his opportunities to score. He made 12 of 15 attempts to make good on the nice playmaking from Harris and Valentine who combined for 11 assists.
Clutch Threes and Free Throws
In the final 6:52 of the game, the Spartans did almost all of their damage from beyond the arc and at the free-throw line.
Michigan State was 3-for-5 from three-point range in the last seven minutes and 9-for-10 from the free-throw line. That shooting accuracy is what sealed the game. The Spartans simply out-executed Harvard down the stretch.
Looking Ahead for Michigan State
Michigan State is headed to a Sweet 16 contest in Madison Square Garden to face the winner of the Virginia and Memphis matchup. Izzo's squad has proven itself to be quite versatile with a plethora of weapons offensively.
Dawson, Payne and Harris have all had their moments carrying the team in the last three weeks. That balance will serve them well in the next round, but the Spartans can't afford to fall asleep the way they did for much of the second half against Harvard.
Were it not for the big lead it built early, this could have been another upset in this year's wacky tournament.
That said, with so much talent and Izzo at the helm, you have to like the Spartans' chances of reaching the Final Four.
Follow me. I'm addicted to hoops.