After years of mediocrity, Liverpool once again find themselves where the club belongs: fighting for the Premier League title.
A comprehensive 6-3 win at Cardiff City on Saturday has the team in second place on the Premier League table, four behinds leaders Chelsea with a game in hand.
The win itself was a microcosm of the Reds' season. Liverpool lead the league in scoring but have also conceded more goals than any of the other clubs still contending for the title. Every game the club plays is a shootout; every single tie brings excitement.
The club survives on scoring, and no single player in the EPL scores more than Luis Suarez. With 28 goals in only 25 games, the Uruguayan striker is on pace to break all kinds of records, and ESPN FC notes he compares very favourably to last year's leading scorer, Robin van Persie.
Unstoppable: Suarez now leads the Premier League with 28 goals -- 2 more than last year's Golden Boot winner -- and 11 assists.

— ESPN FC (@ESPNFC) March 22, 2014
But you should take a good luck at that second number. Those 11 assists tell the story of Liverpool's 2013-14 season, and they're the reason the Reds currently find themselves near the top of the EPL table.
It seems like almost every week we're reading about how fantastic Suarez is at putting the ball in the back of the net and what a marvelous player he has become. That used to be different. There was a time all we'd read about was how flawed he was of character or how many mistakes he'd made.
There's no reason to revisit that. Suarez hasn't taken a step in the wrong direction in ages, and if the statistics are any indication, it's evidence of a more mature Luis Suarez, both on and off the pitch.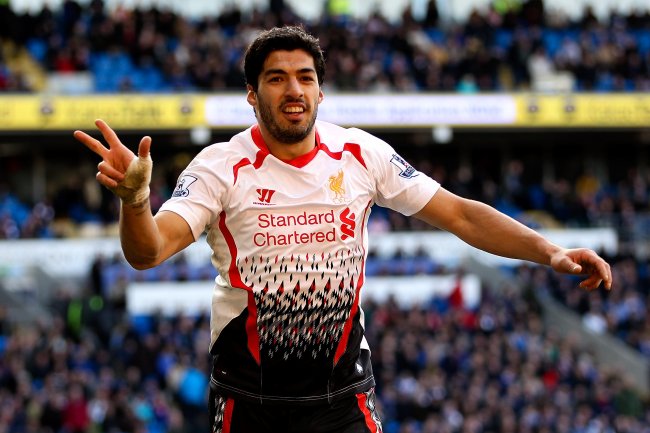 Ben Hoskins/Getty Images
The forward already has twice as many assists this season as he's had in any of the previous seasons and leads the entire EPL in that category, per Whoscored.com. He's also averaging the most total passes per game of his entire career.
Suarez has matured right in front of our eyes, and Liverpool have ridden their "new" star striker all the way toward the top of the league table. Paired with Daniel Sturridge, who deserves special praise for his breakout season, the Reds are showing everyone you can win on the back of exciting, attacking football.
The offensive onslaught has helped protect a defense that has looked more than just suspect at times. People have noticed, but Liverpool's attack is so good, it doesn't make a difference anyway.
TSN's Gareth Wheeler agrees:
Best defense is a good offense. Liverpool, man. Liverpool. #lfc #bpl

— Gareth Wheeler (@WheelerTSN) March 22, 2014
The Reds' closest title contenders all boast that one phenomenal attacking player capable of deciding a tie with one flash of brilliance. Chelsea has Eden Hazard. Manchester City has Sergio Aguero.
Both are amazing talents that have proven their worth to their respective teams time and time again. Both are also relatively clean-cut personalities who hardly ever get in trouble with the media.
With the focus on his play as opposed to his behaviour, Suarez has emerged as a better and more decisive player than either of those two.
The forward was suspended to start the season, and as SBOBE Tweets reports, manager Brendan Rodgers said his player had matured once the suspension had ended:
[Football #News] Since the window shut, #Liverpool boss Brendan Rodgers thinks Luis Suarez has matured as a player and a person. #LFC

— SBOBETweets (@SBOBETweets) November 1, 2013
It seems like Rodgers was right.
There are many reasons you can point to when talking about Liverpool's rise from mediocrity. The development of Sturridge. The presence of Rodgers. The smart transfer policy used these past 12 months.
But you'd be foolish to overlook perhaps the most important reason of all. The death of the Suarez of old, and the rise of a new, improved Suarez. One that can be appreciated for his greatness on the pitch, and that greatness alone.