Buckets came at a premium in a battle between two of the 10 most efficient defenses (KenPom subscription required) in the country, but the Louisville Cardinals' freight train continued on its path to the Final Four with a 66-51 win over the Saint Louis Billikens on Saturday afternoon.
At times—particularly in the first half—the game was almost unwatchable. The two teams combined for 37 turnovers, 37 fouls and only 43 made field goals. Louisville could barely even find the rim in the first seven minutes of the second half. Saint Louis never found the bottom of the net from three-point range, shooting 0-of-15 from downtown.
Aspects of it were more extreme than anyone could have predicted, but the game went pretty much according to expectations. Both teams played gritty defense, and the Billikens' 170th-ranked adjusted offensive efficiency (KenPom subscription required) was on full display.
If people are complaining about pace of 1st half, it had 33 possession. Above average D-I first half. Score is result of 21 turnovers.

— Ken Pomeroy (@kenpomeroy) March 22, 2014
But for the second time in as many games, Louisville proved it can win ugly and still look pretty.
The Cardinals had a whale of a time getting past No. 13 seed Manhattan on Thursday night. They shot just 36.4 percent from the field and committed a dozen turnovers against the Jaspers' more-physical version of Louisville's defensive pressure.
Survive and advance, though. Those are the two most important words in March, and the Cardinals have figured out how to do just that.
With the way they were blowing out their opponents in the two months leading up to the tournament, it wouldn't have been tough to argue that they may have forgotten how to win close games.
Between Jan. 16 and Mar. 15, Louisville went 15-2. In the two losses, the Cardinals held a lead in the final three minutes before letting it slip away. Of the 15 wins, 14 were by double digits.
How they would respond to getting punched in the mouth in a close game was a bit of an unknown, but they've shown this weekend they can rely on their defense to pull out close victories.
There were two huge X-factors in the win over Saint Louis.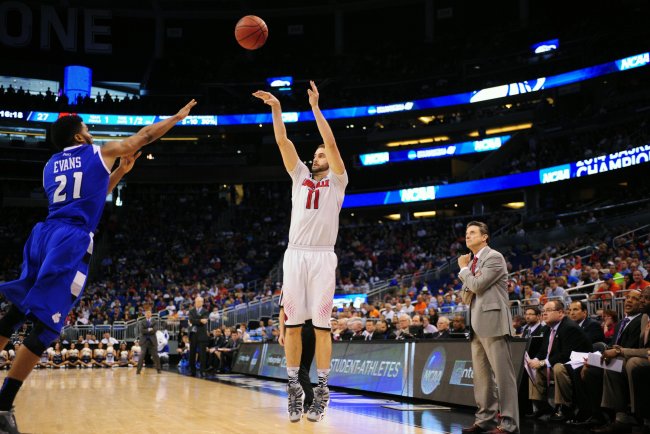 David Manning-USA TODAY Sports
The first should be pretty obvious from looking at the box score. Luke Hancock led all scorers with 21 points, and was pretty much the only person on the court who looked comfortable shooting the ball. Coach Rick Pitino suggested not so nicely after the Manhattan win that Hancock should take more shots, and he clearly took it to heart.
Luke Hancock said of Rick Pitino, "Today he told me I better f-ing shoot it if I'm open. So, I did." #UofL #Louisville

— Steve Andress (@steveandress) March 21, 2014
At one point midway through the first half, Hancock was responsible for seven of Louisville's 13 field-goal attempts. He finished the game 6-of-15, and had three of Louisville's nine steals—resulting in five fast-break points.
The second X-factor was an inadvertent elbow from Rob Loe a little over three minutes into the game. In addition to handing Louisville two free points and the ball, it was one of the three fouls that Loe committed within the first 10 minutes of the game.
3rd foul on Rob Loe. LITERALLY the worst thing that could happen to St. Louis. #MarchMadness

— NCAA March Madness (@marchmadness) March 22, 2014
Playing the rest of the game in foul trouble, Loe was never able to get going. He played a total of 21 minutes, scoring just 10 points and grabbing five rebounds. Quite the contrast from his 22 points and 15 rebounds in the come-from-behind win over North Carolina State on Thursday.
Maybe he doesn't repeat that performance if he's able to avoid foul trouble, but the game certainly would have played out differently. The three-point range on the 6'11" Loe might have helped draw Montrezl Harrell and/or Mangok Mathiang out of the paint, opening up more room for Jordair Jett and Dwayne Evans to do their thing in the paint.
If nothing else, it might have actually led to Saint Louis making a three-pointer in the game.
But, alas. Saint Louis is heading home and Louisville is moving onto the Sweet 16—much to the chagrin of every other team left standing in the Midwest Region.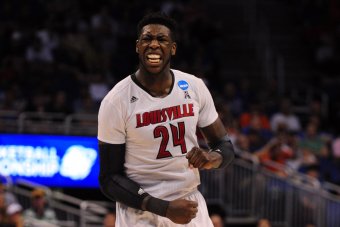 David Manning-USA TODAY Sports
Whether they draw Wichita State or Kentucky in the next round, the Cardinals are going to be playing in a third consecutive defensive struggle. Wichita State ranks 10th in adjusted defensive efficiency. Kentucky ranks 22nd, and has the size and length of Julius Randle, Willie Cauley-Stein and Dakari Johnson to contend with Louisville's monsters in the paint.
A week ago, that might have been a problem. After these past two games, though, it appears the defending national champions are prepared to take on all comers.
It has been 17 years since the last time a team seeded lower than No. 3 won the national championship. In 1997, the No. 4 seed Arizona Wildcats knocked off three No. 1 seeds on their way to the title. Coincidentally, they also won a pair of low-scoring struggles in their first two games.
In more ways than one, Louisville is gearing up to repeat history.
Kerry Miller covers college basketball for Bleacher Report. You can follow him on Twitter @kerrancejames.