The third round of the 2014 NCAA tournament is full of compelling matchups, though it got off to a relatively ugly start on Saturday.
Both of the higher-seeded teams—Florida and Louisville—were able to come out on top in their contests. The Gators bested the Pittsburgh Panthers, 61-45, while the Cardinals took care of business against the Saint Louis Billikens, 66-51.
Florida, the top seed in the tournament, shot just 43.1 percent from the floor. Their defense was stifling, however, holding Pittsburgh to just 37.3 percent from the floor.
Louisville and Saint Louis took part in what could only be described as the ugliest half of the entire tournament. The two teams combined for just 41 first-half points, with turnovers and missed shots a running trend.
There's a whole lot to take away from the third round's first two matchups.
All Your Bracket Essentials: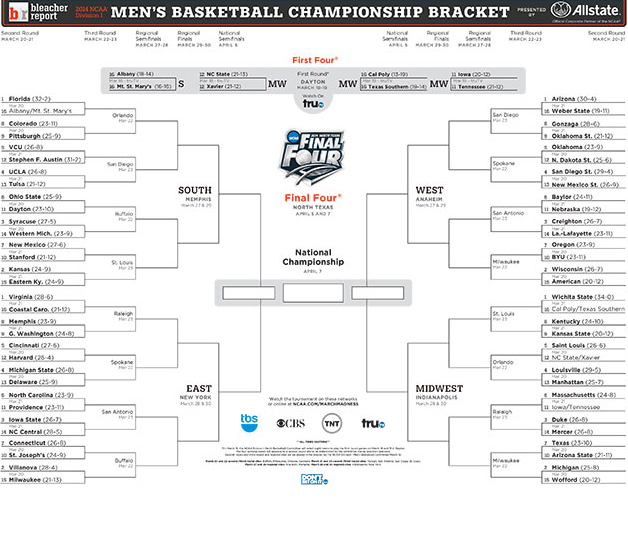 Bleacher Report
Scottie Wilbekin Can Take Over for Florida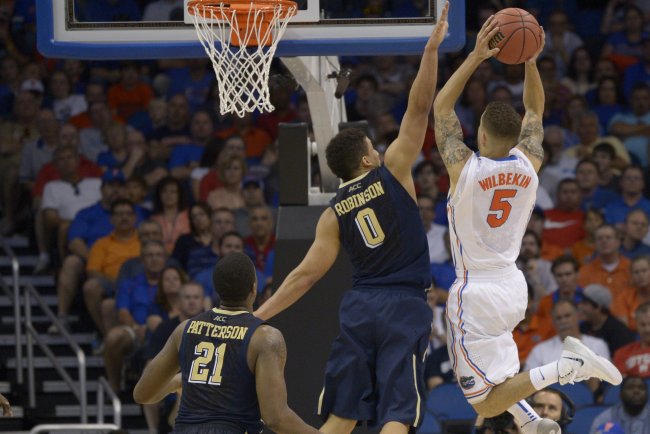 Phelan M. Ebenhack/Associated Press
Scottie Wilbekin had himself quite a game for the Gators against Pittsburgh. He dropped 21 points and grabbed three rebounds while dishing out two assists and tallying two steals.
While his team was mostly struggling from the floor, Wilbekin provided much-needed consistency. He was 9-of-15 from the floor, including this incredible buzzer-beater to end the first half:
VIDEO: Florida's Scottie Wilbekin nails a three at the buzzer to end the 1st half vs. Pitt http://t.co/bmHsWFRlpd pic.twitter.com/9wMAvmUbWe

— College Basketball (@br_CBB) March 22, 2014
Wilbekin continued to carry his team in the second half:
Scottie Wilbekin is taking over. #MarchMadness

— ESPN College BBall (@ESPNCBB) March 22, 2014
Wilbekin is the lead dog on a Gators team with several quality players. His consistency scoring the basketball moving forward will be the key to his team's success, but he proved that he can really take over games when his team needs him.
Head coach Billy Donovan had great things to say about his star's performance:
"I'm so proud of where he has come as a person and a player" - Billy D on Scottie Wilbekin

— Gator Nation (@GatorsChompAll) March 22, 2014
Single players can often take over the tournament and lead their teams to victory. Wilbekin is starting to show he can do just that. Look for Florida to make a push for the Final Four with Wilbekin leading the charge.
Can Louisville Shoot Consistently?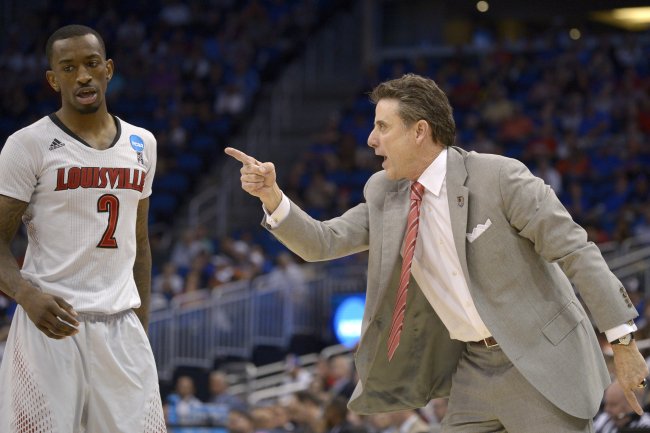 Phelan M. Ebenhack/Associated Press
Louisville got off to an extremely rocky start against Saint Louis, scoring just 25 points in the first half. The Cardinals turned it on a bit in the second half and upped their field-goal percentage to 44.9, but inconsistency can kill a team as the tournament progresses.
ESPN's official Twitter account tweeted what was on everybody's mind following the game:
It wasn't exactly pretty, but the defending champs got the job done. Louisville's on their way to the Sweet Sixteen.

— ESPN (@espn) March 22, 2014
The Cardinals will face either Wichita State or Kentucky in the Sweet 16, and each squad will capitalize on a team that doesn't convert from the floor. The Shockers are the first-ever team to go 35-0 and certainly won't miss on that many opportunities.
After barely scraping out a win against the Manhattan Jaspers, Louisville is beginning to look less and less like the team many people predicted to repeat as national champs.
If Louisville can't convert consistently in both halves, then it's going to run into serious trouble in the latter rounds of this tournament.
Is Either Team Worthy of a Final Four Berth?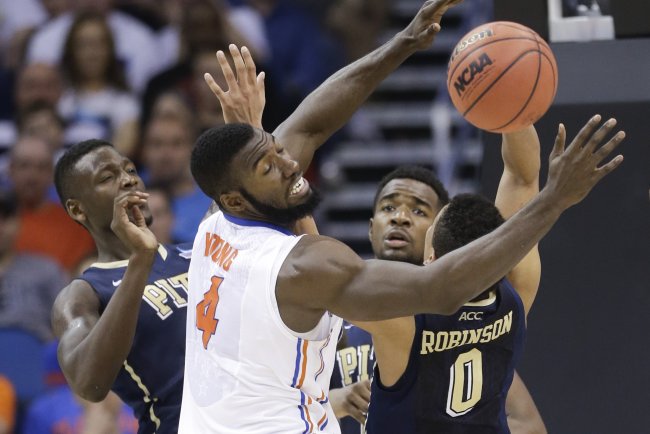 John Raoux/Associated Press
After the rounds of 64 and 32, we've been lucky enough to witness some great basketball. With so many upsets, the landscape for the Elite Eight and beyond is up in the air.
Florida and Louisville were two teams that were predicted by many to be in the Final Four. The Gators appear to be playing like a team that will make it, even though their win over Pittsburgh wasn't a full team effort.
With some more scoring from Patric Young and Michael Frazier II, Florida will be incredibly difficult to stop. After all, there's a reason why the Gators were the No. 1 overall seed in the tournament.
Prior to the start of the tournament, Louisville head coach Rick Pitino was upset over the team's No. 4 seeding. That being said, he was of the impression that his team would win:
Rick Pitino says the #4 seed for his Cardinals is a byproduct of conference affiliation "but we"re going to win this thing."

— Terry Meiners (@terrymeiners) March 16, 2014
Now, I'm not so sure.
The Cardinals showed the grittiness necessary to win close games, but I need to see more consistency from them in their next contest before I completely restore my faith in them.