The round of 64 brought with it some bracket-busting results. With No. 3 Duke, No. 5 Oklahoma and No. 5 Cincinnati heading home early, the madness of March continues to be at an all-time high.
Saturday marks the beginning of the 2014 NCAA tournament's third round, and more upsets are likely on the way. March Madness continues to be as unpredictable as ever; however, that's not always a bad thing, as we have witnessed some immensely intense matchups.
As the adrenaline-packed tournament action continues, let's take a look at the scores and results from each of Saturday's games.
Halfway there. #MarchMadness pic.twitter.com/KoCrUzZoLP

— NCAA March Madness (@marchmadness) March 23, 2014
All Your Bracket Essentials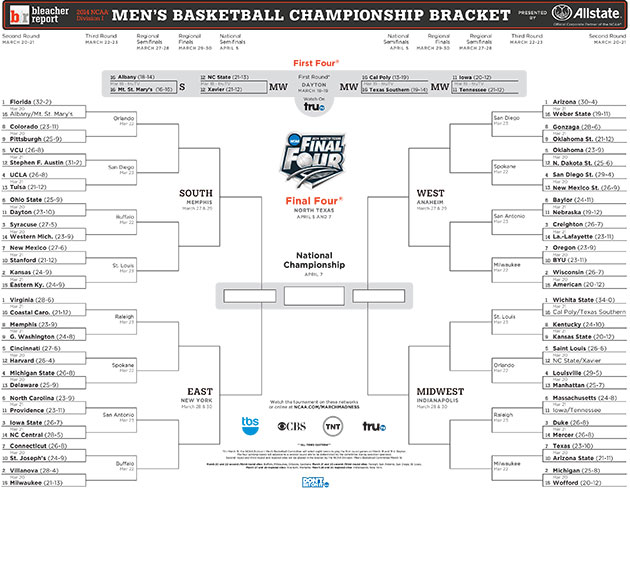 Bleacher Report
No. 7 UConn 77, No. 2 Villanova 65
Remember us? UConn wins Big East reunion, 77-65, behind 25 from Shabazz Napier. #MarchMadness pic.twitter.com/7hvVepa0PR

— NCAA March Madness (@marchmadness) March 23, 2014
In this one, the new American Athletic Conference trumped the old Big East. Behind 25 points from Shabazz Napier, the UConn Huskies pulled the minor upset over the Villanova Wildcats.
ESPN kept its synopsis short and sweet in this tweet:
Villanova's Tournament run came to an end. The reason: UConn's Shabazz Napier. pic.twitter.com/MtqJvXjLCm

— ESPN (@espn) March 23, 2014
Napier has been spectacular for UConn so far in the tournament. He had 24 points in the second round against Saint Joseph's, but he didn't shoot the ball particularly well in that one.
On Saturday, he had the radar on. Napier sunk 4-of-8 attempts from beyond the arc and 9-of-13 shots overall.
UConn usually has to depend on Napier to grab an inordinate amount of rebounds for a guard, but on Saturday, another Huskies backcourt player took up his slack on the glass.
Niels Griffey had 11 boards to lead all players. Ryan Boatright pitched in with seven rebounds as well.
The loss for Nova was a bitter one. Coming into the tournament as the No. 2 seed, the Wildcats had their eyes set on bigger and better results.
Ryan Arcidiacono led them with 18 points, but it obviously wasn't enough. Turnovers were a big issue for Nova. They had 16 as a team, but Darrun Hilliard had six by himself.
Taking better care of the ball could have given Nova a different outcome. The Huskies now head to Madison Square Garden to compete in the Sweet 16. The program is very familiar with the legendary arena.
Jeff Jacobs of the Hartford Courant quotes Boatright after the game:
Boatright: "At UConn we call the Garden our second home."

— Jeff Jacobs (@jacobscourant) March 23, 2014
Already a confident bunch, the Huskies will be even tougher to beat at MSG. The winner of the North Carolina-Iowa State game will have its hands full.
No. 4 Michigan State 80, No. 12 Harvard 73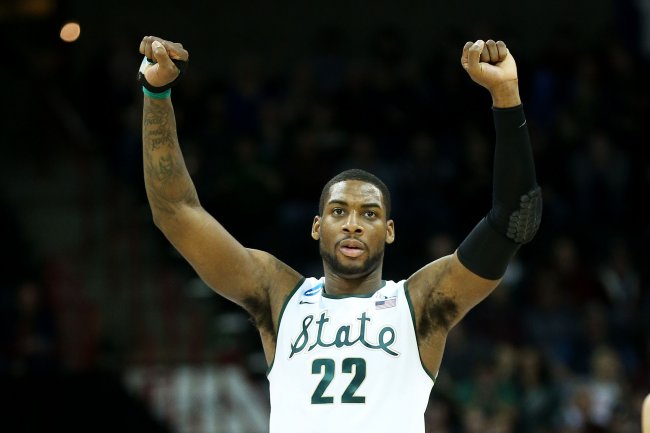 Stephen Dunn/Getty Images
It looked as if the Harvard Crimson were going to be blown out through a little more than a half of basketball, but Tommy Amaker's team came storming back.
A 29-11 run gave Harvard a brief lead, but clutch three-point shooting from Gary Harris, Denzel Valentine and Travis Trice but the Michigan State Spartans back in control for good.
Branden Dawson's 26 points and nine rebounds paced Michigan State as it moved on to the Sweet 16. This is a familiar place for head coach Tom Izzo and the Spartans.
Check out this tweet from ESPN Stats and Info:
Michigan State survives against Harvard. Spartans now a perfect 10-0 in Round of 32 games as a top 4 seed

— ESPN Stats & Info (@ESPNStatsInfo) March 23, 2014
Dawson couldn't have been much more efficient than he was. He made 12-of-15 attempts. The performance put him in pretty select company amongst Big Ten players in the NCAA tournament.
Branden Dawson shot 80%, the best FG pct by Big Ten Player in NCAA Tournament game since Chris Webber in 1992 pic.twitter.com/o7hxZtZqey

— ESPN Stats & Info (@ESPNStatsInfo) March 23, 2014
The Crimson were led by Ivy League Player of the Year, Wesley Saunders. He finished with 22 points.
Michigan State advances to the Sweet 16. The East region will play the round at Madison Square Garden. The Spartans will battle the winner of the Virginia-Memphis clash on Sunday.
No. 2 Wisconsin 85, No. 7 Oregon 77
Jonathan Daniel/Getty Images
In one of Saturday's best games, the Wisconsin Badgers held off a game and pesky Oregon Ducks team.
HOW SWEET IT IS! No. 2 Wisconsin advances with 85-77 win over No. 7 Oregon. #MarchMadness pic.twitter.com/vhzoVRjQlt

— NCAA March Madness (@marchmadness) March 23, 2014
Wisconsin used balanced scoring and a 36-26 edge on the glass to secure the win and a spot in the Sweet 16. ESPN Stats and Info talk about the Badgers multi-pronged offense:
All five Badgers starters score 10+ as Wisconsin erases a 12 point halftime deficit to advance to the Sweet Sixteen 85-77 over Oregon.

— ESPN College BBall (@ESPNCBB) March 23, 2014
Frank Kaminsky led all scorers with 19 points. The 7-foot senior struggled mightily from the free-throw line, though. He made just 2-of-7 attempts from the stripe.
It was a team-wide issue as Wisconsin shot just 64 percent from the line as a team.
The Ducks wasted 29 points from Joseph Young and 20 from Joseph Calliste off the bench. Wisconsin will move on to face the winner of the Baylor-Creighton clash on Sunday.
No. 11 Dayton 55, No. 3 Syracuse 53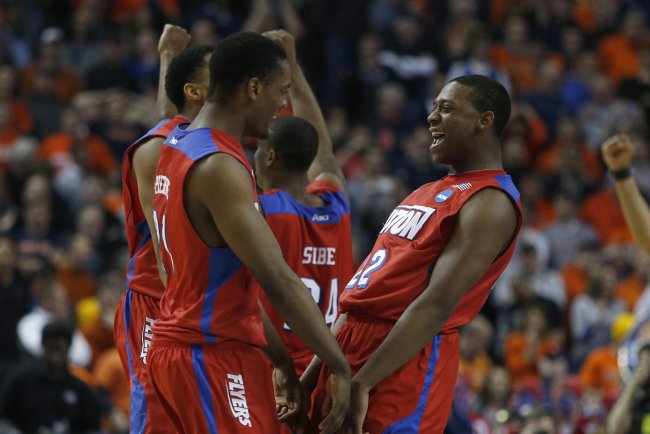 Timothy T. Ludwig-USA TODAY Spor
The Orange's late-season swoon hit rock bottom on Saturday. The Dayton Flyers claimed another big-named victim with its lockdown defense and clutch offensive execution.
Ohio State, check. Syracuse, check. The Dayton Flyers enter the Sweet Sixteen looking STRONG. pic.twitter.com/HZZeKrhYMn

— ESPN (@espn) March 23, 2014
Syracuse's Tyler Ennis had a chance to win the game at the buzzer, but his three-point attempt hit the back iron. Syracuse was 0-for-10 from three-point range in the game.
ESPN Stats and Info puts the woeful shooting performance into the proper perspective:
Syracuse was 0-10 on 3-pointers, its worst 3-pt shooting in a NCAA Tourn game. Its shot chart has alot of red pic.twitter.com/JxlbfmpR7K

— ESPN Stats & Info (@ESPNStatsInfo) March 23, 2014
Syracuse didn't just shoot the ball poorly from beyond the arc, the team made only 38.6 percent of its shots overall. Dayton also out rebounded the Orange as well.
Dyshawn Pierre led the Flyers with 14 points. Tyler Ennis led Syracuse with 19 points in a losing effort.
No. 4 San Diego State 63, No. 12 North Dakota State 44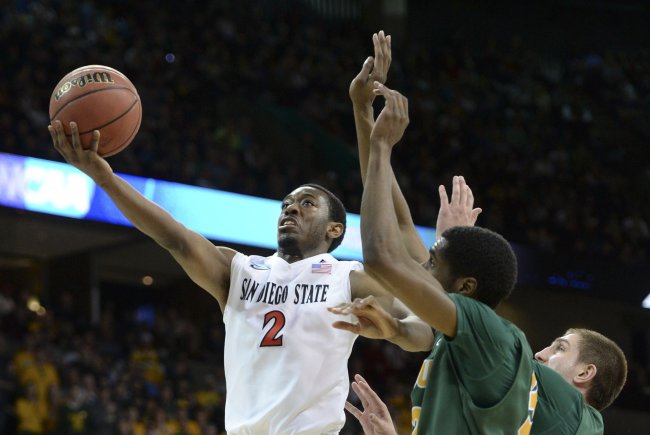 Kirby Lee-USA TODAY Sports
Xavier Thames is turning some heads in the NCAA tournament. Thames went for 30 points in a lopsided win over North Dakota State. He had 23 points in the second round and is averaging 26.5 points per game in the tournament.
Slipper no longer fits. Xavier Thames drops 30 to lead No. 4 San Diego State past No. 12 North Dakota State, 63-44. pic.twitter.com/8Q9LXXpVkr

— NCAA March Madness (@marchmadness) March 23, 2014
If the Aztecs win one more game, Thames will be in position to make the All-Tournament team.
As much as Thames' scoring was important, San Diego State's defense was the real story. They held North Dakota State to 44 points, but take a look at this tweet from ESPN Stats and Info:
North Dakota State shot a season-low 31.9% vs San Diego State. Bison entered game as the best shooting team in the nation (51.0%).

— ESPN Stats & Info (@ESPNStatsInfo) March 23, 2014
Not always seen as one of the nation's top coaches, Aztecs head coach Steve Fisher has earned any accolades he receives for the work he's done at San Diego State.
Steve Kim of Max Boxing and writer Andy Glockner of Sports Illustrated give Fisher his props:
100% serious tweet: Steve Fisher's build job at San Diego State is one of THE great program builds in modern CBB history.

— Andy Glockner (@AndyGlockner) March 23, 2014
Steve Fischer has really re-invented himself at San Diego State. He's proven to be a much better coach that he was given credit for at Mich

— Steve Kim (@stevemaxboxing) March 23, 2014
San Diego State will face the winner of the Arizona-Gonzaga game that finishes the night's action.
No. 2 Michigan 79, No. 7 Texas 65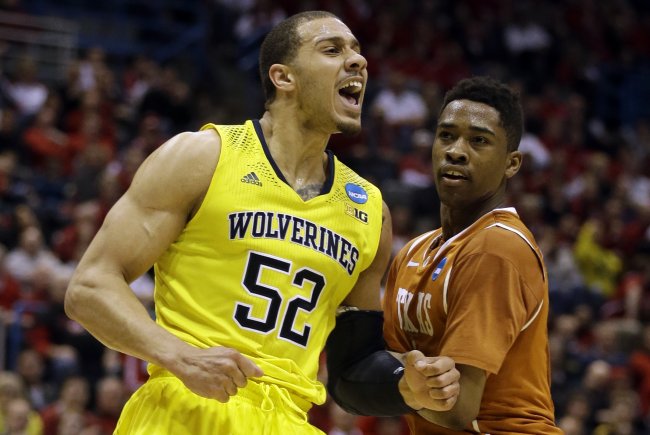 Jeffrey Phelps/Associated Press
The Michigan Wolverines put on a show on Saturday night. Their three-point clinic was astounding, as the team connected on 14 of 28 shots from downtown in their win against No. 7 Texas.
Those 14 threes from Michigan set a new school record, according to a tweet from Michigan Alumni:
That's how we #goblue RT @DrewCHallett: School record. Michigan just made its 14th three, the most in the NCAA Tournament.

— Michigan Alumni (@michiganalumni) March 22, 2014
Michigan started strong, hitting six of its first 11 attempts from behind the arc. Not only were the Wolverines efficient from the field, but they were poised and mature in their on-court actions. The team did not record a single foul through the game's first 15 minutes.
Bob Wojnowski of the Detroit News tweeted his thoughts on the team over that span:
Goodness, Michigan putting on a clinic. Leads Texas 32-14 with 5:20 left and has bween whistled for 0 fouls.

— Bob Wojnowski (@bobwojnowski) March 22, 2014
The Wolverines' shooting extravaganza continued throughout the remainder of the first half. Michigan entered halftime shooting 53.6 percent from the field and 53.3 percent from downtown.
The Longhorns suddenly found themselves in a huge hole, entering the break down 43-30.
Halftime: Michigan leads Texas 43-30. #MarchMadness

— ESPN College BBall (@ESPNCBB) March 22, 2014
Michigan started the second half strong; however, the offense suddenly hit a slump and allowed the Longhorns to get back into the game.
Texas began to use its size inside grabbing rebound after rebound on its way to get within eight points of the Wolverines.
Although, that's as close as the Longhorns would get. Michigan was simply too good of a team on Saturday for Texas to overcome such a huge deficit.
Upon the conclusion of the game, Michigan's depth was on display. Four of the team's five starters scored double-digit points, including a 17-point, eight-assist effort from Nik Stauskas and a double-double from Jordan Morgan.
Isaiah Taylor played well for the Longhorns; however, he was a one-man show. Without enough versatility in its offense, Texas fell rather easily to the Wolverines.
Michigan reaches the Sweet 16 in back-to-back seasons for first time since the Fab Five era (1992-94)

— ESPN Stats & Info (@ESPNStatsInfo) March 22, 2014
Michigan is set to play the winner of No. 11 Tennessee and No. 14 Mercer on Monday. Each of these teams will continue to strive to become this year's Cinderella story. However, a very difficult Michigan team lies in wait.
No. 4 Louisville 66, No. 5 St. Louis 51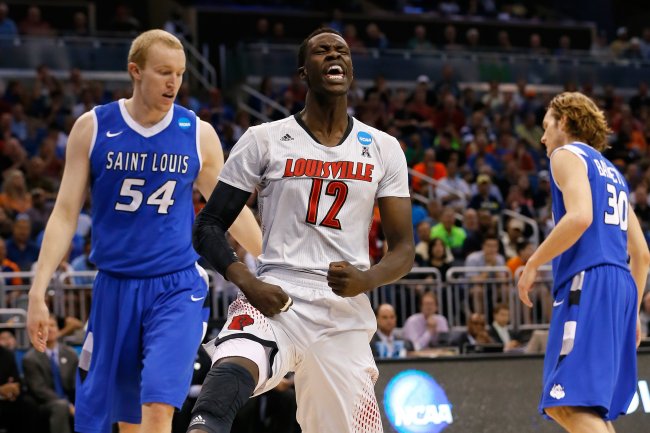 Kevin C. Cox/Getty Images
What a difference halftime can make for teams competing in the NCAA tournament. Early in the game, neither Louisville or St. Louis could get any kind of momentum, as each struggled to get points on the board.
Missed shots, turnovers and unforced errors were prevalent in the early going of the contest. Adam Himmelsbach of the Louisville Courier-Journal tweeted a staggering statistic:
Louisville and St. Louis now a combined 9-for-33 from the floor with 16 turnovers and 5 missed free throws. Cards lead 16-9.

— Adam Himmelsbach (@AdamHimmelsbach) March 22, 2014
The first half came to a close with the Cardinals leading by a score of 25-16.
The second half brought about a completely different story.
While Louisville continued to flounder, the Billikens surged. Driving aggressively into the paint for points and rebounds allowed St. Louis to take the lead—its first since beginning the game 2-0.
However, it didn't last long, as the Cardinals finally began to find some good looks against the St. Louis defense. Matt Norlander of CBS Sports tweeted exactly how long Louisville's scoring drought lasted:
Louisville just ended a drought of 45 real time minutes (halftime a factor) between field goals.

— Matt Norlander (@MattNorlander) March 22, 2014
Once the Cardinals got hot, they began a scoring streak that was enough to put the game away. In the waning minutes, Louisville gained its largest lead of the game, going up by 13 points over St. Louis.
With a hot hand on offense, along with a devastating full-court press on defense, the Cardinals were able to ice the game.
It wasn't exactly pretty, but the defending champs got the job done. Louisville's on their way to the Sweet Sixteen.

— ESPN (@espn) March 22, 2014
Now, Louisville waits to fave the survivor of No. 1 Wichita State and No. 8 Kentucky to see who they will face in the Sweet 16.
No. 1 Florida 61, No. 9 Pittsburgh 45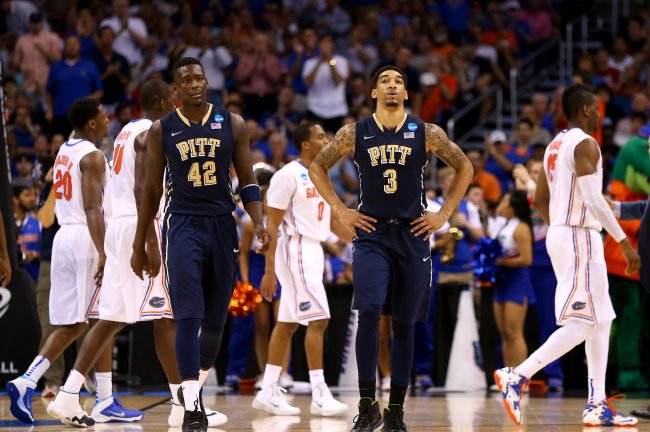 Mike Ehrmann/Getty Images
The top-seeded Florida Gators are the first team to advance to the Sweet 16. Florida's stout defense was on display Saturday, as the team held a high-powered Panthers offense to just 45 points.
Chomp on! No. 1 overall seed Florida advances with ease to the Sweet 16, beats 9 seed Pitt, 61-45. pic.twitter.com/lvjmfpXax8

— SportsCenter (@SportsCenter) March 22, 2014
The Gators' prowess inside was visible throughout the duration of the contest. Casey Prather and Florida's big men sliced their way through the Panthers defense and aggressively attacked the basket. The dominant shooting down low allowed the Gators to shoot 43.1 percent from the field as a team.
Conversely, the Panthers didn't receive many good looks against Florida. The team connected on 19 out of 51 attempts from the field, shooting 37.3 percent from the floor. The Gators took an early lead, forcing Pittsburgh away from its strong interior game and causing the Panthers to shoot from the perimeter.
Florida dominated the boards throughout the game, out-rebounding the Panthers 38-31. The Gators also forced 11 turnovers and accumulated 10 steals.
Paul Zeise of the Pittsburgh Post-Gazette posted a tweet regarding how flustered Pittsburgh looked even though Florida wasn't at its best:
first time I've seen a #pitt team look completely out of sorts for a whole entire game. Worst thing is Florida didn't play a great game

— Paul Zeise (@PaulZeise) March 22, 2014
Gators guard Scottie Wilbekin was on point Saturday, connecting on nine of his 15 attempts from the field for a game-high 21 points and adding three rebounds, two assists and two steals.
This Florida team is deep and experienced and will continue to be a major factor in the 2014 NCAA tournament. Seth Davis of CBS Sports and Sports Illustrated tweeted his impression of this Florida team:
Being an NCAA champ starts with toughness, followed by skill. Not many have both, but Florida sure is one of them.

— Seth Davis (@SethDavisHoops) March 22, 2014
The Gators will now wait to see if they are to face No. 4 UCLA or No. 12 SF-Austin in the Sweet 16.