Jose Mourinho called for more technological assistance for referees after Andre Marriner sent off Kieran Gibbs instead of Alex Oxlade-Chamberlain in Chelsea's 6-0 drubbing of Arsenal at Stamford Bridge on Saturday.
Chelsea were 2-0 up inside seven minutes, and Eden Hazard made it 3-0 through a penalty after Oxlade-Chamberlain threw his hand at a shot from the Belgian. However, while correctly awarding a penalty and issuing a red card, Marriner mistakenly sent off Gibbs for the handball.
The Chelsea manager believes that this should be dealt with through the introduction of technology, as reported by The Guardian's Daniel Taylor:
Mourinho wants more technology for refs. "The sending-off is big ammunition for people like me who think one little screen can help."

— Daniel Taylor (@DTguardian) March 22, 2014
Mourinho also conceded that the result may have increased his side's title hopes and praised Chelsea's quick start:
Mourinho in press conference. "Ten amazing minutes," he said. "We came to kill and, in ten minutes, we destroyed."

— Daniel Taylor (@DTguardian) March 22, 2014
Mourinho, under pressure from @andydillon70, admits #CFC have gone from "no chance" of title to "just a little"

— Daniel Taylor (@DTguardian) March 22, 2014
Despite the sending-off, there can be no argument that Chelsea deserved their victory, Mourinho's biggest in the Premier League. Goals from Eden Hazard, Andre Schurrle, Samuel Eto'o, Mohamed Salah and an Oscar double sealed the emphatic win. They were the far superior side and moved seven points clear at the top of the Premier League.
Chelsea scored more goals today (6) than Arsenal had shots on target (5). pic.twitter.com/ein2T2zWha

— Squawka Football (@Squawka) March 22, 2014
Arsenal were hoping to get within one point of the West London side with a win, but now they look to be outsiders in the title race, with Liverpool and Manchester City the most likely challengers to Mourinho's side.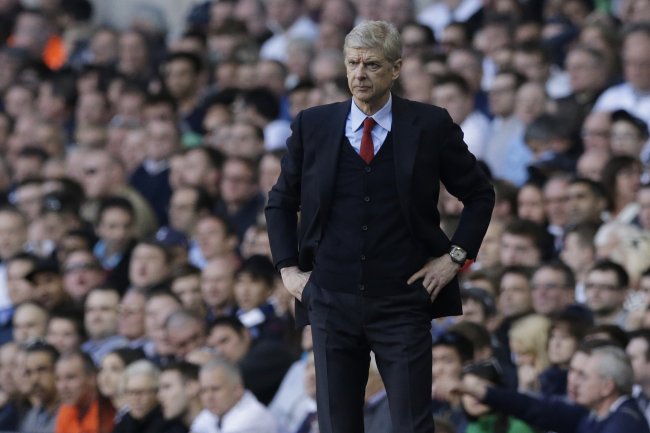 Matt Dunham/Associated Press
It was Arsene Wenger's 1,000th game in charge of Arsenal but not one he will wish to remember. He did not attend the post-match press conference but did talk to BBC Sport, and he took full responsibility for the defeat, as confirmed by Rob Harris of the Associated Press:
Wenger did tell the BBC: " I don't think there's too much need to talk about the mistakes we made." Well he didn't attend presser to talk

— Rob Harris (@RobHarris) March 22, 2014
Wenger did speak to BBC, to be fair, describing it as "one of the worst days [of his career]"

— Miguel Delaney (@MiguelDelaney) March 22, 2014
Wenger not attending press conference, but told BBC: "This defeat is my fault, I take full responsibility for it."

— gunnerblog (@gunnerblog) March 22, 2014
It now looks as though the FA Cup is the most likely target for the Gunners if they are to claim their first piece of silverware since 2005. And as they are the strongest side left in the competition, with Wigan, Hull and Sheffield United also in the semi-finals, they will be expected to go on to claim that trophy.