Nick Johnson, one of the premier players in this tournament, is getting set to lead the Arizona Wildcats against the Gonzaga Bulldogs in the third round of the Big Dance.
The junior guard was one of the catalysts behind Arizona's sloppy 68-59 win over the Weber State Wildcats in the round of 64 and will be instrumental against the 'Zags on Sunday.
The Bulldogs represent a much tougher challenge for the top-seeded 'Zona program, and Johnson will have to bring his A-game if he is going to dance through to the Sweet 16.
He definitely brought it, at least on offense, at the start of March Madness. Johnson dropped 18 points on 6-of-12 shooting from the field, including a dazzling 4-of-6 showing from beyond the arc. The 21-year-old also snagged two rebounds, dished an assist and recorded a steal against Weber State.
Jeff Eisenberg of Yahoo Sports noted that Johnson was so dialed in he was making contested threes after the offense broke down:
Arizona just botched an offensive set so badly that a frustrated Nick Johnson ... pulled up and buried a contested three anyway.

— Jeff Eisenberg (@JeffEisenberg) March 21, 2014
Head coach Sean Miller was still hard on Johnson and the rest of the team after that shaky overall performance, but he believes his squad will return to normal in time for the matchup with the Bulldogs, as per the Associated Press (via ESPN):
We are fortunate to advance and I know the next game will be a terrific game. One of my hopes is, (having) one of these under our belts, we will be more ourselves and better on Sunday.
Johnson is going to have to work a lot harder to put up similar numbers against Gonzaga, as KenPom's efficiency ratings list the Bulldogs as the 16th-best team in the nation on defense. Weber State came in at No. 211 on that same list, meaning this game will be drastically different and much more difficult for Arizona.
The 'Zags also have an army of guards they can throw at Johnson, allowing the team to give plenty of different looks and have fresh-legged defenders on the prolific scorer at all times.
The Washington-based program gave at least 12 minutes to five different backcourt players in its second-round matchup with Oklahoma State. That depth was instrumental in keeping Marcus Smart, the Pokes' superstar point guard, from doing even more damage in a game that Gonzaga eventually won 85-77.
Starters David Stockton, Kevin Pangos and Gary Bell Jr., plus stud reserve Kyle Dranginis, each saw the floor for at least 21 minutes, while Drew Barham and Gerard Coleman earned limited time coming off the bench. They held Smart to 23 points on 5-of-14 shooting, plus limited him to just one make on five attempts from beyond the arc.
With that in mind, it's going to be very tough for Johnson to replicate the stats he compiled in the round of 64. He's going to be facing a variety of different schemes from up to five different defenders throughout the evening on Sunday, so the Gilbert, Ariz., native will need to step up on the defensive end in order to help his team win.
Johnson is part of a unit that KenPom ranks as the No. 1 team in the country in terms of defensive efficiency. The Wildcats are capable of completely locking down opponents—something they will need to do in the third round if they have hopes of advancing deep into March Madness.
Expect this matchup to come down to defense and the team that plays better on that end of the court as the one to come out ahead. The 'Zags are a great No. 8 seed and just as capable of anyone in the West Region to make a run to the Final Four, but Arizona has played better all year and should be able to get it done.
As long as Johnson shoots a respectable percentage and is able to keep the Bulldogs' contingent of guards from getting to the rim at will, the Wildcats should dance to the Sweet 16.
Predicted Final State Line: 18 points (6-13 FG, 2-5 3PT, 4-4 FT), four rebounds, three assists, one steal.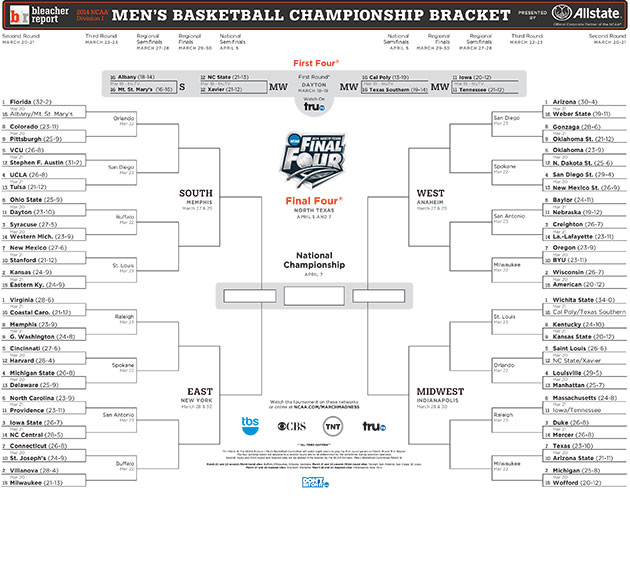 B/R
All Your Bracket Essentials: