This year's NCAA tournament will be the last chance for teams to get an in-game look at potential prospects that they are considering for the 2014 NBA draft on June 26.
The Big Dance is the perfect outlet for prospects to show off their skills ahead of the draft. It provides the perfect scenario for college players to show off what they're made of. It's the biggest stage with the best competition, and teams that go far will likely be carried by their top players.
NBA teams watch the tournament closely, and it truly does impact the stocks of the future NBAers. The round of 64 is over, so players like Jabari Parker and Rodney Hood from Duke no longer have that opportunity to show off their stuff.
Other players still do have the chance, however. Here are four prospects that have the most to gain from success in the tournament.
Russ Smith, PG, Louisville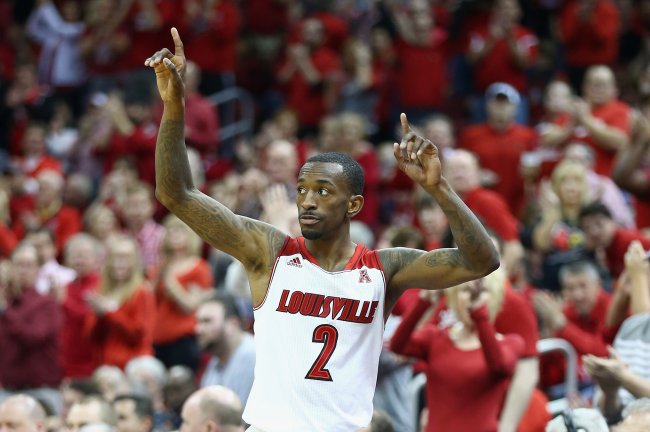 Andy Lyons/Getty Images
Russ Smith nearly declared for the NBA draft last season, but NBA executives weren't a fan of his shot selection or 165-pound frame. He decided to return to Louisville for his senior season and, as a result, put together his most complete stat line to date.
He finished the regular season shooting 47.2 percent from the floor and 40.1 percent from three—both significant improvements over last season's marks. He even upped his assists from 2.9 per game to 4.6 per game.
Russ Smith and the defending champion Cardinals aren't fazed by their No. 4 seed. pic.twitter.com/BxJqrfzexO

— SportsCenter (@SportsCenter) March 20, 2014
Despite the improvements in his game, the latest projections have him going to the Houston Rockets with the No. 8 pick in the second round. NBA front offices likely still aren't pleased that he plays like a combo-guard at the point guard position, but Smith can prove doubters wrong with a strong showing in the tournament.
If he can score and be a floor general for the Cardinals in their pursuit of the national title, NBA teams will have no choice but to reconsider their evaluations. With no slip-ups in the tournament, Smith could feasibly sneak into the first round—albeit as one of the final picks of the round.
Cleanthony Early, PF, Wichita State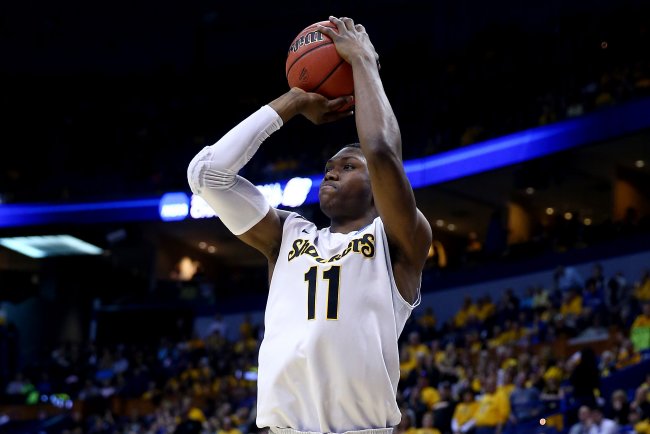 Andy Lyons/Getty Images
Power forward Cleanthony Early has attracted the attention of NBA scouts, says Wichita State head coach Gregg Marshall, via Paul Suellentrop of the Wichita Eagle: "He's got the complete attention of those folks. He's got the stage on which to perform. Now it's just a matter of doing it consistently."
Despite the interest by scouts, Early is still projected to get selected with the final pick of the draft. Perhaps consistency has something to do with it.
With 3:57 left in the 1st half, Cleanthony Early has 19 points for Wichita State, Cal Poly has 8 points as a team

— ESPN Stats & Info (@ESPNStatsInfo) March 22, 2014
The senior averaged 16.0 points and 5.9 rebounds per game this season for the undefeated Shockers, but his shooting percentages are frequently all over the place. His inefficiencies can be a hindrance to the offense at times. Luckily for the Shockers, they are well equipped to overcome his shortcomings from time to time.
NBA teams won't want a guy that can go 8-of-10 from the field one night and 2-of-10 the next night, so Early can really improve his draft stock with a consistent tournament.
Nick Johnson, SG, Arizona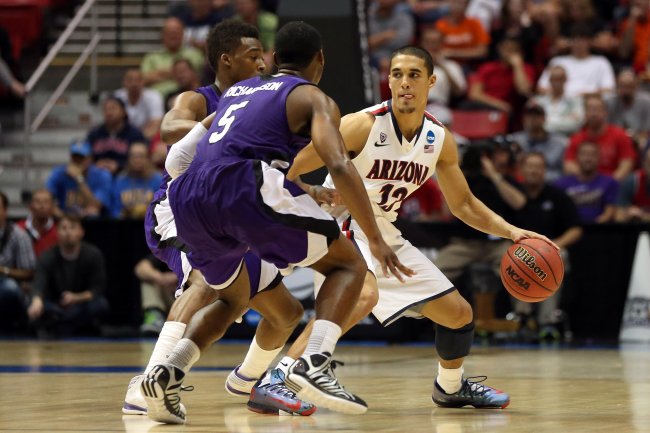 Jeff Gross/Getty Images
If you need a guy that can score in transition and play well above the rim, then Nick Johnson is the player for you. Teams in search of a shooting guard that plays bigger than his size and can knock down threes with consistently will be hard-pressed to find someone better than Johnson.
With all that being the case, why is he still projected to go No. 1 in the second round?
Well, his mid-range game isn't great. Johnson struggles from a few feet inside the arc but shows consistency when he steps back behind the line. Sure, the art of the mid-range jumper is a lost one in the NBA, but teams still value a player that can contribute in all facets of the game.
Arizona just botched an offensive set so badly that a frustrated Nick Johnson ... pulled up and buried a contested three anyway.

— Jeff Eisenberg (@JeffEisenberg) March 21, 2014
With a strong tourney, Johnson might see his stock rise to the late picks of the first round. The Oklahoma City Thunder could use another swingman next to Russell Westbrook and Kevin Durant, so No. 29 to OKC isn't out of the question.
Plus, we all know how good the Thunder are in transition. Johnson could possibly thrive there.
To get there, however, he needs to show an all-around offensive game in the tournament.
Shabazz Napier, PG, Connecticut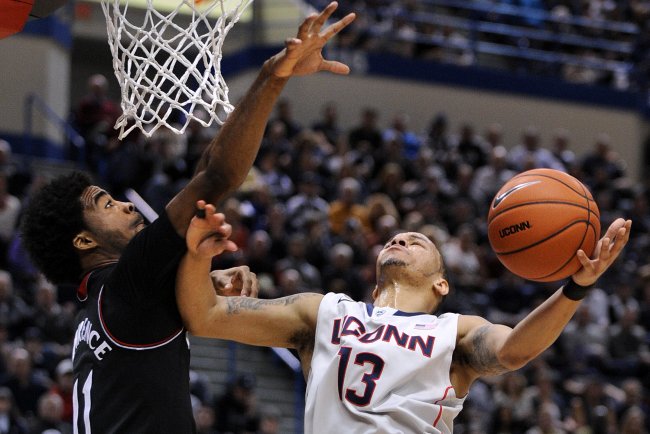 Fred Beckham/Associated Press
Senior guard Shabazz Napier is a talented scorer. The Connecticut Huskies have benefited from his ability to score 17.6 points per game this season, but they have struggled at times to overcome his sometimes poor shooting.
Napier shot just 41.7 percent from the floor this year, a huge drop-off from the 44.1 percent mark he showed last season. He shot 38.9 percent and 37.0 percent in the two years prior, presumably making some NBA teams believe that the 44.1 mark was a fluke.
Shabazz Napier with another complete all-around game. 24 points, 8 rebounds, 6 assists, 2 steals. UConn advances past St. Joe's in OT.

— Jon Rothstein (@JonRothstein) March 21, 2014
NBA teams like volume scorers, but not ones that shoot less than 44 percent from the field. Napier must get that percentage up near 45 percent in the tournament to prove to teams that he can score when it matters.
He's currently projected as the second-to-last pick of the draft, but a player with his potential could jump into the middle of the second round with a strong showing to finish his UConn career.
All pick projections courtesy of DraftExpress.com.