Good luck finding a job this summer, Mike Woodson.
The New York Knicks extended their winning streak to eight games on March 21 with a 93-92 victory over the reeling Philadelphia 76ers, who are now losers of...wait for it...23 games in a row. They also closed the gap between themselves and the No. 8 seed in the Eastern Conference to only three games.
But it's hard to view a one-point victory over the reeling Sixers as a positive, especially if you're the man calling the shots from the sideline. If there's such a thing as a bad win, this would be the example you can find right next to its entry in an encyclopedia.
With Phil Jackson now running the show as the team president, Woodson needs to be coaching his behind off. It would already be a stunner if the goatee-bearing head coach maintained his job through the offseason rather than getting replaced by a Jackson acolyte like Steve Kerr.
Now it would be a downright miracle after he pulled his starters with five minutes to go in a must-win game. Sure, it was only a contest against Philadelphia, but every outing needs to be treated like a do-or-die situation at this point in the season.
RT @StevePopper: Woodson better hope that Phil Jackson is meditating in L.A. right now.

— Ian Begley (@IanBegley) March 22, 2014
Instead of looking like a man who knows what he's doing, Woodson looked completely incompetent during the end of the eighth win in a row, emerging victoriously only because he was playing the Sixers and not a team with significantly more NBA talent.
The Knicks did everything in their power to hand Philly the game, but the Sixers just failed to take advantage of every opportunity.
There was the play in the waning seconds when Philadelphia was down two points. Thaddeus Young drove through the lane, but instead of hitting a wide-open shooter in the corner for a shot at a game-winning attempt, he passed the ball out of bounds.
After Carmelo Anthony split a pair of free throws, the Sixers had one more chance to tie the game.
Clang.
Michael Carter-Williams' final three-point attempt failed to connect, and the Knicks managed to escape with a victory. Given the way the fourth quarter was proceeding, it was an escape that Houdini himself would've been proud of.
A great effort, with #Sixers coming from down 91-74 w/ 5 minutes left to make it a game in the final moments. #TogetherWeBuild

— Philadelphia 76ers (@Sixers) March 22, 2014
Woodson escapes after pulling his main men with 5 minutes left up 91-74. Knicks coach forgot he was playing an NBA team.

— Marc Berman (@NYPost_Berman) March 22, 2014
As both the Sixers' official Twitter feed and Marc Berman of the New York Post make perfectly clear, the Knicks somehow managed to blow a 17-point lead with only five minutes left.
And why?
Because Woodson pulled his starters and must've thought he was playing soccer. I know it's hard to remember, but in the NBA, you're allowed to put players back in the game once they've been substituted out. You're also allowed to touch the ball with your hands, so at least he's having his team do one thing properly.
With 5:13 left in the fourth quarter, the Sixers called a full timeout, down 91-74 at the time. Then they exploded.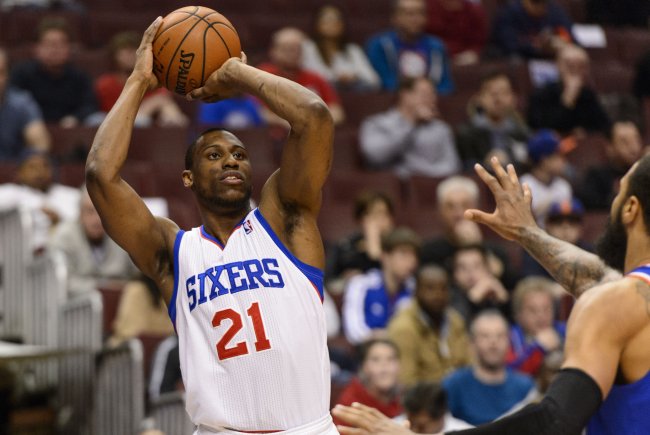 Howard Smith-USA TODAY Sports
When just 3:30 was remaining in the game, James Nunnally hit a three-pointer to cut the lead to just 10 points. The game had proceeded in uninterrupted fashion for almost two minutes, and Woodson still wouldn't stop the clock or make a substitution.
So the teams proceeded, and the momentum continued trickling flowing flooding over to the Sixers' side.
Melo, on whether he felt Knicks already had the game won: "I'd already taken my headband off. That tells you everything you need to know."

— Chris Herring (@HerringWSJ) March 22, 2014
After Henry Sims made an 18-foot jumper, the lead was down to only seven points. Then Young ended the run by fouling Toure' Murry and sending him to the line for two freebies.
Murry made the first, and Woodson had a perfect opportunity to insert some of his starters back into the game. But did he do so? Of course not.
Apparently an eight-point lead with just under a minute left was safe, even though Philadelphia was in the midst of a 10-to-1 run. He must've forgotten that he was coaching the Knicks, a team that has been scarily unable to hold on to a lead throughout the miserable 2013-14 campaign.
After Murry bricked the second free throw, MCW drilled a three-pointer. The lead was down to five.
"They were just a group of guys that didn't quit until the end" @carmeloanthony on the Sixers.

— NBA New York Knicks (@nyknicks) March 22, 2014
Then Murry turned the ball over, and Young made a triple to cut the deficit to only two points. Only then did Woodson decide to take action, calling a full timeout and inserting all five starters back into the game.
Another great Woodson quote, on putting starters back in: "When Thaddeus hit that 3, hell I had no choice, they scared the hell out of me."

— Tina Cervasio (@TinaCervasio) March 22, 2014
Frankly, he's lucky it wasn't too little, too late.
How can any NBA coach be content to sit back and watch his team completely unravel like that? How can they not want to take action, asserting authority and doing something, anything to get their team off the schneid?
It was an embarrassing moment for Woody, even if his team emerged with a victory. And unfortunately for his chances of maintaining his current job past the last game of this season, it's not the first time he's been the part of such a narrative.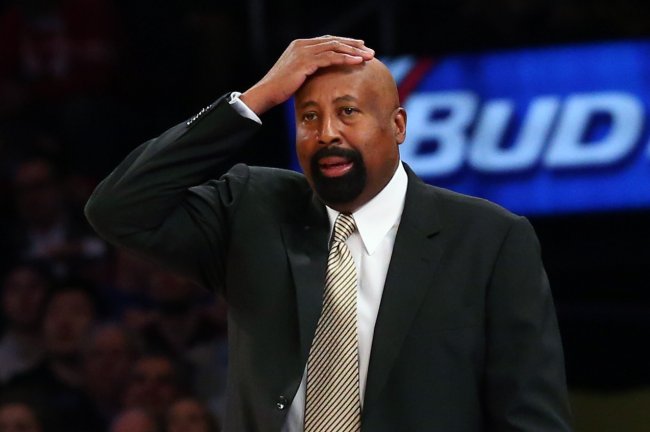 Anthony Gruppuso-USA TODAY Sport
In the last week, he's been cursed at by Anthony in the huddle, and he's admitted he could use some help from Phil trying to coach the triangle. So basically, this was actually a good week in the grand scheme of this season.
As Sean Deveney wrote for Sporting News earlier in March:
Remember, too, when the Knicks were nearing "open revolt" in mid-January, and even the mild-mannered Tyson Chandler was making insubordinate comments about his coach? Or how about last month, just ahead of the All-Star game, when the Knicks were said to be certain to let Woodson go before the break? When that didn't happen, they would let him go just after the break. Assistant Herb Williams was said be ready to step in for Woodson.

...

But it is a near miracle that Woodson has lasted as long as he has this season, and an even bigger miracle should he stay on the bench for the remaining six weeks. For that, no question, he can thank Anthony.
It's unlikely anything changes during the rest of the season.
Will Mike Woodson be coaching the Knicks in 2014-15?
Pulling the plug on the Woodson experiment—ineffective as he may have been—would be highly problematic coming down the stretch of the 2013-14 season. After all, this team has won eight games in a row and does still have a chance to sneak into the playoffs. Switching coaches would just throw a wrench in that plan, even though the replacement would almost certainly be an upgrade over the incumbent.
But this offseason? Let's just say Jackson retaining Woodson is less likely than 'Melo opting out of his contract to sign with the cap-strapped Indiana Pacers for a veteran's minimum deal.
And if the lame duck of a head coach asks why, all the Zen Master needs to do is replay the fourth quarter of this victory over the Sixers. No words would even need to be exchanged.