The East region's No. 11 seed in Providence mounted a compelling second-half surge in Friday's second-round game against North Carolina in the 2014 NCAA tournament. However, it ultimately wasn't enough as the Tar Heels emerged with a 79-77 victory at San Antonio's AT&T Center.
SURVIVE AND ADVANCE! James Michael McAdoo's late FTs lift No. 6 UNC past No. 11 Providence 79-77. pic.twitter.com/84cM7jB2E3

— NCAA March Madness (@marchmadness) March 22, 2014
That provides a change in this year's trend of double-digit seeds advancing in this edition of March Madness, and now UNC will move on to face the winner of Iowa State and NC Central in the third round.
Perhaps the Tar Heels should never have been doubted based on their record in the round of 64, which ESPN Stats & Info highlighted after the win:
North Carolina: won 12 straight Round of 64 games (10-0 under Roy Williams)

— ESPN Stats & Info (@ESPNStatsInfo) March 22, 2014
As well as Providence shot free throws all season, the game came down to some attempts at the charity stripe from James Michael McAdoo. After sinking the first to put the Tar Heels up 78-77, he grabbed the team's 21st offensive rebound of the game and drained one more to clinch it.
Brice Johnson was also huge off the bench for coach Roy Williams' victorious squad, matching McAdoo with 16 points in addition to securing eight rebounds and four blocked shots.
Credit the Tar Heels for finding a way to advance, but the biggest storyline in this contest may have came from the losing side.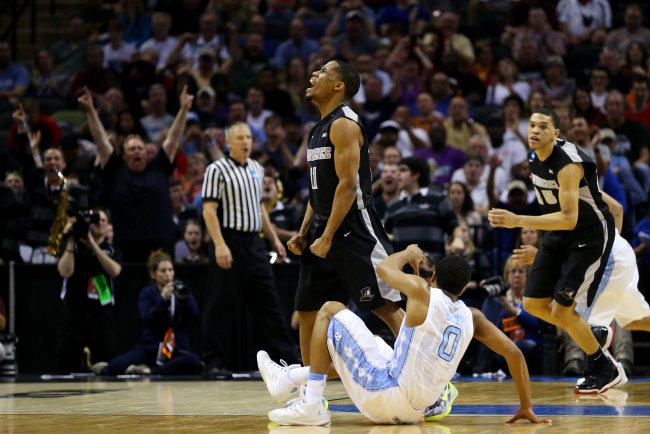 Ronald Martinez/Getty Images
Senior Friars guard Bryce Cotton took over in the second half when it looked as though his squad was down and out, keying an 11-0 run that put Providence up 60-58. Cotton wound up with a career-high 36 points in one of the most outstanding single performances in the tournament thus far.
That coincided with a five-minute field goal drought by the Tar Heels, who appeared to be thrown off by the suddenness of Cotton and the uptempo style the Friars were deploying. Usually UNC is the team that likes to get out and run, but Cotton's quickness gave Providence a needed spark.
CBS Sports' Matt Norlander didn't mind whether the Friars won—he was blown away by Cotton:
Bryce Cotton, win or lose, putting on an all-time NCAA tournament showing. Career-high 36.

— Matt Norlander (@MattNorlander) March 22, 2014
Mike Greenberg of ESPN commented on Cotton's individual dominance:
Bryce Cotton is about to knock out Carolina all by himself. #Providence #UNC #MarchMadness

— Mike Greenberg (@Espngreeny) March 22, 2014
But Cotton's counterpart, Marcus Paige, would have something to say, draining an ice-cold three-pointer to knot the game at 77. Paige led the Tar Heels with 19 points and remained patient even as it appeared his side was letting the game slip away.
Chris Moore of ACCSports.com felt the big shot was overlooked amid the chaos of the final minute and the brilliance of his positional adversary:
I feel like it got kind of overlooked in the moment. But that 3 by Marcus Paige to tie it at 77? Whew boy. Onions.

— Chris Moore (@Moore_ACCSports) March 22, 2014
InsideCarolina.com's Twitter account recorded a brief but telling comment regarding Paige's big shot that tied it up late:
Marcus Paige asked about his clutch three: "Which one?"

— InsideCarolina (@InsideCarolina) March 22, 2014
What stands out most about this game is that the Friars play only six players in their rotation.
With the style the Tar Heels prefer, this was viewed as a less-than-ideal matchup for the underdogs. However, Cotton set the tone by refusing to relent and storming into the open court but still having the legs to get lift on his jumper and make North Carolina pay from the perimeter.
Providence coach Ed Cooley discussed Cotton's seemingly endless motor before the game, per GoHeels.com's Adam Lucas:
That seems to be the theme. Even during the season, everyone talks about our ironman. First and foremost, I still think he's the most undervalued kid in all of American college basketball. I think he's an elite-level guard. He's been playing 35 to 39 minutes a game since we've coached him. So I don't look at this as any different. He's a mentally tough young man. He knows how to pace himself to play a full game. We never think of taking him out of the basketball game, ever.
ESPN's Jeff Goodman provided pertinent information regarding how undervalued Cotton is—and how he was coming out of high school:
Bryce Cotton. The man who did not have a single D-2 or D-3 offer until Providence saw him on a web site. Crazy.

— Jeff Goodman (@GoodmanESPN) March 22, 2014
It did seem like Cotton got gassed toward the end, and the overall lack of playable personnel had to have had an impact on the disparity in rebounding. UNC had the athletic advantage to be sure, but its overall depth aided its effort to stay poised and somehow pull this one out.
Seth Davis of CBS Sports was sad to see the Friars' gallant run come to an end:
Sorry to see Providence's season end. Cooley and Cotton had a magnificent ride this season. Big East champs.

— Seth Davis (@SethDavisHoops) March 22, 2014
Providence has nothing to hang its head about, though. After storming through the Big East tournament with its Big Dance bid on the line, this was an extraordinary effort—particularly by Cotton—to keep a thin rotation close against UNC. Unfortunately, it wasn't quite enough in the end.
As talented as North Carolina is across the board and with the enthusiasm it hit the glass in this game, there's no telling what the Tar Heels will do for the rest of the tournament. Consistency has been an issue, but Paige is a stabilizing force as the offensive catalyst.
When the game wound to its conclusion, another upset appeared imminent. Instead, Paige and the Tar Heels got off the mat, crashed the boards and willed their way to a win.
Now, North Carolina will likely take on Iowa State, who needs to beat North Carolina Central to advance to the third round. The Tar Heels must learn from this round of 64 scare.
Iowa State leads the nation with 18.5 assists per game. Should the Cyclones advance, the Tar Heels need to shore up their defense to avoid another last-minute scramble to pull out a victory.