The No. 6 UMass Minutemen looked like the poster boys for overseeding after being blown away, 86-67, by the 11th-seeded Tennessee Volunteers on Friday at the PNC Arena in Raleigh, N.C.
Pete Abraham of The Boston Globe and Steve Andress of WDRB in Louisville immediately went in on the Minutemen's questionable seeding.
UMass' 8-7 record over last 15 games was indicative it seems. Way overseeded

— Pete Abraham (@PeteAbe) March 21, 2014
I'm not one to make a big deal about seeding, but UMass as a 6-seed is just laughable. It was the second it came out.

— Steve Andress (@steveandress) March 21, 2014
UMass was never really in this game.
They trailed by 19 at the half, and the Minutemen couldn't get the major run they needed in the second half to make it interesting. UMass wanted to get out and run in transition, but Tennessee was the team that got the majority of the easy shots.
Tennessee made 53.6 percent of its shots while UMass could sink only 42.4 percent.
Take a look at this first-half graphic from ESPN Stats and Info. It shows just how tough it was for UMass to get to the bucket and convert.
UMass didn't make a single shot outside the paint in the first half against Tennessee. Minutemen trail 41-22. pic.twitter.com/E8DvS63iV9

— ESPN Stats & Info (@ESPNStatsInfo) March 21, 2014
Jarnell Stokes (26 points, 14 rebounds) and Jeronne Maymon (11 points, 11 rebounds) both put up double-doubles. Jordan McRae added 21 points as well.
Stokes was especially dominant against UMass. His point total was a career high. Per this tweet from Tennessee Basketball, the 6'8" 260-pound junior seems to love playing against UMass:
Vols junior @JarnellStokes also has a career-high 26 points. His previous high was 24 last season against UMass in Puerto Rico.

— Tennessee Basketball (@Vol_Hoops) March 21, 2014
UMass star Chaz Williams played hard as usual. He and Maxie Esho led the team with 12 points apiece. But Williams couldn't spark his team to a win, and his five turnovers certainly didn't help.
After the game, per Grant Ramey of The Daily Times out of Maryville, Tenn., Williams was frustrated his team didn't take advantage of scoring opportunities:
UMass PG Chaz Williams: 'I felt like we were getting whatever we wanted, honestly. We just weren't finishing.' Cites nine missed layups.

— @GrantRamey (@GrantRamey) March 21, 2014
Tennessee barely found their way into the NCAA tournament field. It had to knock off Iowa in the First Four just to make it into the Big Dance.
Head coach Cuonzo Martin has been much maligned throughout the season, and some of the Vols faithful have yearned for fired head coach Bruce Pearl. ESPN's Dana O'Neil wonders if this dominant performance will get Martin some respect:
So perhaps now Tennessee can universally embrace Cuonzo Martin and stop pining over Bruce Pearl?

— Dana O'Neil (@ESPNDanaOneil) March 21, 2014
Click here to see an updated bracket.
Keys to the Game
Toughness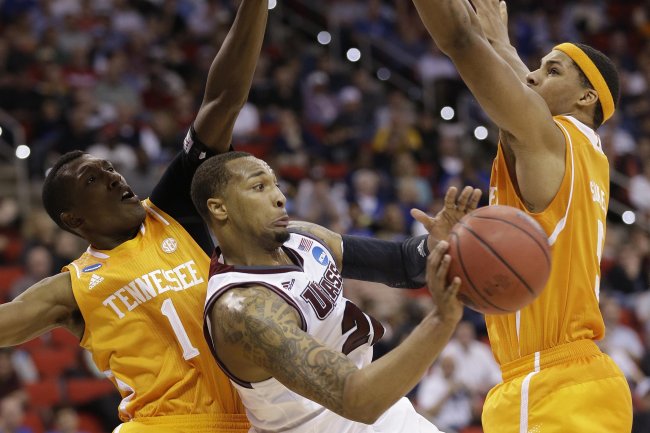 Gerry Broome/Associated Press
Tennessee outrebounded UMass 37-32, and shot more free throws (31-11). Throughout the game, the Vols' interior players had their way against the Minutemen's bigs.
CBS Sports' Doug Gottlieb uses a reference from the movie Friday to describe the Vols' manhandling of the Minutemen on Friday.
Tennessee #TeamDeeBo

— Doug Gottlieb (@GottliebShow) March 21, 2014
Even UMass alum and former NBA player Gary Forbes recognized the disparity in toughness.
Tennessee out toughing UMass. Smh

— Gary Forbes (@GForbz3) March 21, 2014
UMass' Poor Shooting and Interior Defense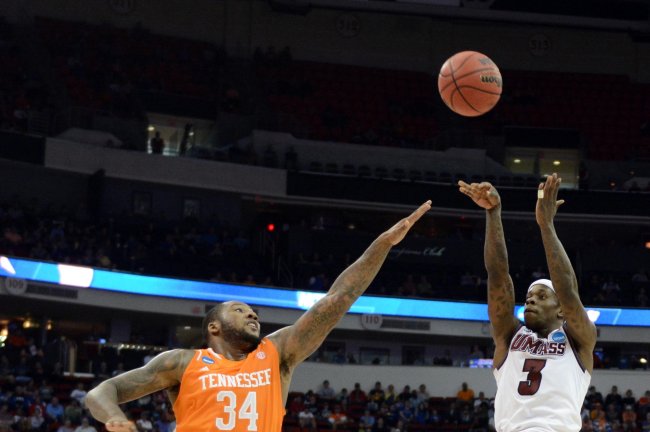 Rob Kinnan-USA TODAY Sports
By the time the game ended, the Minutemen had raised their field-goal percentage, but many of those made baskets came late in the game when matters had already been decided.
To compound issues, it's really difficult to win a game when a team isn't shooting well and allowing the opposition to make such a high percentage of its shots.
That's exactly what happened with UMass on Friday. Was UMass overseeded, or is Tennessee coming into its own at the right time?
The answer is probably a little bit of both, but the final result is still the same. The Vols will be moving on to face Mercer, and UMass is done for the year.
Looking Ahead for Tennessee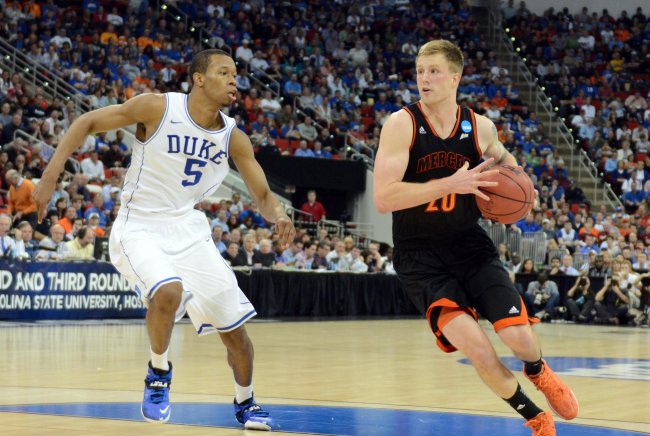 Rob Kinnan-USA TODAY Sports
The Vols will be battling the team that has grabbed the most headlines to this point in the 2014 NCAA tournament. Behind 20 points from Jakob Gollon, the Mercer Bears pulled the biggest upset of the tournament by downing the Duke Blue Devils, 78-71, earlier on Friday in Raleigh.
Obviously, Tennessee cannot afford to take the Bears lightly.
If Gollon and co. can muster up a performance good enough to knock off a talented team like Duke, one would have to believe another win over a team like Tennessee is possible.
No matter who wins, the Midwest Region is assured of having at least one Cinderella squad moving on to the Sweet 16.
Follow me. I'm addicted to hoops.