College basketball fans knew to expect the unexpected heading into this year's NCAA tournament. Even after preparing for the bizarre, the round of 64's wild results have still caught everyone off guard.
Two ballyhooed No. 12-over-No. 5 upsets filled the second round's opening day, which ended in a heavy favorite holding on for dear life. Then an industry giant was blindsided to begin Friday's festivities.
All Your Bracket Essentials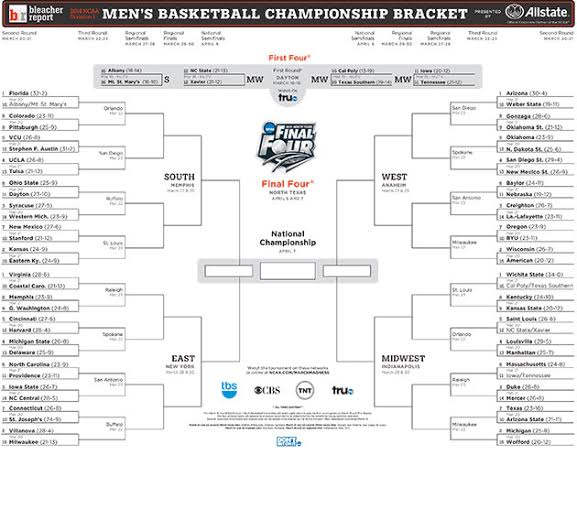 Bleacher Report
No March Madness happenings should shock us anymore, but then you watch players from a no-name school dance in celebration as Mike Krzyzewski scornfully watches from the bench. This year's tournament has lived up to the hype so far.
Duke Is Done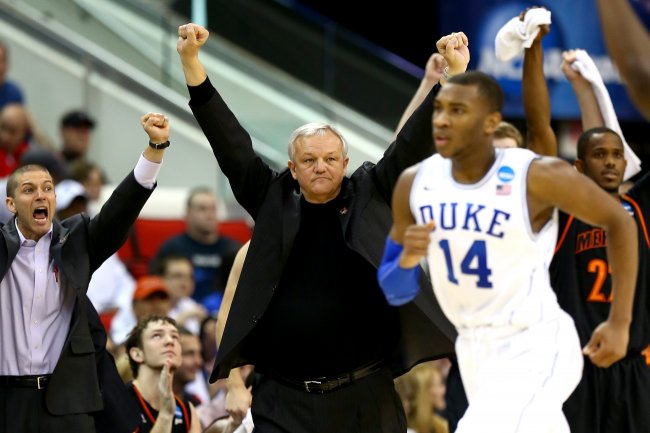 Streeter Lecka/Getty Images
Nothing unites the masses quite like a Duke loss. Those clamoring for a Blue Devils' early exit got their wish when Mercer pulled off a monster 78-71 upset.
The Bears scored 44 second-half points to stun the Blue Devils and earn their first March Madness victory in unlikely fashion.
Mercer gets its first ever NCAA Tournament win. BPI gave Mercer a 12.7% chance to beat Duke.

— ESPN Stats & Info (@ESPNStatsInfo) March 21, 2014
In Jabari Parker's first (and potentially last) NCAA tournament game, the freshman scored 14 points, making four of his 14 shot attempts. Meanwhile, senior Jakob Gollon notched 20 points and five boards for Mercer.
The No. 14 seed has ripped several brackets apart, tossed the remnants in the trash and burned the container. A mere 20 perfect brackets remain in Bleacher Report's Bracket Challenge, and that's with the second round in progress.
Just 20 perfect brackets left in the B/R Bracket Challenge after Mercer upsets Duke. #MarchMadness pic.twitter.com/NpIEBoeB47

— Bleacher Report (@BleacherReport) March 21, 2014
Two years after getting stunned by No. 15 Lehigh, Duke has experienced the same infamous feat. While a shell-shocked Duke watches from home, Mercer will continue its quest to immortality amid the grueling Midwest Region against the winner of Tennessee vs. UMass.
No. 12 Seeds Produce Upsets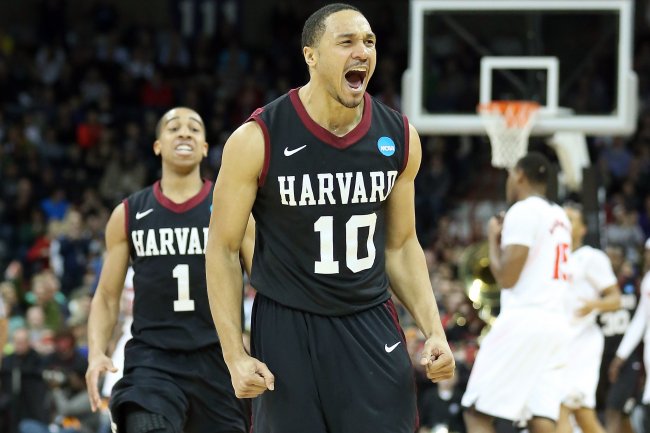 Stephen Dunn/Getty Images
Witnessing a No. 12 seed emerge victorious does not generate the same shock as watching a juggernaut like Duke go down, but it's still fun.
Extending the rich tradition stored within the 12th seed, Harvard and North Dakota State were this year's winners from the noteworthy spot. The Crimson dropped Cincinnati, while the Bison propelled past Oklahoma.
Harvard gutted out a defensive duel, limiting Cincinnati to 36.8 percent shooting in a low-scoring affair. Nobody from the Ivy League champions scored more than a dozen points, but a balanced effort led by its guards was enough to edge out a 61-57 triumph over the Bearcats.
North Dakota State needed overtime after squandering an eight-point halftime lead, but the Bison persevered over the Sooners in overtime. Lawrence Alexander saved the day, nailing a game-tying three late in the second half before tallying six of his 28 total points in overtime.
According to SI.com's Lindsay Schnell, the junior was prepared to drain the pivotal three-pointer:

Trailing fifth-seeded Oklahoma 66-63 with 18 seconds remaining, North Dakota State called a timeout and drew up a dribble isolation play for fifth-year senior Taylor Braun, its best player. But as the Bison broke the huddle, Alexander grabbed Braun and shouted in his ear, 'I'll be open on the right wing if you need me.'

With no driving lane to be found, Braun kicked the ball to Alexander, who was waiting on the wing just like he promised.
The Bison will play No. 4 San Diego State in the next round, but they have a better shot at cracking the Sweet 16 than the Crimson, who will take on a Michigan State squad that has become the trendy pick to win it all.
Louisville (Barely) Advances
Along with the Spartans, Louisville emerged as a No. 4 seed that most bracket-fillers treated as a No. 1. Considering the Cardinals' top billing in Ken Pomeroy's team ratings, many fans and experts expected them to at least procure a No. 2 or 3 seed.
Despite all the hype, Louisville almost obliterated some brackets in a close contest against Manhattan that remained even with two minutes remaining. In the end, Rick Pitino's team rallied to fend off the Jaspers.
FINAL: #Louisville defeats #Manhattan, 71-64. http://t.co/6F23lpSEeL #NCAA pic.twitter.com/2TpiOFILEh

— Yahoo Sports (@YahooSports) March 21, 2014
Poor shooting put the Cardinals into a pickle, but they ultimately saved themselves by getting hot with time running down. ESPN Stats & Info pointed out an alarming lack of perimeter scoring before the American Athletic Conference champions salvaged the game during the final minutes:
Louisville made one shot outside the paint in the first 36 minutes but made 3-of-4 3-pointers in the final 4 minutes to close out the game.

— ESPN Stats & Info (@ESPNStatsInfo) March 21, 2014
Louisville now faces No. 5 St. Louis, who defeated North Carolina State on Thursday, in the next round. If the Cardinals thought the Jaspers were tough defensively, wait until they square off against the Billikens, whose 91.4 adjusted defense rating ranks eighth on KenPom.com.