Jabari Parker, No. 3-seeded Duke's superstar freshman, made his NCAA tournament debut on Friday against the No. 14 Mercer Bears during a second-round matchup that did not go as planned.
HUGE UPSET! 3-seed Duke sent home by 14-seed Mercer, 78-71. Bears get their first NCAA tournament win in dramatic fashion.

— SportsCenter (@SportsCenter) March 21, 2014
The lower seeded Bears drastically upset Duke, 78-71, marking the second time in three years that the Blue Devils would lose in the second round to an unheralded opponent.
Parker's contributions left a lot to be desired from a player many thought would completely dominate in this game and throughout March Madness.
Let's take a look at Parker's stats, grade his performance in this contest and highlight what could be on the horizon in terms of his career.
All Your Bracket Essentials: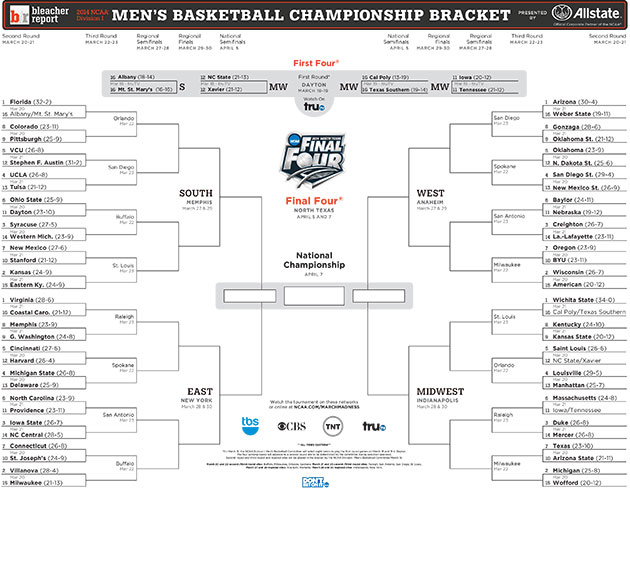 B/R
Jabari Parker's Game Grade: C-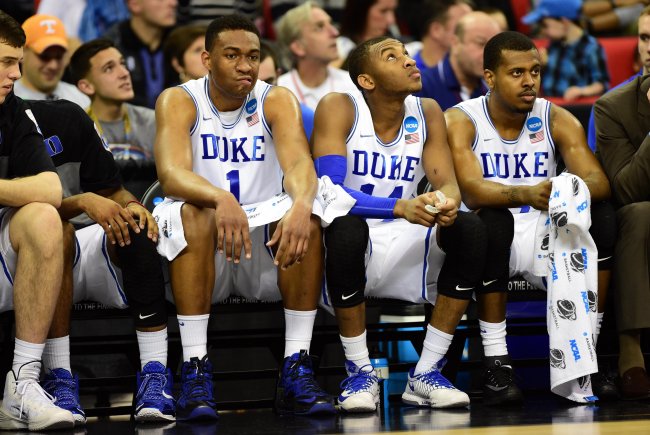 Bob Donnan-USA TODAY Sports
The 19-year-old finished the contest with 14 points on 4-of-14 field-goal shooting (0-of-3 from three-point range), seven rebounds and one steal. He was erratic with his handling and seemed to be trying too much at times, which resulted in four fouls and four turnovers.
Gary Washburn of The Boston Globe tweeted what many were thinking after the game:
So much for Jabari Parker's glorious tournament run

— gary washburn (@GwashburnGlobe) March 21, 2014
Parker was up-and-down throughout the afternoon, exhibiting signs of nervous jitters that resulted in remarkable inconstancy during the first half.
He went into the locker room having scored seven points on two of seven field goals and 3-of-4 from the line. He missed both of his three-point attempts and turned the ball over three times, but did grab five rebounds in that span.
Frank Giardina of Sports Spectrum pointed out that Parker appeared to be forcing things and was not great on defense either:
Jabari Parker's NCAA tournament is off to a really bad start. Not a great defender, forcing things on offense.

— Frank Giardina (@flgiardina) March 21, 2014
Foul trouble was also an issue at times for Parker, as Nicole Auerbach of USA Today noted he picked up a third foul with 16 minutes remaining in the contest:
Jabari Parker, already having a rough game, picks up his third foul on a charge. Heads to bench w/ 16:10 to go.

— Nicole Auerbach (@NicoleAuerbach) March 21, 2014
He was never able to get into a rhythm after returning from a stint on the bench and didn't have what it took to will Duke to a victory after it fell into a hole down the stretch.
According to Michael A. Lough of The Macon Telegraph, the Bears crafted and attempted to execute a meticulous game plan that focused on limiting Parker's effectiveness against their team, which was making its first NCAA tournament appearance since 1985.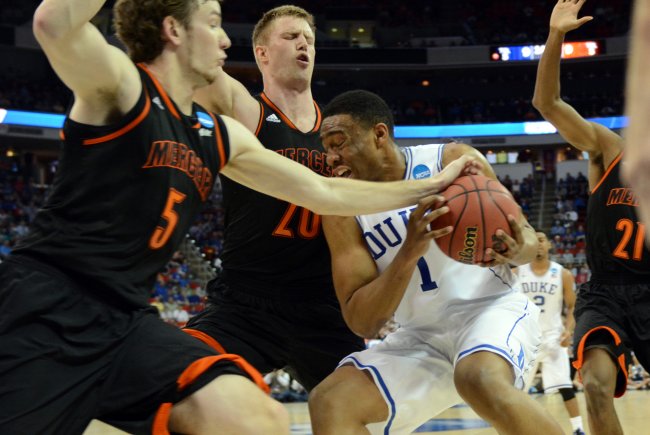 Rob Kinnan-USA TODAY Sports
Darious Moten, a junior forward for the No. 14-seeded underdogs, said before the game that his team would work relentlessly to bring extra defenders and force Parker to pass the ball away, as per Lough:
More help than anything. As far as the post goes, our post defense is always try to keep it out. As far as when he drives, we're helping really hard to get the ball out of his hands.
The Bears were ultimately successful in executing their plan to limit Parker, and it resulted in the first win of what could be a thrilling Cinderella run for the Atlantic Sun Conference champs.
Parker's abysmal showing was definitely unexpected, as some thought he would break records on Friday.
Before the game, ESPN Stats & Info pondered if he would breach Mark Aguirre's 34-point freshman tournament record—a mark that was never in danger during this game:
Jabari Parker & Duke set to tip-off - Can Parker make history? Most pts scored by freshman in NCAA Tourn game is 34 (Mark Aguirre, 1979)

— ESPN Stats & Info (@ESPNStatsInfo) March 21, 2014
Credit the Bears' exhausting rotations and relentless defense for holding Parker to less than half of Aguirre's record and making him a non-factor in the outcome of this matchup. While the star was clearly capable of more and has showed he can have a major impact on a final score, he did not get it done in this one.
Regardless of what should or could have happened, the Blue Devils have been dislodged from the bracket and it will be a long offseason for the program. Let's take a peek at what could happen with Parker and what people are saying about his future.
What's Next?
The biggest issue facing Parker now is not preparing for UMass or Tennessee, either of which the Blue Devils would have played had they won this game, but rather if he will remain with the program after such an embarrassing showing in the tournament.
Chad Ford of ESPN attempted to put this performance in perspective and pondered his future:
Jabari Parker ends a stellar freshman season with a opening round loss in tourney while shooting 4-for-14 from the field. Will he go pro?

— Chad Ford (@chadfordinsider) March 21, 2014
Jon Rothstein of CBS Sports pointed out that Parker could go No. 1 overall in the upcoming NBA draft despite his 0-1 tournament record:
Jabari Parker may very well be the top overall pick in June's NBA Draft, but just like Austin Rivers, he's 0-1 in the NCAA Tournament.

— Jon Rothstein (@JonRothstein) March 21, 2014
Adam Zagoria of SNY.tv and NBA.com speculated that Parker's next appearance would come in either a Milwaukee Bucks, Philadelphia 76ers or Orlando Magic uniform, as those three teams currently have great odds to nab a high pick in the upcoming NBA draft lottery:
The next time you see Jabari Parker will be in a Milwaukee Bucks, Philly 76ers or Orlando Magic jersey

— Adam Zagoria (@AdamZagoria) March 21, 2014
Art Stapleton of The Record humorlessly pointed out that Parker might be one-and-done in college basketball, while Duke was one-and-done in the Big Dance:
Jabari Parker, Coach K and Duke: the true meaning of one and done!

— Art Stapleton (@art_stapleton) March 21, 2014
Parker will have plenty of time to make a decision, as the Blue Devils are heading home to watch the third round of the tournament on television with everyone else.
Despite his shortcomings here, Parker will still be considered a top pick in the upcoming draft. Moten compared Parker's ability and size to Carmelo Anthony of the New York Knicks, telling Lough: "He's got the same build and everything and very similar game. He's probably the best player we've played against."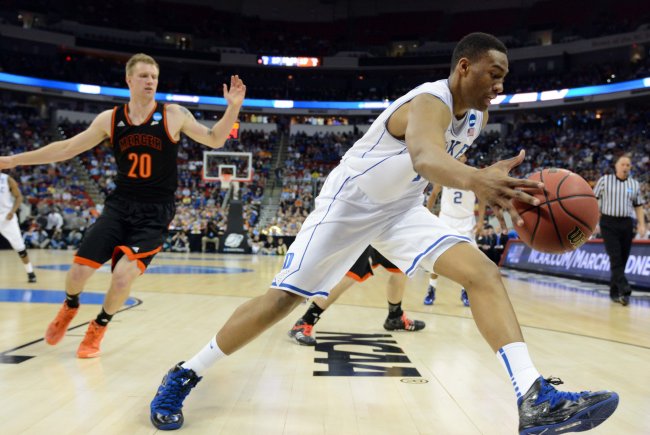 Rob Kinnan-USA TODAY Sports
Is Parker going to turn pro?
Anthony was able to bring Syracuse a championship during his freshman year before declaring for the NBA draft, a path that many initially believed Parker would also go down. That dream was derailed quickly, to the dismay of Duke fans everywhere.
Expectations surrounding the hyped youngster are going to stay high, but it remains to be seen if he will live up to them and where he will attempt to avenge this loss—be it in the NBA or back at Duke for a sophomore season.