As it turns out, the wild first day of the round of 64 that featured a No. 1 seed in a very close call and plenty of upsets was a strong forecast of the action to come on Day 2.
With two No. 5 seeds biting the dust (Oklahoma and Cincinnati) and juggernauts like Florida and Louisville seriously struggling to advance to the round of 32 on Day 1, it's pretty clear that the 2014 NCAA tournament will more than ever flex the parity suddenly sweeping the collegiate basketball landscape.
Day 2 did much to further this notion—right from the start.
All Your Bracket Essentials:
Bleacher Report
Round 2, Day 2 Results
No. 1 Virginia 70, No. 16 Coastal Carolina 59
This March seemed just crazy enough to have the first ever No. 16 seed knock off a No. 1 seed. Unfortunately, it didn't happen.
Coastal Carolina gave it everything it had though, even leading at the half, per SportsCenter:
MEANWHILE: 16th-seeded Coastal Carolina leads Virginia at the half, 35-30, because there is nothing too crazy for this round of 64.

— SportsCenter (@SportsCenter) March 22, 2014
But Virginia would come back to life in the second half and crush the Chanticleers' hopes of making history. Senior Joe Harris was again a catalyst for the Cavaliers as he has been all of his career and helped get the team to the round of 32 with 11 points in the contest.
The Hoos now get a slightly tougher test in Memphis, who needed to shake off some cobwebs against George Washington to advance. With the Cavs already struggling against Coastal, they will need to be much more convincing against Memphis to regain confidence.
After winning the regular season and tournament championship in the ACC, Virginia still has the talent on both sides of the court to dispatch any team it faces. Following the wake-up call against the Chanticleers, the Cavaliers only have a short amount of time to regroup before Sunday's contest against the Tigers.
No. 3 Iowa State 93, No. 14 N.C. Central 75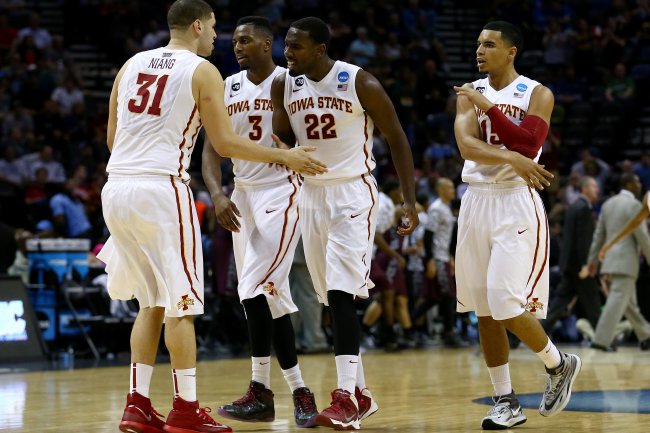 Tom Pennington/Getty Images
The jubilance of victory quickly turned to misery as Iowa State learned that it had lost sophomore standout Georges Niang for the rest of the season with a broken foot.
Despite the injury, Niang took to Twitter to fire up the fan base:
This isn't about me this isn't about my injury it's about the cyclones and we are still dancing!! I love my team and #cyclONEnation

— Georges Niang (@GeorgesNiang20) March 22, 2014
But with the tallest starter for the Cyclones now permanently on the bench, Jeff Goodman of ESPN spells out how much the outlook changes for the program:
With a healthy Niang, Iowa State had a legit chance to go to Final Four.

— Jeff Goodman (@GoodmanESPN) March 22, 2014
Without the services of Niang, the Cyclones will now take on a hot UNC team. But the Tar Heels had struggles of their own against Providence.
No. 4 UCLA 76, No. 13 Tulsa 59
In a game that was much closer than the final score would make it seem, the UCLA Bruins pulled away late from Tulsa to clinch a spot in the round of 32.
Thanks to a great effort from Jordan Adams with 21 points, the Bruins were able to overcome struggles by Kyle Anderson. The sophomore had six assists with five turnovers, but got the job done on the defensive end with four steals and two blocks.
UCLA completes the field of 32! No. 4 Bruins knock off No. 13 Tulsa, 76-59; advance to play No. 12 SFA. #MarchMadness pic.twitter.com/roLmhG0P16

— NCAA March Madness (@marchmadness) March 22, 2014
UCLA takes on potential Cinderella Stephen F. Austin in the next round for a shot at the Sweet 16. With the Lumberjacks coming in with the second longest winning streak in the country behind Wichita State, the Bruins will need to get on top early and stay there late to advance.
No. 12 Stephen F. Austin 77, No. 5 VCU 75 (OT)
This was one of the most unbelievable games of the tournament and the true definition of March Madness.
VCU led by four with just seconds remaining before a Stephen F. Austin went the length of the court and drained a three along with drawing a foul. The shot was made, the game went into overtime and history was made as Stephen F. Austin entered the lore of the NCAA tournament.
SportsCenter gives a small recap of the overtime ballgame:
STEPHEN F. AUSTIN! What an insane game. Lumberjacks pull off the win in overtime after a wild finish, win their 29th straight game.

— SportsCenter (@SportsCenter) March 22, 2014
The No. 12 seed became the third to advance in this year's tournament. The Lumberjacks now move on to face Pac-12 tournament champion UCLA, which comes in as a No. 4 seed in the matchup.
No. 1 Wichita State 64, No. 16 Cal Poly 37
We finally have the first look at the Wichita State program that everyone keeps doubting despite its undefeated record.
Doubt no more. The Shockers nearly doubled the point production of Cal Poly and dismantled the poor team in one of the biggest routs of the tournament thus far.
Wichita State played so well, in fact, that Dan Wolken of USA Today notes it was the only team that lived up to the billing of a top seed:
Three of the 4 top seeds were underwhelming. Only Wichita took care of business the way they were supposed to.

— Dan Wolken (@DanWolken) March 22, 2014
Following the dismantling of Cal Poly, the 35-0 Shockers now face a stiff test in No. 8 Kentucky. The Wildcats are a historically great program with a reputation for showing up big in March.
After reaching the Final four in 2013, it's time for Wichita State to come full circle and deliver on at least its second straight Sweet 16.
No. 6 North Carolina 79, No. 11 Providence 77
Coming into the tournament as two of the hottest teams in college basketball, neither North Carolina nor Providence were ready to cave in their tournament opener.
But despite a great effort from Bryce Cotton of the Friars, Marcus Paige and James Michael McAdoo were simply too much as the Tar Heels advanced to the round of 32.
Stephen Schramm of the Fayetteville Observer notes that the Heels could have a tough test against the crowd on Sunday:
Chant of "Cyclone!" "Power!" is loud here. UNC will play in front of a very pro-Iowa State crowd on Sunday.

— Stephen Schramm (@stephenschramm) March 22, 2014
And after N.C. State dropped out Thursday night, Duke was dismantled Friday afternoon and N.C. Central would later be dispatched by Iowa State, the Heels stand as the lone member of Tobacco Road still in the tournament.
ESPN Stats & Info gives a statistic that shows why this win was so important for the history of the two blue blood programs:
With UNC's win, this remains true: there has never been an NCAA Tournament where Duke & North Carolina have both lost in the Round of 64

— ESPN Stats & Info (@ESPNStatsInfo) March 22, 2014
The Heels now face an Iowa State team that easily dispatched N.C. Central, but will be without star sophomore Georges Niang. With their star players rising to every challenge, the Heels now look like the favorite even as the lower seed.
No. 8 Memphis 71, No. 9 George Washington 66
It was a close matchup throughout, but Memphis' offense was slightly better than George Washington at the final buzzer.
The Tigers narrowly earned the victory, but made it to the third round nonetheless with the win, as NCAA March Madness notes:
Hear them roar! No. 8 Memphis edges No. 9 GW, 71-66. #MarchMadness pic.twitter.com/BSSSHy7xte

— NCAA March Madness (@marchmadness) March 22, 2014
Surviving an opening round game was one thing, but the Tigers broke more than just George Washington's heart—the team, not the president. With their triumph, every bracket in the Quicken Loans challenge was officially busted, as Fox Sports reports:
There are NO perfect brackets remaining in the Billion Dollar Bracket Challenge after the (8) Memphis victory. pic.twitter.com/t0KghEoyRm

— FOX Sports (@FOXSports) March 22, 2014
The Tigers will now face off with No. 1 seed Virginia for a chance to make the Sweet 16 field. The margin is slim for Memphis, but another hot performance from Michael Dixon Jr. could make the game a competitive one.
And with the book already being thrown out on this tournament in terms of favorites rising to the top, the Tigers might be just the next in line when it comes to upsets in 2014.
No. 8 Gonzaga 85, No. 9 Oklahoma State 77
After putting together two great seasons with Oklahoma State, this could be the last game for Marcus Smart if he ultimately decides to enter the 2014 NBA draft.
But even after putting together another memorable performance with 23 points and 13 rebounds, Oklahoma State fell to Gonzaga and is out of the tournament. SportsCenter provides a look at Smart's heartbroken reaction to the loss:
Marcus Smart strikes a familiar pose (Aaron Craft, anybody?) after Oklahoma State loses to Gonzaga. pic.twitter.com/OloSdMGyxr

— SportsCenter (@SportsCenter) March 21, 2014
Kevin Pangos emerged as the actual star for the Zags as the Canadian put together an offensive clinic to steal the show away from Smart and teammate Markel Brown.
North Pole Hoops takes a look at Pangos' performance against the Cowboys:
Kevin Pangos just put up GAME-HIGH 26pts, 3rbs, 3ast, 3 stls for Gonzaga defeating Marcus Smart & Oklahoma St! Canadians continue doing WORK

— NPH (@NorthPoleHoops) March 21, 2014
With the win, Gonzaga advances to take on No. 1 Arizona in the round of 32. But going up against one of the best teams in the country with an outstanding freshman in Aaron Gordon, the Zags will need another huge offensive performance to make the Sweet 16.
No. 2 Kansas 80, No. 15 Eastern Kentucky 69
It wasn't a convincing win for Kansas, but a double-digit victory for the Jayhawks over Eastern Kentucky means they are through to the round of 32.
With Joel Embiid out for the Kansas, the team needed freshman standout Andrew Wiggins to step up and carry it to the next round. SportsCenter gives a snapshot of the statistics for the future lottery pick in the NBA draft:
Kansas survives! Jayhawks prove too much down the stretch for Eastern Kentucky. Andrew Wiggins: 19 Pts, 4 Reb pic.twitter.com/usQE12yw5J

— SportsCenter (@SportsCenter) March 21, 2014
Eastern Kentucky stuck around with the Jayhawks for much of the contest, but the offensive firepower of Kansas was too much for the Colonels late in the game.
Not only did Wiggins stuff the stat sheet, he also put back two of the more memorable dunks of the tournament thus far for Kansas.
The Jayhawks know that they will once again be without Embiid on Sunday, but will need to have another great showing to get to the Sweet 16 with hopes of the freshman returning.
No. 3 Creighton 76, No. 14 Louisiana-Lafayette 66
As he has done all season, Doug McDermott carried Creighton to a victory over Louisiana-Lafayette with another masterful game on offense and in the paint.
The NCAA March Madness account points out the specifics of McDermott's performance:
DOUGIE MCBUCKETS! McDermott's 30 and 12 leads No. 3 Creighton to 76-66 win over No. 14 La.-Lafayette. #MarchMadness pic.twitter.com/KiL4pdqoKD

— NCAA March Madness (@marchmadness) March 21, 2014
Austin Chatman added 16 points for Creighton as the Bluejays outscored Lafayette in both halves to cruise to the next round.
The Ragin' Cajuns double and at times triple-teamed McDermott, which opened up several opportunities for other shooters like Chatman. But McDermott was still able to deliver with a huge three-pointer with just 2:06 remaining that put the Jays ahead at 71-64.
While other No. 3 seeds like Duke struggled on the day, the Jays showed that they are still one of the premier teams for a reason. With McDermott leading the charge, Creighton will take its hot offense into a matchup with the Baylor Bears.
No. 11 Tennessee 86, No. 6 UMass 67
It was another huge performance for Jarnell Stokes and another pivotal victory for the Tennessee program as the Volunteers advanced to the round of 32 with a convincing victory over UMass.
ESPN Stats & Info notes the outstanding all-around effort for Stokes, as he put up the most points by a Vol in the tournament in over three decades:
Jarnell Stokes (TENN): career-high 26 points, most by a Tennessee player in NCAA Tournament game since Reggie Johnson's 28 in 1980

— ESPN Stats & Info (@ESPNStatsInfo) March 21, 2014
Stokes not only sealed a matchup with upset-minded Mercer, but also continues to help his coach keep his job.
Cuonzo Martin came into the tournament on the hot seat, but has slowly climbed his way off of it, according to Chip Patterson of CBS Sports. Martin spoke about his players and the confidence that they have garnered throughout the run so far, per Patterson:
They understand and I guess they realize when you defend at the level we're capable of defending at, these are the results behind it. They really bought into it and embraced the fact if we can defend the way we defend, you can still score the ball.

Scoring is a lot better when you can defend. Playing with confidence, everybody plays their role and you want to win as a family.
After navigating their way through two tough matchups with Iowa and UMass, the Volunteers now have a date with another Cinderella in Mercer. The Bears knocked off Duke in one of the most surprising upsets of the tourney, and has some swagger of their own heading into the matchup.
No. 1 Arizona 68, No. 16 Weber State 59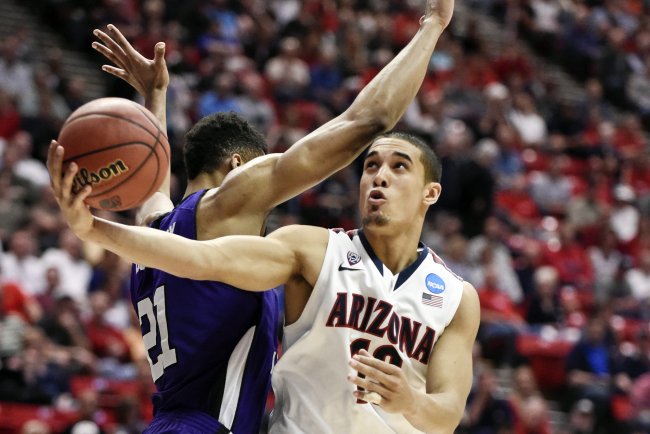 Denis Poroy/Associated Press
In an all-Wildcats affair, Arizona emerged victorious behind 18 points from Nick Johnson and his 4-of-6 mark from downtown.
The 16 seeds are getting closer... Weber State becomes 4th 16 seed to lose by single digits in last 3 years, 15th ever. Arizona wins, 68-59.

— SportsCenter (@SportsCenter) March 21, 2014
Four players in total tallied in the double figures for Arizona, and the team dominated the paint en route to 12 total blocks, which did much to help negate the 12 turnovers.
Weber State was able to stay in the game thanks to 20 points from the charity stripe, but a 30.2 field-goal percentage overall and an early slump from leading scorer Davion Berry (who ended up with 24 points) made it a rather easy game for Arizona.
No. 10 Stanford 58, No. 7 New Mexico 53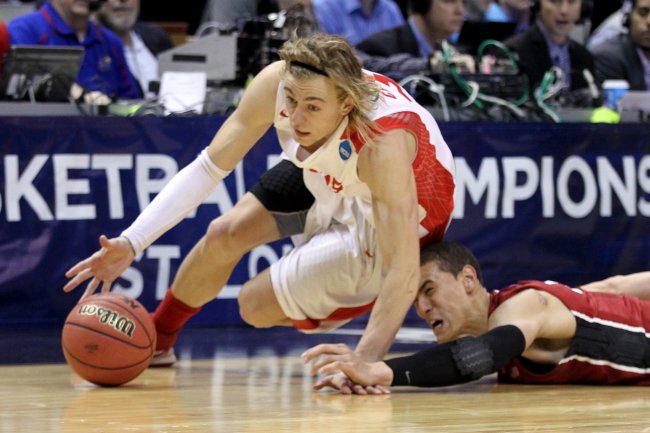 Andy Lyons/Getty Images
Make that two out of three upsets to start the day, with New Mexico keeping a rather negative tradition alive, as SportsCenter points out:
Fear the tree! 10 Stanford beats 7 New Mexico, 58-53. UNM has been eliminated by double-digit seed in 3 of last 4 tournament appearances.

— SportsCenter (@SportsCenter) March 21, 2014
The Cardinal got 23 points from Chasson Randle and shot better than 50 percent overall from downtown to pull off the upset. Anthony Brown and Stefan Nastic each threw in 10 points of their own in the defensive battle.
It's a miracle Stanford shot so well from behind the arc, because a 19-of-49 mark overall would have spelled doom on most days.
New Mexico was not any better with a 19-of-52 mark from the field, but couldn't connect from long distance, hitting just 4-of-21 attempts. Cameron Bairstow led all scorers with his 24 points, but only one other member of the Lobos reached double figures.
No. 6 Baylor 74, No. 11 Nebraska 60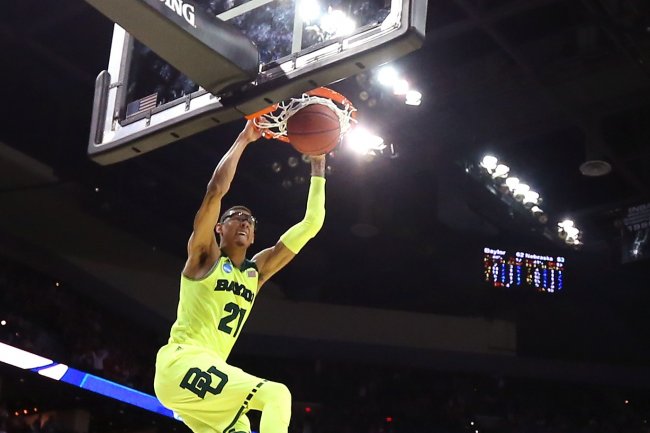 Ronald Martinez/Getty Images
It is by no means easy to follow up the Duke-Mercer classic, but Baylor and Nebraska didn't even try.
In a game mostly spent at the foul line, the Cornhuskers and Bears put on a snoozefest marred in controversy.
Nebraska hit the charity stripe for 16 attempts, while Baylor took 48 attempts. The Bears took advantage by making 28 more free throws than the Cornhuskers, which Nebraska faithful were none too pleased about, as Eric Prisbell of USA Today points out:
Nebraska fans shower the officials with boos as they leave the court following Baylor's victory.

— Eric Prisbell (@EricPrisbell) March 21, 2014
Four Bears scored in double figures led by Cory Jefferson's 16, and Baylor exerted its dominance under the rim to a 37-26 rebound advantage in a game that was not even close throughout.
No. 14 Mercer 78, No. 3 Duke 71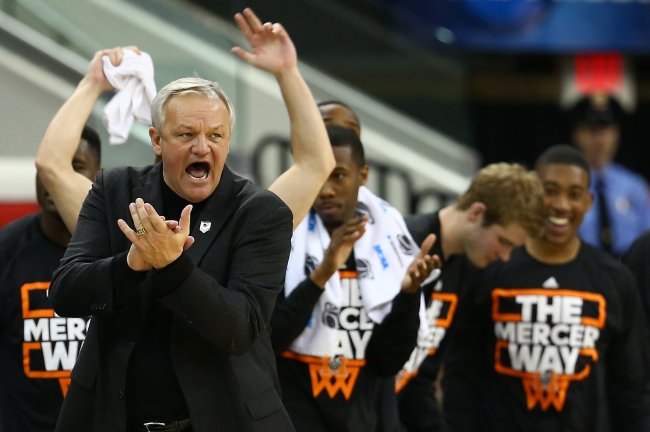 Streeter Lecka/Getty Images
What a way to start.
Down goes Duke! No. 14 Mercer upsets the No. 3 Blue Devils pic.twitter.com/b0iJUVyXqU

— Bleacher Report (@BleacherReport) March 21, 2014
Mike Krzyzewski's Blue Devils came out with a strange strategy that would ultimately doom them by the final buzzer. Duke attempted a ridiculous 37 shots from long range, which saw 15 find the bottom of the net.
With eight minutes left in the contest, Duke had made just four baskets from within the arc, as illustrated by Jason McIntyre of The Big Lead:
After 32 minutes, Duke has made four (!!) 2-point baskets. Why would Coach K want to make this his March strategy, AGAIN?

— Jason McIntyre (@jasonrmcintyre) March 21, 2014
Duke had three players in double figures, with a team high of 23 coming off the bench from Quinn Cook, who knocked down 7-of-10 from long range. The Blue Devils even won the battle on the glass, 35-27.
But the Mercer Bears were simply the better-coached team, as strange as that is to think against Duke. Bob Hoffman's team was much more efficient overall, connecting on 55.6 percent of its shots and seeing five different players reach double figures.
Mercer will advance to take on Tennessee or Massachusetts, but for now, Hoffman is riding confident in his team, as captured by ESPN's Kevin Seifert:
Mercer coach going strong now. "I don't know who's beating us." #slowdownsir

— Kevin Seifert (@SeifertESPN) March 21, 2014
Assuredly a much-deserved win, but things won't get easier in Round 3.