Arsene Wenger has arrived at 1,000 games not out. He is by some distance the longest-serving manager in the Premier League. More importantly, he is also the greatest.
Speaking at a press conference to preview the top-of-the-table clash with Chelsea, Wenger spoke with typical humility. He told Charles Perrin of The Express:
It's a privilege and an honour to manage for 1,000 games at the same club.

For such a long time, the club has always supported me. We have gone through difficult periods but we have always been united.

Every decision I make is always in the interest of the own club. You need to have a clear perception of ideas and transform ideas into action.
That is Wenger's true gift: his foresight. It is said that the great footballers combine the vision to see a pass with the technical ability to pull it off. In a managerial sense, Wenger is much the same. He has the vision to imagine the club's future direction with the skill and commitment to ensure it arrives at its destination.
When he first arrived in England, he transformed the club. More than that, he irrevocably changed the English game in its entirety. Wenger changed the nature of elite football training, introducing short intensive sessions that kept the players' minds alert. The focus shifted from the physical to the technical—even basic stamina work involved a ball.
His time in Japan left him with a deep understanding of the importance of nutrition. He implemented dietary changes that still stand to this day.
The results were spectacular. Wenger won the double in his first full season in English football, becoming the first foreign manager to do so.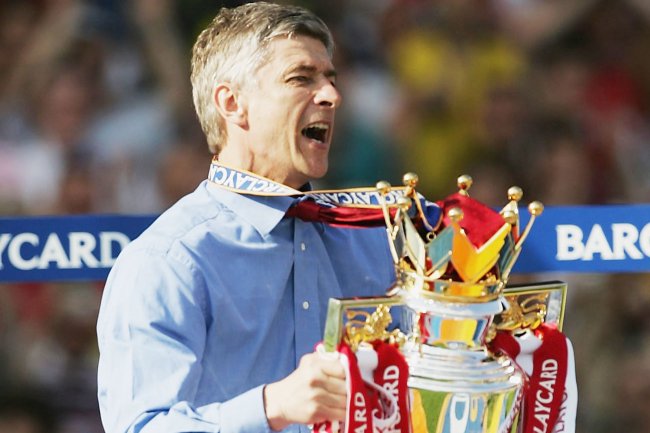 Clive Mason/Getty Images
He reached his apotheosis in 2004, when the Invincibles won the Premier League without losing a single game. This team was the perfect embodiment of Wenger's football philosophy, combining awesome athleticism with remarkable technique.
Since then, however, Arsenal have won just one trophy: the FA Cup of 2005. Arsenal's move to the Emirates Stadium in 2006 began a period of enforced financial prudence in which the Gunners struggled to compete with the likes of cash-rich Chelsea. Speaking to Rob Kelly of Arsenal.com, Wenger confirmed:
When I one day look back I will certainly be very proud of what I have done [in the second half of my time with Arsenal]. This was a trophyless period but a much more difficult and sensitive period, where it needed much more commitment and strength than in the first part of my stay here.

I went for a challenge that I knew would be difficult because we had to fight with clubs who lose £150 million per year and we had to make £30 million. On top of that we had to stand up with people telling us we had to beat them.
Wenger came under significant pressure during that spell, but he had both the dignity and the fortitude to withstand it. Despite the financial pressures on the club, Arsenal never once dropped out of the Champions League.
With the Gunners' economic situation easing, Wenger and Arsenal are now entering a new phase. The signing of Mesut Ozil indicates that the club are on a far better financial footing. Now that the club has stabilised, success must follow. Speaking to the BBC, Wenger said:
The next period is to deliver trophies and compete with everyone at the top level. We have great players, so I'm confident we can win trophies.
Will Arsene Wenger win another trophy with Arsenal?
Wenger has a chance to prove that point this season, with Arsenal still in contention for both the Premier League and the FA Cup. However, whether or not he stays beyond that is still open for debate. His current contract has only a matter of months to run.
Given his extraordinary achievements to date, most Arsenal fans will be hoping he stays. Whatever happens, Wenger is certain to be remembered as one of English football's all-time greats.
James McNicholas is Bleacher Report's lead Arsenal correspondent and will be following the club from a London base throughout the 2013-14 season. Follow him on Twitter here.