Manchester United were handed a momentous tie with Bayern Munich during an intriguing 2014 Champions League quarterfinal draw Friday, little reward for their 3-2 comeback win over Olympiakos.
Bayern, the reigning champions, will be more than confident of progressing to the semifinals but may be disappointed to see other favourites kept apart by Luis Figo, who drew the order of play in Nyon, Switzerland.
Barcelona face an all-Spanish tie with Atletico Madrid, while Borussia Dortmund will look to wreck the hopes of Real Madrid once more. Paris Saint-Germain get a shot at Jose Mourinho's Chelsea in a draw that promises drama and excitement.
Here's the lineup in its entirety:
Champions League Draw 2014: Quarterfinals

| | | | | |
| --- | --- | --- | --- | --- |
| Team | vs. | Team | First leg | Second leg |
| Barcelona | vs. | Atletico Madrid | April 1, 2014 | April 9, 2014 |
| Real Madrid | vs. | Borussia Dortmund | April 2, 2014 | April 8, 2014 |
| Paris Saint-Germain | vs. | Chelsea | April 2, 2014 | April 8, 2014 |
| Manchester United | vs. | Bayern Munich | April 1, 2014 | April 9, 2014 |
UEFA
Let's take a look at the quarterfinal lineup in a little more depth.
Barcelona vs. Atletico Madrid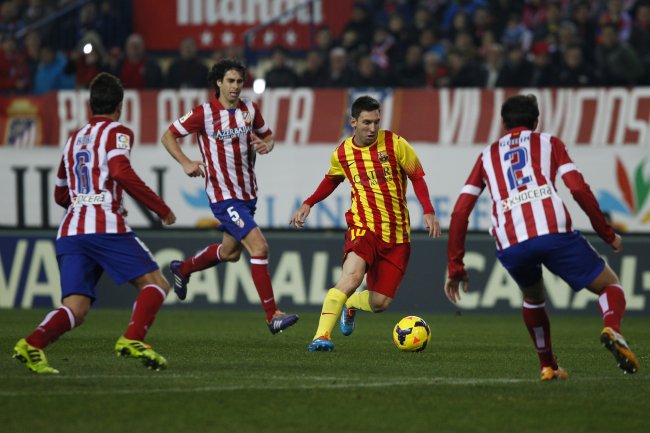 Gabriel Pecot/Associated Press
Although heavy favourites, Barcelona have failed to beat Atletico Madrid during their three encounters this season. All matches have ended in draws, giving Diego Simeone's men a huge shot at eliminating their Spanish rivals.
Barca must also negotiate Atletico in La Liga if they are to be crowned champions. The teams are due to meet on the last day of the season, and with Atletico currently one point ahead of the Catalan side, there's very little to separate the sides.
FCB director of football Andoni Zubizarreta acknowledges Atletico's achievements under Simeone, per UEFA's official account:
Zubizarreta, @FCBarcelona director: "We'll do our best to get through. The fact @Atleti are in the strongest ever QF lineup, means a lot."

— Champions League (@ChampionsLeague) March 21, 2014
Lionel Messi is sure to be key throughout the Champions League tie, as noted by Messi Left Foot:
Teams against Messi has scored most of his 371 Barcelona goals: Atletico 20 - Osasuna 19 - Real Madrid 18 - Sevilla 18 [via @messistats]

— Messi Left Foot (@messileftfoot) March 18, 2014
Diego Costa will be Atletico's most prominent weapon. He has seven goals in five appearances during the competition and will trouble Barca's centre-backs with his pace, power and finishing ability.
Real Madrid vs. Borussia Dortmund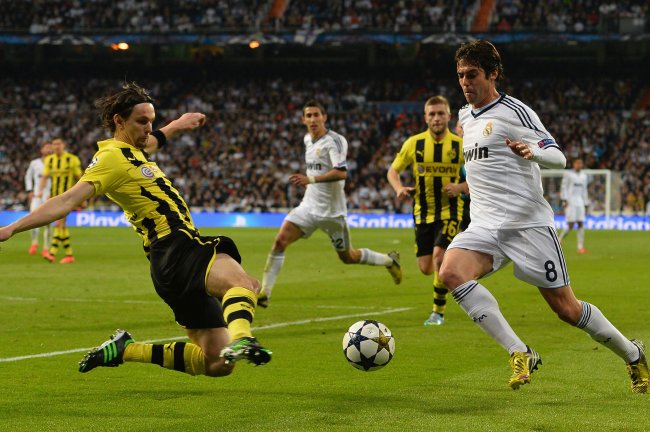 Mike Hewitt/Getty Images
A story of revenge may be emerging for Real Madrid. Borussia Dortmund destroyed Los Blancos 4-1 during last season's semi-final opening leg, a result Mourinho couldn't turn around at the Bernabeu.
The likes of Cristiano Ronaldo, Gareth Bale and Karim Benzema have formed a terrifying relationship since then, signalling this year's encounter could be different. Borussia Dortmund are hardly in a rich run of form, highlighted by a recent loss to Zenit Saint Petersburg, and they certainly head into the contest as underdogs.
With Robert Lewandowski—who scored all four goals in that 4-1 triumph last year—suspended for the first leg, Jurgen Klopp's team have an awful lot to worry about as they prepare for the Spanish trip.
Paris Saint-Germain vs. Chelsea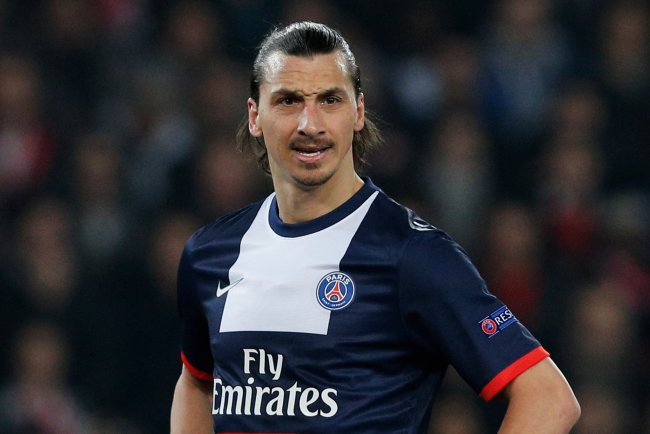 Dean Mouhtaropoulos/Getty Images
Arguably the closest draw on paper, both PSG and Chelsea will be confident of progressing. Away goals could be crucial, suggesting Mourinho's men must stamp their authority with a couple of strikes during the Parc des Princes opener.
PSG possess the one ingredient Chelsea do not: a prolific forward. Zlatan Ibrahimovic has scored 10 goals in this year's tournament and is undoubtedly a big-game player. His battle against John Terry will have a huge say in how this one turns out and provides a mouth-watering personal duel for spectators to enjoy.
Ron Gourlay, Chelsea's chief executive, was on hand to provide a similar comment, per UEFA:
Gourlay, @chelseafc chief exec: It's a massive game. We have a good balance between young and experienced players." #UCLdraw

— Champions League (@ChampionsLeague) March 21, 2014
Gourlay, @chelseafc chief exec: We have a top quality side but we know we'll be playing a @PSG_inside side that has some big players.

— Champions League (@ChampionsLeague) March 21, 2014
Eden Hazard has been linked with a move to PSG recently, per Ben Jefferson of the Express. The Belgian is Chelsea's most important attacker heading into this one; should he post 180 minutes of quality, the Premier League leaders have a real chance of overcoming their equally rich French counterparts.
Manchester United vs. Bayern Munich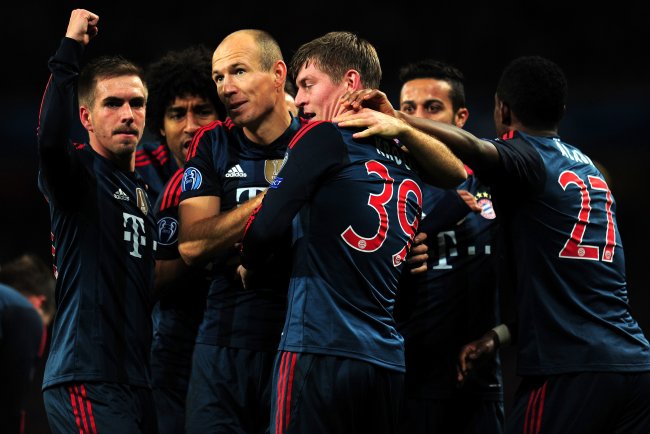 Shaun Botterill/Getty Images
David Moyes may be wondering what he has done to deserve Bayern Munich. The Scottish manager inspired a memorable comeback against Olympiakos and will now have the opportunity to test his tactical nous against Pep Guardiola.
United are huge underdogs after a dismal season, while Bayern have the power to wrap up the tie with a plethora of away goals during the first leg. United already possess a poor record against the German champions, as outlined by OptaJoe:
1 - Since the 1999 CL final, Man Utd have won just one of their six Champions League encounters with Bayern Munich (W1 D2 L3). Background.

— OptaJoe (@OptaJoe) March 21, 2014
To make matters worse for the English side, Alexander Buttner is likely to face Arjen Robben during the initial match after Patrice Evra totted up too many yellow cards. Bayern have already toppled Manchester City and Arsenal on the way to the quarter-finals and are more than expected to compound Moyes' misery across two legs.
Robben knows United may struggle, but he isn't taking the Red Devils lightly, per UEFA:
Robben, @FCBayern: "It's a good draw. We can play the away leg 1st. @ManUtd aren't in great form at the moment, but they're still very good.

— Champions League (@ChampionsLeague) March 21, 2014
Robben, @FCBayern: "We expect two top games and are all looking forward to it." #UCLdraw

— Champions League (@ChampionsLeague) March 21, 2014
While the most fancied teams are yet to meet in the competition, plenty of drama awaits. Barca, Real and Bayern will be wary of upsets as they aim to impress, while PSG and Chelsea have the right to believe they can beat each other to claim a spot in the semi-finals.
As we saw last season, no side should take anything for granted at this point.