One team came in as a potential Cinderella story thanks to late-season heroics that solidified the last spot in the field. The other was a force all season but came in with three straight losses.
In the end, it was No. 5 Saint Louis' experience down the stretch propelling it over N.C. State, 83-80, and advancing to the round of 32 in Orlando. The Billikens will now take on the winner of No. 4 Louisville and No. 13 Manhattan.
The triumph for Saint Louis was thanks in large part to the scoring touch of Jordair Jett and Rob Loe, who combined for a total of 40 points in the contest.
Jett's 18-point outcome came despite the senior suffering through injuries that hampered him throughout the game. But he wasn't going to let that hold him back, per Brian Hank Haenchen of Hank's Sports Blog:
Jett on the nagging injuries: "It was a battle, but I'm a warrior. I'm gonna fight through that type of thing."

— Brian Hank Haenchen (@Brian_Haenchen) March 21, 2014
Billikens head coach Jim Crews spoke about his high-flying guard, per Haenchen:
Crews on Jett: "He was excellent the first and second half. He's an unbelievable player."

— Brian Hank Haenchen (@Brian_Haenchen) March 21, 2014
Loe was effective early, scoring the team's first nine points with three-point shooting and coming on late down low for the Billikens with 22 points and 15 rebounds.
The Pack were paced by ACC Player of the Year T.J. Warren, as they have been all season. With 28 points in the game, the sophomore posted his 19th straight 20-point performance to go along with his eight rebounds.
Not sure but I think TJ Warren might be good at scoring.

— Austin Johnson (@austin_johnson) March 21, 2014
But his unfortunate shooting from the charity stripe, going 6-of-14, left a small black eye on an otherwise stellar performance for the hybrid forward. As Martin Rickman of Sports Illustrated writes, this could have been Warren's last game in an N.C. State uniform.
After controlling momentum throughout much of the first half, N.C. State allowed Saint Louis to claw back into the contest with a 7-0 run to close out the first 20 minutes.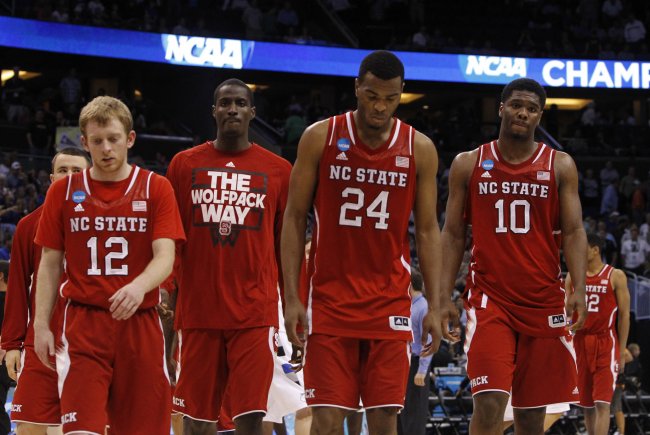 Kim Klement-USA TODAY Sports
State's hot shooting would continue in the second half as they jumped out to the biggest lead that the Billikens have faced this season at 55-39, per the TNT broadcast. Despite the huge lead for the Pack, Saint Louis never wavered and fouled on several straight possessions to force N.C. State's hand.
Matt Winer of Turner Sports puts the free-throw shooting performance by both teams into perspective:
Billikens and Wolfpack combined to go 32 of 63 from the FT line- their combined 31 missed FT is most in a tourney game since '76...

— Matt Winer (@matt_winer) March 21, 2014
Poor free-throw shooting and perimeter defense by N.C. State allowed the Billikens to get back in the contest late. The Wolfpack missed a total of 15 foul shots in the second half and couldn't hit them down the stretch as the Billikens navigated their way back into the game, as Joe Giglio of the News & Observer points out:
NC State led by as many as 16 in the second half but shot 14 of 29 from the FT line in the second half

— Joe Giglio (@jwgiglio) March 21, 2014
Saint Louis tied the game up with 13.4 seconds remaining and forced the game into overtime after the Pack had what appeared to be an insurmountable lead midway through the second half.
Much of that success was thanks to a resurgence in the second half by Jett. The Billikens leading scorer had 16 of his 18 total points in the second half, as Giglio notes:
Jett with 17, he had 1 in the first half for SLU

— Joe Giglio (@jwgiglio) March 21, 2014
With 27.9 seconds remaining in overtime and N.C. State trailing 81-80, Warren fouled out of the game. But much like State down the stretch, Saint Louis left a window open by missing a free throw with 10 seconds remaining.
Down three, Ralston Turner's three-pointer attempt came up just short as the Billikens pulled off one of the most improbable comebacks in tournament history.
N.C. State head coach Mark Gottfried spoke about his team's performance and how free-throw shooting cost it the game, per Pack Pride and Giglio:
Gottfried: I had great confidence that we would step up and make foul shots. It just steamrolled...

— Pack Pride (@PackPride) March 21, 2014
NC State coach Mark Gottfried: "We're always going to feel like we let one slip away."

— Joe Giglio (@jwgiglio) March 21, 2014
After a huge late-season run, the Wolfpack's hopes of a second Sweet 16 in three years is over. As for the Billikens, a tough test against either Louisville or Manhattan awaits them after advancing out of the round of 64 for the second season in a row.
With Jett and Loe carrying the team in the team's first contest, there's no reason to believe that the team can't pull off another monumental upset. But in a potential matchup against an established Louisville team that won the title last season, the Billikens can't afford another deficit like the one they had against the Wolfpack.
It's March and anything's possible. Saint Louis' win is yet another one that will be remembered in tournament lure, but a run to the second weekend would make it a memorable one.
Follow R. Cory Smith on Twitter: