The second day of the round of 64 has a tough act to follow. The NCAA tournament was kicked into high gear on Thursday. In the first four games of the round of 64, there were two upsets.
Dayton, a No. 11 seed, beat Ohio State (6) on a buzzer-beater. Meanwhile, 12th-seeded Harvard pulled off a second-round upset for the second straight year by besting Cincinnati (5), 61-57.
I'm going to look ahead and pinpoint what kind of madness Friday has in store.
Have a look at the schedule and my winners for Friday, and then I'll take a closer look at three spreads worth making a play on.
All Your Bracket Essentials
Schedule
NCAA Tournament Schedule and Picks for Friday, March 21

| | | | | |
| --- | --- | --- | --- | --- |
| Region | Matchup | Time (ET) | TV | Pick |
| Midwest | No. 3 Duke vs. No. 14 Mercer | 12:15 p.m. | CBS | Duke |
| West | No. 6 Baylor vs. No. 11 Nebraska | 12:40 p.m. | truTV | Baylor |
| South | No. 7 New Mexico vs. No. 10 Stanford | 1:40 p.m. | TBS | New Mexico |
| West | No. 1 Arizona vs. No. 16 Weber St. | 2:10 p.m. | TNT | Arizona |
| Midwest | No. 6 UMass vs. No. 11 Tennessee | 2:30 p.m. | CBS | Tennessee |
| West | No. 3 Creighton vs. No. 14 UL-Lafayette | 3:10 p.m. | truTV | Creighton |
| South | No. 2 Kansas vs. No. 15 E. Kentucky | 4:10 p.m. | TBS | Kansas |
| West | No. 8 Gonzaga vs. No. 9 Oklahoma St. | 4:40 p.m. | TNT | Gonzaga |
| East | No. 8 Memphis vs. No. 9 Geo. Washington | 6:55 p.m. | TBS | G. Washington |
| Midwest | No. 1 Wichita St. vs. No. 16 Cal Poly | 7:10 p.m. | CBS | Wichita State |
| South | No. 5 VCU vs. No. 12 SF Austin | 7:27 p.m. | truTV | SF Austin |
| East | No. 6 North Carolina vs. No. 11 Providence | 7:20 p.m. | TNT | North Carolina |
| East | No. 1 Virginia vs. No. 16 Coastal Carolina | 9:25 p.m. | TBS | Virginia |
| Midwest | No. 8 Kentucky vs. No. 9 Kansas St. | 9:40 p.m. | CBS | Kansas State |
| Midwest | No. 3 Iowa St. vs. No 14 N.C. Central | 9:50 p.m. | TNT | Iowa State |
| South | No. 4 UCLA vs. No. 13 Tulsa | 9:57 p.m. | truTV | UCLA |
Odds Tips
*Odds according to Vegas Insider on March 20.
No. 6 Baylor (-2.5) vs. No. 11 Nebraska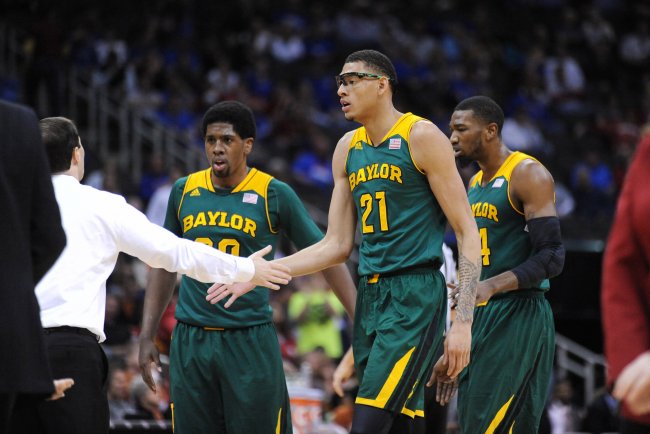 Denny Medley-USA TODAY Sports
The Baylor Bears are an underrated commodity in this tournament. Scott Drew had his team peaking at the end of the season, and the Bears are ready to make waves.
Baylor won 10 of 12 to close out the season. Guard Kenny Chery was a big reason why. Chery was held back by injuries for much of this season, but he got his health, returned to the starting lineup and was fantastic.
NBC Sports.com's Rob Dauster gives us an idea of just how well the junior guard was playing to close out the season:
How many point guards have had a better month than Kenny Chery?

— Rob Dauster (@RobDauster) March 16, 2014
With Chery at the helm and Cory Jefferson posting 13.5 points and 8.4 rebounds per game down low, the Bears have a complete team. Nebraska is a tough opponent, however, and the small spread is understandable.
The Cornhuskers also finished the season playing their best basketball. They are less then two weeks removed from beating Wisconsin by nine. The Cornhuskers like to keep the score down and wear out opponents with defense.
That won't be possible in this game because Baylor is going to dominate on the boards to limit Nebraska's shots and get easy looks of their own. Baylor is 24th in the nation in rebounding. Nebraska is 251st.
The Bears will dominate on the boards and build on their momentum.
Prediction: Baylor 71, Nebraska 60
No. 9 George Washington (+2.5) vs. No. 8 Memphis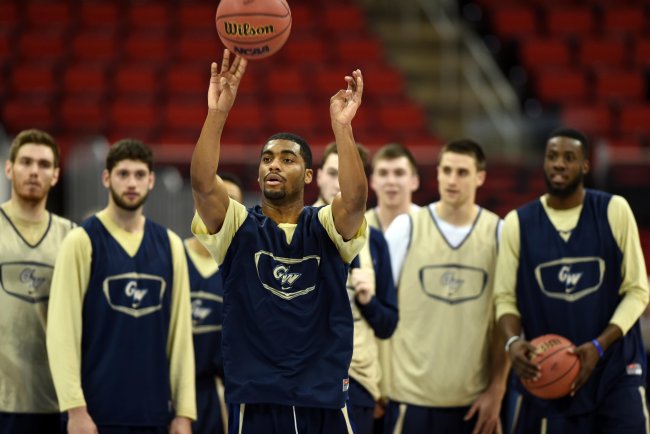 Bob Donnan-USA TODAY Sports
Memphis is a dangerous team, but the Tigers are wildly inconsistent. Of their nine losses this year, six were by double digits. That includes two blowout losses in their last three games.
The Tigers have to be able to score to win. Senior guard Joe Jackson leads the team in scoring at 14.3 points per game, and Memphis is 35th in the nation in scoring.
George Washington is going to make it tough for Memphis to score. With guards Maurice Creek and Kethan Savage, the Colonials can defend on the perimeter.
On offense, the Colonials have a well-balanced attack with six players averaging at least 8.3 points per game. They will use that offensive diversity for an efficient night and force Memphis into tough looks.
I like the Colonials to win this game outright. The points are just a bonus.
Prediction: George Washington 69, Memphis 64
No. 7 New Mexico (-2) vs. No. 10 Stanford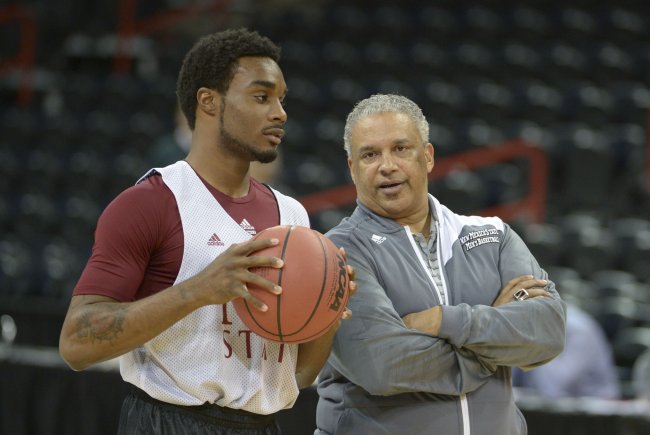 Kirby Lee-USA TODAY Sports
After New Mexico entered the tournament as a No. 3 seed last year and promptly loss to Harvard in its first game, expectations on the Lobos are understandably tepid. This is a quality team, however.
The Lobos are also peaking at the right time as winners of nine of their last 10.
Senior point guard Kendall Williams averages 16.4 points and 4.9 assists per game and gives this team a steady hand. New Mexico is balanced, however, and senior forward Cameron Bairstow averages 20.3 points per game.
The Lobos also have one of the biggest wild cards in this tournament with junior center Alex Kirk. The 7-footer surged at the end of the season, and combined with Bairstow, the Lobos have one of the scariest frontcourts in the nation.
Stanford is also a well-balanced team. Led by junior guard Chasson Randle (18.7 PPG) and forward Dwight Powell (14.2 PPG) and also has good depth in the frontcourt.
That depth won't be enough to counter the combination of Bairstow and Kirk, and New Mexico will grind out this win.
Prediction: New Mexico 64, Stanford 58