It did not take long for the NCAA tournament to remind us all why it is the most exciting event in sports.
In the first matchup of the day, Dayton and Ohio State turned a local rivalry into must-see television in a game that went down to the wire. In the end, it was the 11th-seeded Flyers that were able to come away with the victory.
Meanwhile, the tournament saw its first 12-5 upset in the early going when Harvard outlasted Cincinnati in a defensive struggle.
Although not all of the results were close battles, every one of them had an effect on the tournament as people try to complete the perfect bracket to win their pools.
Here is a look at the latest scores from the round of 64 as well as analysis from the first set of games.
All Your Bracket Essentials:
NCAA Tournament Results (March 20)

| | | |
| --- | --- | --- |
| Favorite | Score | Underdog |
| No. 6 Ohio State | 59-60 | No. 11 Dayton |
| No. 2 Wisconsin | 75-35 | No. 15 American |
| No. 8 Colorado | 48-77 | No. 9 Pittsburgh |
| No. 5 Cincinnati | 57-61 | No. 12 Harvard |
| No. 3 Syracuse | 77-53 | No. 14 Western Michigan |
| No. 7 Oregon | 87-68 | No. 10 BYU |
| No. 1 Florida | 67-55 | No. 16 Albany |
| No. 4 Michigan State | 93-78 | No. 13 Delaware |
via NCAA.com
No. 11 Dayton 60, No. 6 Ohio State 59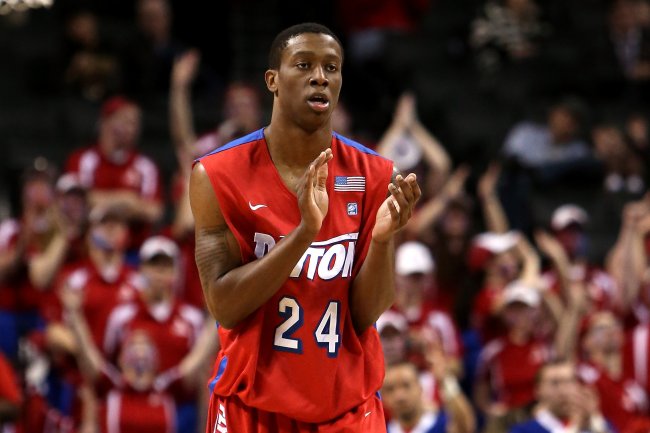 Mike Lawrie/Getty Images
The first game of the day was as good as anyone could have hoped, in a battle that remained close from beginning to end. In the final 11 minutes, neither side led by more than three points.
Sam Thompson broke the tie in favor of Ohio State with a jumper with just under one minute remaining. However, Dyshawn Pierre responded by sinking three free-throw attempts with 26 seconds left to go to put his team up by one.
Aaron Craft took the lead back for the Buckeyes, but Vee Sanford made the game-winning basket with six seconds remaining to secure the victory for the Flyers.
Sanford beat the defensively renowned Craft on the final play, effectively ending the senior's career, as noted by Gary Parrish of CBS Sports:
Aaron Craft's college career ends with him getting beat off the dribble? Cruel.

— Gary Parrish (@GaryParrishCBS) March 20, 2014
Of course, this is an outcome that few people saw coming:
Only 19.7 percent of 11 million ESPN Tournament Challenge brackets picked Dayton to defeat Ohio State

— ESPNU (@ESPNU) March 20, 2014
Then again, Ohio State has struggled to score all season long and only went 10-9 in the final 19 games of the year. The offensive troubles were bound to catch up with the Buckeyes, but it simply occurred sooner than later.
Dayton now advances to face Syracuse, where it will try to utilize its solid three-point shooting against the 2-3 zone. If the shots fall, the Flyers have a chance to keep on moving.
No. 2 Wisconsin 75, No. 15 American 35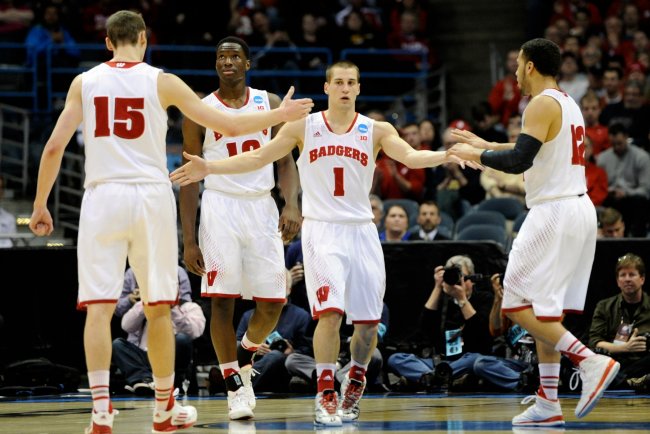 Benny Sieu-USA TODAY Sports
For a good part of the first half, it appeared as though Wisconsin could be in trouble. The Badgers struggled to hit their shots early and trailed American by a score of 19-13.
However, this is where the No. 2 seed remembered that it was the better team. Wisconsin went on a 19-3 run to end the half and completely dominated in the second half, as noted by Brian Hamilton of Sports Illustrated:
Meanwhile, Wisconsin is on a 40-8 run. It's like what would happen if the Badgers showed up for the noon run at the Milwaukee YMCA.

— Brian Hamilton (@BrianHamiltonSI) March 20, 2014
It might not have been this easy to turn things around, but the crowd in Milwaukee made this contest basically feel like a home game for the Badgers.
The players and coach Bo Ryan all agreed it made a difference:
Bo Ryan on sea of red at Bradley Center: "Of course it helps. What these guys have earned is a chance for families to make a short trip."

— Wisconsin Basketball (@BadgerMBB) March 20, 2014
Jackson on home crowd: "I thought they helped us out." Brust: "I heard the crowd early and said, 'if they're, we better get up.'"

— Wisconsin Basketball (@BadgerMBB) March 20, 2014
In future rounds, it might not be as easy to turn things on and off during the course of the game. Then again, winning by 40 points and doubling an opponent's score is more than just "surviving" the round of 64.
Wisconsin has a lot of talent and will be a legitimate threat to reach the Final Four.
No. 9 Pittsburgh 77, No. 8 Colorado 48
Usually, the 8-9 matchup is one of the closest of the second round. That was not the case in this contest, as Pittsburgh got out to an early lead and never looked back.
It took over five minutes for Colorado to score its first points in the game, but by that point it was down 13-0. Pittsburgh built the lead up to 28 at halftime and coasted the rest of the way for the win.
As Jeff Goodman of ESPN notes, the Buffaloes have not fared well in the second half of the year without their best player:
Colorado getting smacked by Pittsburgh. Buffs just not the same team without Spencer Dinwdiddie. Not even close.

— Jeff Goodman (@GoodmanESPN) March 20, 2014
Those that pay attention to efficiency ratings might have been able to see this result coming. According to KenPom.com, Pittsburgh is the No. 13 team in the nation, while Colorado comes in ranked at No. 80 with an offense that ranks 166th.
This separation was very apparent on Thursday, as Colorado only had two players in double figures while hitting only 35.7 percent from the field.
If Pittsburgh can play at this level for the rest of the tournament, it can be a serious threat to make a run.
No. 12 Harvard 61, No. 5 Cincinnati 57
Cincinnati had been escaping low-scoring, close games throughout the season. Unfortunately, the Bearcats could not hit the shots they needed to, as Harvard pulled off the biggest upset of the early part of the day.
The Crimson matched Cincinnati physically throughout the game and played strong defense all over the court. ESPN's Dick Vitale also noted the offensive balance that made a difference:
Harvard = BALANCE - 5 guys with 9 or more to beat Cincy! #dickievpicks http://t.co/wU22v8sJYX

— Dick Vitale (@DickieV) March 20, 2014
Harvard's ability to share the basketball led to a solid 43.2 percent mark from the field. On the other hand, Cincinnati once again relied on the production of Sean Kilpatrick, but he could not carry his squad in this one.
Although Kilpatrick did end with a game-high 18 points, the rest of his team only managed to go 15-of-44 from the floor, good for only 34.1 percent.
Still, head coach Mick Cronin was proud of his team's effort in this one:
"I couldn't be prouder. The seniors maximized their potential. They gave every ounce of effort this season." - @CoachCroninUC

— Cincinnati Bearcats (@GoBEARCATS) March 20, 2014
Cincinnati ends the year on a low note, but Harvard is still going strong and will hope to keep it up in the next round with a berth to the Sweet 16 on the line.
Follow Rob Goldberg on Twitter for the latest breaking news and analysis.