For the second straight year, the Harvard Crimson played the role of Cinderella in the second round of the NCAA tournament, stunning fifth-seeded Cincinnati, 61-57, in Spokane, Wash., to reach the round of 32.
SportsCenter on Twitter announced the result and shared this image representing the team's rise to victory:
Harvard's win vs. Cincinnati makes it 13 of the last 14 years that a 12 seed has upset a 5. pic.twitter.com/CCwgZCYK60

— SportsCenter (@SportsCenter) March 20, 2014
Tommy Amaker's Ivy League champions missed 11 free throws, but held the Bearcats to 36.8 percent shooting in the narrow victory. Offensively, junior guard Wesley Saunders led the way with 12 points on 4-of-9 shooting from the field.
Afterward, NBA legend David Robinson gave a shootout to Amaker and his squad:
Congrats to my friend Tommy Amaker's Harvard hoops team. Nice win. Keep it up. #Madness

— David Robinson (@DavidtheAdmiral) March 20, 2014
Harvard came out piping-hot from distance, knocking down long-range shots to build a seven-point lead over the Bearcats in the first half.
ESPN College Basketball on Twitter highlighted the Crimson's three-point prowess early:
Harvard shoots 6-11 from beyond the arc in the first half to take a 36-29 halftime lead over Cincinnati. #MarchMadness

— ESPN College BBall (@ESPNCBB) March 20, 2014
But CBS Sports analyst Seth Davis was quick to point out a key stat:
One vulnerability for Harvard is they make under 6 threes per game. Guard oriented but only one great long range shooter.

— Seth Davis (@SethDavisHoops) March 20, 2014
Sure enough, Harvard would shoot 0-of-6 from three-point range over the final 20 minutes.
But as the game wore on, the Crimson's defense did the job, limiting Cincinnati's second-chance opportunities and forcing the Bearcats to settle for tough, contested shots. Harvard also did an excellent job of not fouling, limiting Cincinnati to just 16 free-throw attempts for the game.
Despite constantly fighting from behind, Cincinnati stayed within striking distance thanks to the play of senior guard Sean Kilpatrick, who found different ways to exploit Harvard's defense, per CBS Sports analyst Seth Davis:
Kilpatrick is like a vampire. You better drive a stake through his heart or he's gonna bite you.

— Seth Davis (@SethDavisHoops) March 20, 2014
Kilpatrick was called for a costly offensive foul with 1:33 remaining and Cincinnati trailing, 56-53. But he cut Harvard's lead to two points a minute later with a successful pair of free throws.
From there, the Crimson simply had to make their freebies to secure the upset. And thanks to a pair each from Saunders and sophomore guard Siyani Chambers, they did exactly that.
Kilpatrick led the Bearcats with 18 points, but no other Cincinnati player scored more than 13 and the bench combined to score just seven points.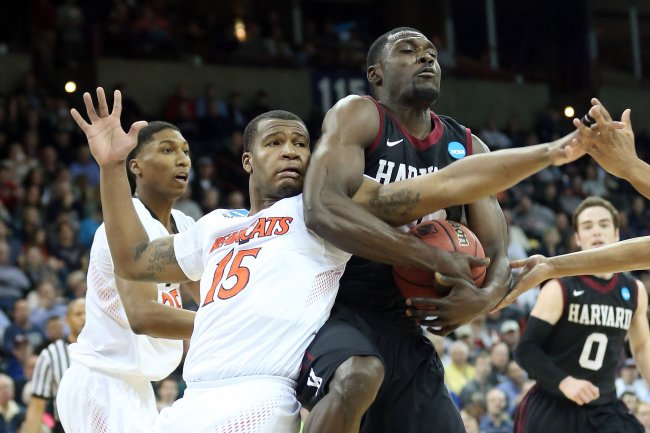 Stephen Dunn/Getty Images
Although Harvard was a popular upset pick before the tournament began, even earning a nod from President Barack Obama, the result was still surprising.
"That's pretty cool that he picked us," Harvard guard Laurent Rivard told The Associated Press prior to the Crimson's victory. "He probably took notice last year. He probably didn't pick us last year."
Rivard scored 11 points on 3-of-5 shooting from three-point range in the win.
Next up, Harvard will take on the winner of No. 4 Michigan vs. No. 13 Delaware in the East Region. Despite the Crimson shooting 43.2 percent from the floor against Cincinnati and holding their own on the boards, they will have to be much better at the foul line in order to reach the Sweet 16.
They finished 17-of-28 as a team from the charity stripe but missed key free throws when the game was still in the balance.
Plus, the Crimson will have to be able to knock down a three-pointer in the second half. They went 0-of-6 from deep in the second half against the Bearcats and will need to hit long-range shots consistently in the next round in order to have a chance.

All Your Bracket Essentials: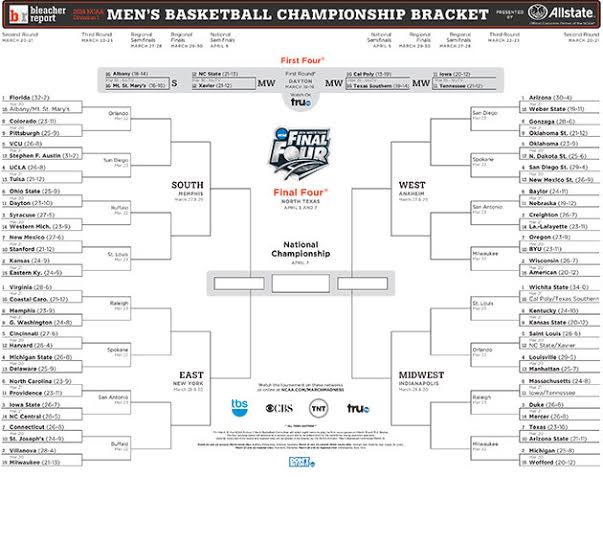 Credit: Bleacher Report
Follow Bleacher Report Featured Columnist Patrick Clarke on Twitter.