The Wisconsin Badgers completely destroyed the American University Eagles, 75-35, during their second-round matchup in the 2014 NCAA tournament on Thursday.
On, Wisconsin! No. 2 Badgers rock No. 15 American, 75-35. #MarchMadness pic.twitter.com/CywTDrbGYT

— NCAA March Madness (@marchmadness) March 20, 2014
Wisconsin was dominant in all facets of this game, proving superior to its opponent in almost every major statistical category and letting the rest of the field know that it is not going to be an easy out this March.
The Badgers' 40-point margin of victory was the largest the team has ever recorded during its storied NCAA tournament history, per the program's official Twitter feed:
And it's a final, #Badgers win 75-35. The largest margin of victory in an NCAA tournament game for UW.

— Wisconsin Basketball (@BadgerMBB) March 20, 2014
Wisconsin shot a higher percentage from both the field (50.0 percent to 29.7 percent) and beyond the arc (43.5 percent to 26.7 percent), while also recording more rebounds (31 to 24), assists (13 to 8), steals (9 to 5) and blocks (1 to 0) in addition to a boatload more points than American.
Pat Forde of Yahoo! Sports said there was no chance of an upset after the slow-paced Badgers earned a 10-point lead going into the locker room, and he was certainly correct:
Time to take off the Wisconsin HLA. Ten-point lead for deliberate Badgers is big. Ten-point deficit for glacial American is even bigger.

— Pat Forde (@YahooForde) March 20, 2014
Wisconsin closes 1st half on 22-5 run vs American, leads 32-22 at halftime. http://t.co/BsKdzi6UdJ

— ESPN Stats & Info (@ESPNStatsInfo) March 20, 2014
Wisconsin's most impressive feat, however, was the 65-18 run that it went on to close out the game, as ESPN's Number Never Lie noted:
American led Wisconsin 17-10 w/ 9:50 left in the 1st half. The Badgers then outscored the Eagles 65-18 for the rest of the game!

— Numbers Never Lie (@ESPN_Numbers) March 20, 2014
The team went from being on upset alert in the initial few minutes (as the Eagles came out of the gate hot) to completely obliterating its Washington, D.C.,-based foe.
Wisconsin is on a 41-8 run since the 9:50 mark of the 1st half vs American

— ESPN Stats & Info (@ESPNStatsInfo) March 20, 2014
Jeff Goodman of ESPN pointed out that Wisconsin allowed a mere 13 points after it came out of the locker room for the second half:
Wisconsin 75, American 35. Badgers defense allowed 13 points after the break.

— Jeff Goodman (@GoodmanESPN) March 20, 2014
Eamonn Brennan of ESPN noted that an American free throw put the kibosh on an absurd 40-6 run:
That American free throw just halted Wisconsin's 40-6 run

— Eamonn Brennan (@eamonnbrennan) March 20, 2014
Wisconsin was heavily favored going into the contest, with oddsmakers installing the team as 14-point chalk, courtesy of ScoresandOdds.com.
The spread should have been much higher, but it is not impossible for a No. 15 seed to upset a No. 2. The Florida Gulf Coast Eagles most recently proved that in 2013 with a victory over Georgetown.
While American may share a mascot with FGCU, it was not able to jump-start a similar Cinderella run on Thursday.
Jeff Potrykus of the Milwaukee Journal Sentinel noted that American head coach Mike Brennan was an assistant during FGCU's improbable Sweet 16 run in 2013, something that may have had some Wisconsin fans worried early on:
#Badgers fans: No. 15 Florida Gulf Coast upset No. 2 Georgetown last year. American HC Brennan was GT assistant.

— Jeff Potrykus (@jaypo1961) March 19, 2014
However, that was clearly not the case. The Badgers had such a comfortable lead by the final minutes of the second half that they were able to empty the bench and give their regular rotation players a much-deserved breather.
Greg Smith of BlackSportsOnline pointed out that the Eagles were able to breach the 20 percent shooting mark in the second half while Wisconsin's reserves were in the game:
American up to 20% shooting in the second half with that one. Wisconsin out here getting guys some tournament experience

— Greg Smith (@GregSmithBSO) March 20, 2014
Let's take a look at what is next for Wisconsin and American.
All Your Bracket Essentials: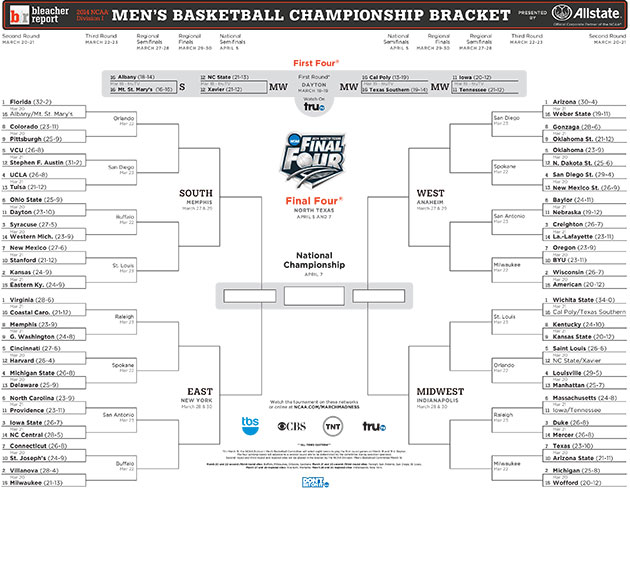 B/R
What's Next
Let's do this again Saturday, Milwaukee. #Badgers #WinningIsFun pic.twitter.com/N018A083KA

— Wisconsin Basketball (@BadgerMBB) March 20, 2014
The Badgers are moving on to the third round, where they will match up with the winner of BYU and Oregon's contest.
Wisconsin fans interested in finding out more about their team's next opponent can catch that game on Thursday afternoon. It will be televised on truTV at 3:10 p.m. ET.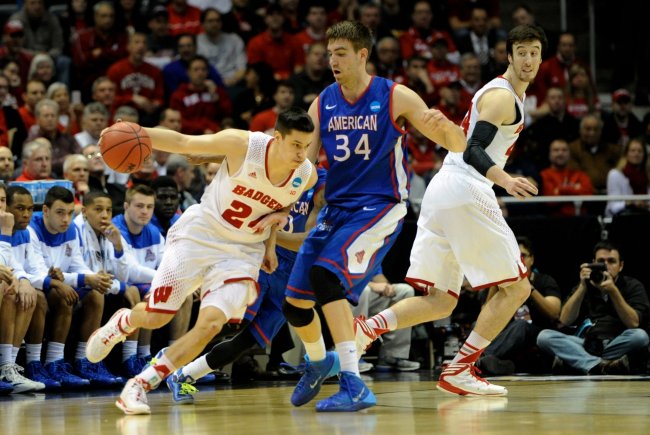 Benny Sieu-USA TODAY Sports
The Badgers will attempt to navigate past the opening weekend and into the Sweet 16 for the first time since the 2012 tournament. That will not come easy, as both BYU and Oregon are tough opponents that are much better equipped to pull off the upset than American.
How far will Wisconsin go in the 2014 NCAA tournament?
However, Wisconsin is in the midst of one of its best seasons under head coach Bo Ryan and appears poised to make a serious run during March Madness. Thursday's shellacking of the Eagles only proved that they aren't giving much consideration to the idea of exiting the Big Dance early.
American, on the other hand, will be heading home early. The program's magical 2013-14 campaign has finally come to an end.
The Eagles finish the season with a 20-13 record and there is plenty for the Patriot League champs to build on. Leading scorer Jesse Reed should be back for his junior campaign, although Tony Wroblicky, the team's star center, will be moving on.
It'll be interesting to see if American can repeat its success in 2014-15 and return to the NCAA tournament for a second consecutive year—a feat it pulled off back in 2008 and 2009.
The Eagles should use this embarrassing loss as motivation to come back stronger than ever next season and try to get the school's first-ever NCAA tournament win.