During Liverpool's 2013-14 campaign, there has been much hype around Luis Suarez's sensational form, Daniel Sturridge's free-scoring and the work rate of Jordan Henderson.
The rise of Raheem Sterling is on that list too, and now the 19-year-old is playing an increasingly vital role in Liverpool's success.
In December 2013, Brendan Rodgers discussed the importance of Sterling in the Liverpool setup, as quoted by Sky Sports:
He's a terrific young player to have. He will always be important for us this season; he didn't play so much in the opening months, but you can see that he's a real threat when he's at the top of his game.
That was a turning point in the season for Sterling, whose form had dipped, and prompted calls from some fans for him to be sent out on loan in January.
Rodgers' comments came after Sterling had scored a confidence-boosting goal, Liverpool's fifth, in the 5-1 thrashing of Norwich City at Anfield on December 4, 2013.
Thing I noticed earlier is that Raheem Sterling was the player that started both the moves for our first two goals. Had an important game.

— Jack Widnell (@jackwfootball) December 15, 2013
Since then he has grown as a player and a young man, showing a growing maturity and delighting the Kop with consistently exciting performances.
He possesses a wonderful no fear mindset, which pushes him to take on any Premier League defender with confidence. The likes of Phil Jagielka and Per Mertesacker won't be looking forward to their next meeting with the England international.
In his 24 Premier League appearances for Liverpool this season, he's scored six goals and created 32 chances, according to Squawka, contributing vitally to Liverpool's relentless attacking pressure.
Sterling's pace runs down the wing and leaving defenders for dead have become trademarks of Liverpool's season.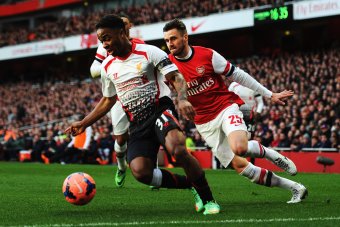 Shaun Botterill/Getty Images
His central role at the attacking tip of Liverpool's midfield diamond against Manchester United on Sunday allowed Sterling a controlled role, allowing him to express his creativity in the space between midfield and attack.
It also pulled United's defenders out of position, opening up space for Suarez and Sturridge to make runs into, which culminated in the awarding of two of Liverpool's three penalties and Suarez's goal.
This versatility goes a long way to furthering the argument that he is among the most important players on the Liverpool team right now, though Rodgers has faced a positive selection dilemma recently with Sterling and Philippe Coutinho both vying for one place on the team.
Sterling owes a lot of his progress to Rodgers, quoted by David Anderson in The Mirror this week as saying:
I'd say he has got me settled off the pitch and he's made me realise that I'm here on merit because of what I've done in the youth team

He's told me to do what I've been doing in the youth team and just be confident and get on the ball.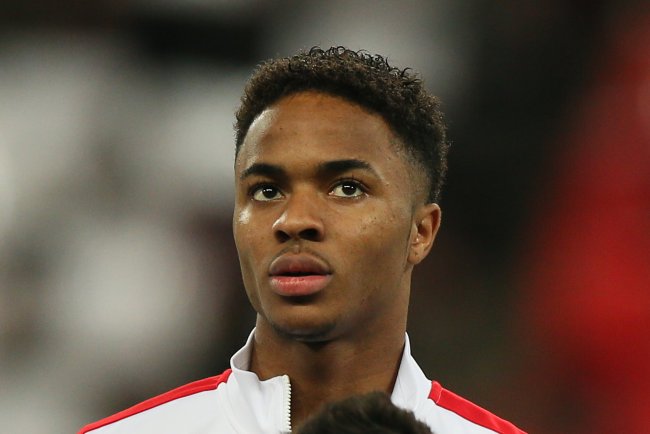 Alastair Grant/Associated Press
Roy Hodgson could do well to examine Sterling's important role in Liverpool's team this season and how he has worked alongside Henderson, Steven Gerrard and Sturridge for his England plans at this summer's World Cup.
Now Sterling needs to keep his head and continue listening to the wealth of intelligence around him in Rodgers, Gerrard and others in order to continue making such a valuable contribution when Liverpool potentially attack both the Premier League title and Champions League next season.