Connecticut enters the 2014 women's NCAA tournament as the clear team to beat. The Huskies are 34-0 heading into March Madness after cruising past most opponents with relative ease, including five wins over teams ranked inside the top five.
Three of those marquee wins came over AAC rival Louisville during the second half of the season. The Cardinals are a very strong team capable of making a Final Four push. Yet, they lost to Connecticut three times by an average of 19 points.
That stat illustrates exactly what every other team is up against if it wants to capture the national championship. Although it's a clear uphill battle, let's check out the three teams with the best chance to challenge the Huskies and potentially prevent them from winning the title.
1. Notre Dame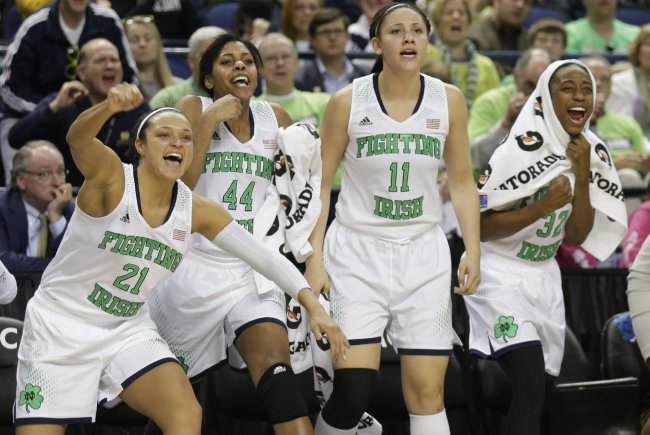 Chuck Burton/Associated Press
Even though Notre Dame wasn't tested quite as frequently as Connecticut, the Fighting Irish also enter the big dance unbeaten at 32-0. A trio of wins over Duke along with triumphs over Tennessee and Maryland highlighted the undefeated run.
What helps the Irish stand out is their efficiency on the offensive end. Jewell Loyd shoots 52 percent from the field and nearly 40 percent from beyond the arc. Backcourt partner Kayla McBride also connects on a high rate of her outside shots, while Natalie Achonwa is a strong finisher in the paint.
Notre Dame is also motivated by the focus being on Connecticut despite matching undefeated seasons. Head coach Muffet McGraw used that to fire up her players in a Selection Monday interview, noting her team has been able to hang with UConn recently, as quoted by Rachel Terlep of the Elkhart Truth:
#NotreDame HC Muffet McGraw on #UConn: "We've gotten pretty good at beating them these past few years." Draws a huge cheer from crowd.

— Rachel Terlep (@eTruth_Irish) March 17, 2014
It's extremely rare for an undefeated team to play the underdog role this late in a season. That would be the case for Notre Dame if it did meet Connecticut in the final. The Irish have the best chance of hanging with the Huskies thanks to that offensive efficiency, though.
2. Tennessee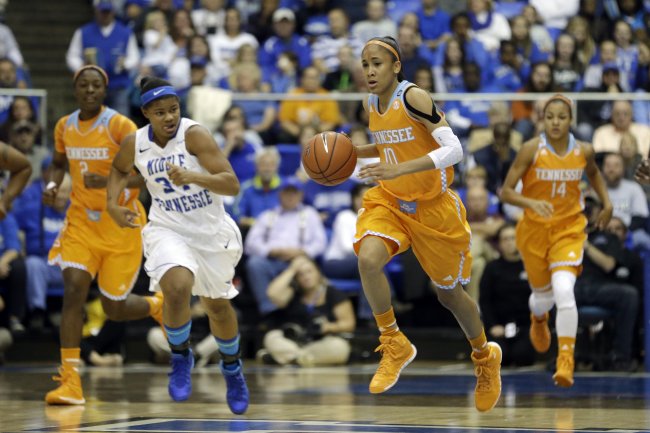 Mark Humphrey/Associated Press
Tennessee really seemed to find a comfort zone down the stretch. It's currently on a seven-game winning streak after winning the SEC tournament and lost just once over its past 14 contests. The late hot streak was enough to land the Lady Volunteers on the top-seed line.
Two things stand out about the Vols. Most importantly, they have a go-to scorer in Meighan Simmons. An underrated factor, however, is the ability of Isabelle Harrison and Mercedes Russell to protect the paint by blocking shots. It takes away a lot of easy looks opponents are used to getting.
And when it comes to women's college basketball, the first two programs that come to mind based on recent success are Connecticut and Tennessee. The Lady Volunteers are right up there with the Huskies in terms of accomplishments over the past two decades, as noted by ESPNU:
Last 20 seasons, UConn, Tennessee & Stanford have 32 #FinalFour appearances & 13 Championships #SelectionMonday pic.twitter.com/E47uYCB7ye

— ESPNU (@ESPNU) March 17, 2014
Tennessee had some really strong performances down the stretch, including a 12-point victory over South Carolina. If it can continue to build off that success during the tournament and hit a peak around the Final Four, the Vols can't be counted out.
3. Stanford
Ben Margot/Associated Press
The Cardinal make the list over teams like Louisville and South Carolina for one reason: Chiney Ogwumike. While she has a solid supporting cast, highlighted by Amber Orrange running the offense and Mikaela Ruef cleaning up the glass, the star forward is a true game-changer.
Which team has the best chance of beating UConn?
Ogwumike is averaging a shade under 27 points, good for third in the nation, while also grabbing 12 rebounds and blocking nearly two shots per game. When she's playing her best and being aggressive down low, very few players in the country are capable of making a bigger impact.
That's important because in order to beat Connecticut a team is going to need a tremendous individual performance. Somebody will need to step up to keep it close when the Huskies are threatening to pull away, and Stanford knows where that source of stability is going to come from.
The Cardinal did face the Huskies all the way back in early November. The result was a 19-point loss in large part due to a lack of secondary production on the offensive end. If they meet again and the role players elevate their level of play, Stanford would have a chance.