Manchester United's 3-0 win over Olympiakos saw David Moyes' struggling side overturn a 2-0 first-leg deficit in memorable fashion.
While the manager, players and fans are right to celebrate the much-needed win, the media reaction is dominated by those who praise Moyes' team selection without getting carried away.
The former Everton boss reinstalled Ryan Giggs, Danny Welbeck and Antonio Valencia to his side, all of whom posted quality shifts for the Red Devils. Giggs' exquisite passing was key for two of the goals, Welbeck's industry provided a dutiful presence down the left wing and Valencia battled through a badly swollen eye to offer a powerful outlet on the opposite flank.
Phil McNulty of BBC Sport suggests Moyes deserves praise, and hints the manager's body language can also have a major boost on his team:
Moyes has had plenty of criticism this season so it would be unfair not to give him credit where it is due. This was the response required from both him and his players after they were embarrassed by Brendan Rodgers's side.

From the first whistle Moyes's body language and demeanour was more brisk and businesslike than it was on Sunday when he (rather like his most of his players) looked like an idle bystander unable to influence events as they escaped United's control.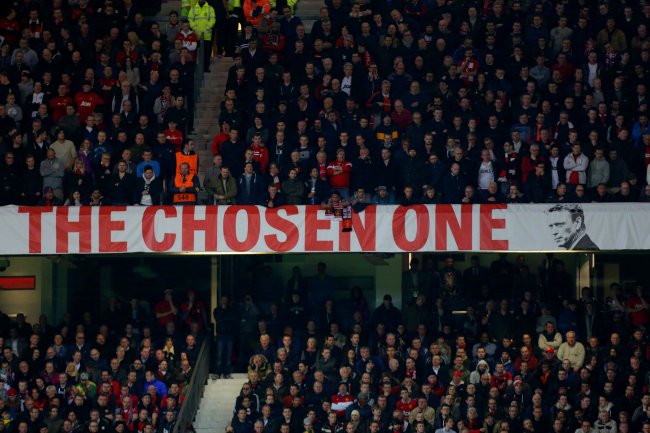 Jon Super/Associated Press
Martin Keown focused on Giggs' timeless display during his column for the Daily Mail, highlighting the 40-year-old's immediate ability to make an impact:
He might not have started a match for nearly two months, but Ryan Giggs made a difference on Wednesday night.

With a deep-lying midfielder next to him to offer protection, Giggs has the vision and the skill to pick out a pass and get United moving.
Another interesting assessment from the former Arsenal centre-back was Phil Jones' performance in defence. The Englishman won three tackles, three interceptions, completed eight clearances and had the highest pass-success rate of any starting player at 92 percent—reported by WhoScored.com.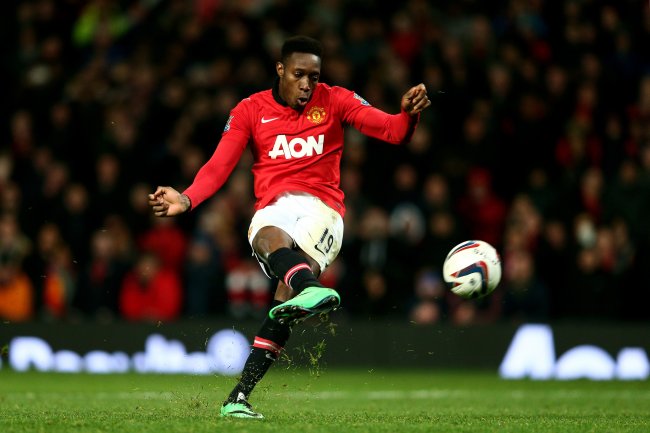 Clive Mason/Getty Images
Despite this, Keown believes the 22-year-old plays like "he's been fired out of a cannon" and "needs more control."
Welbeck wasn't afforded the same criticism from The Telegraph's Henry Winter, who believes the hard-working forward deserves to be a major role in Roy Hodgson's England squad for the upcoming World Cup:
Another reminder of why Welbeck's season should end in Brazil. Tireless, quick, versatile, touch.

— Henry Winter (@henrywinter) March 19, 2014
Guillem Balague, Sky Sports' Spanish football expert and regular Bleacher Report UK guest columnist, questioned whether Moyes would receive the praise deserved for his selection. He indicated United's players are likely to get plenty of compliments after the long-overdue performance:
Have we reached that stage at United where a good performance is down to players (poor till now) and a bad one to the manager?

— Guillem Balague (@GuillemBalague) March 19, 2014
The Mirror's Oliver Holt spoke of a "fantastic night" in Manchester, but like many, didn't wish to go overboard on one result:
Fantastic night at Old Trafford. By a long way, the biggest result of David Moyes' reign so far. Giggs, Rooney, RVP all superb

— Oliver Holt (@OllieHolt22) March 19, 2014
Worth remembering amid United's exultations that it took some brilliant saves from David de Gea to keep them in the tie.

— Oliver Holt (@OllieHolt22) March 19, 2014
Way too early to say this is turning point for Manchester United or David Moyes.

— Oliver Holt (@OllieHolt22) March 19, 2014
Enough for Utd fans just to celebrate a great night and remember what this kind of victory tastes like

— Oliver Holt (@OllieHolt22) March 19, 2014
Nick Sutton of BBC Radio 4 summed up United's win with a selection of back pages from the morning press. Previously dominated by talk of Moyes receiving the sack, the United manager may have slept far easier after overcoming Olympiakos:
And @Persie_Official dominates all the back pages too. #mufc #tomorrowspaperstoday http://t.co/A0TncgZeQU #bbcpapers pic.twitter.com/tmlEq6ghV8

— Nick Sutton (@suttonnick) March 19, 2014
United's comeback success is certainly enough to raise spirits around Old Trafford, and keeps the club's season alive for a little longer, but Moyes' men must follow this with victories over West Ham and Manchester City.
Should they stutter after a huge result—much like they have done throughout the season—positivity from the press will soon transform back to the sense of dread that has defined United's current campaign.