If you want to win your NCAA tournament pool, you have to consider every variable when making your picks. One big one is knowing where each game is being played.
The selection committee sets up the tournament to give the higher seeds an advantage by sending them close to home in the first few rounds. For example, top-seeded Florida will play its first two games in nearby Orlando.
Of course, most people expect the Gators to make it to at least the second weekend regardless of where they play. According to ESPN, over 85 percent of people have put Florida into the Sweet 16.
Still, there are a few closer matchups in the second or third round that could be affected by the fans and the location of the games. Here is a look at what you need heading into the NCAA tournament followed by a few teams that will excel thanks to their opening location.
No. 3 Duke
Location: Raleigh, N.C.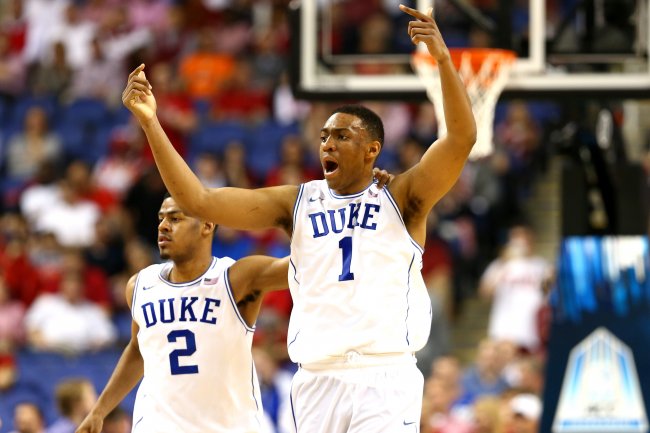 Streeter Lecka/Getty Images
Considering Duke lost road games at Clemson, Notre Dame and Wake Forest this season, it is clear the Blue Devils will want to get as much of a home-field advantage as possible.
They will get just that as the team just has to travel about a half-hour down the road. Their fans will likely follow them and fill up the PNC Arena for their opening game against Mercer. This is certain to give the players the feeling that they are right at home in Cameron Indoor Stadium.
According to the team's official site, Duke is 6-1 in NCAA tournament games in Raleigh and 32-5 in the state of North Carolina.
This is also important because the Blue Devils' two best players are still new to the NCAA tournament, as noted by Stephen Wiseman of The Herald-Sun:
#Duke counts on them plenty, but truth is Jabari Parker and Rodney Hood are NCAA newbies. They can't wait. http://t.co/IRXW00ljOE

— Stephen Wiseman (@stevewisemanNC) March 19, 2014
As well as Jabari Parker and Rodney Hood have played this year, you can expect some nervousness in the biggest games of their careers. However, this being a de facto home game will allow the Blue Devils to ease into the tournament.
This is bad news for Mercer as well as whoever the team plays in the third round.
No. 3 Syracuse
Location: Buffalo, N.Y.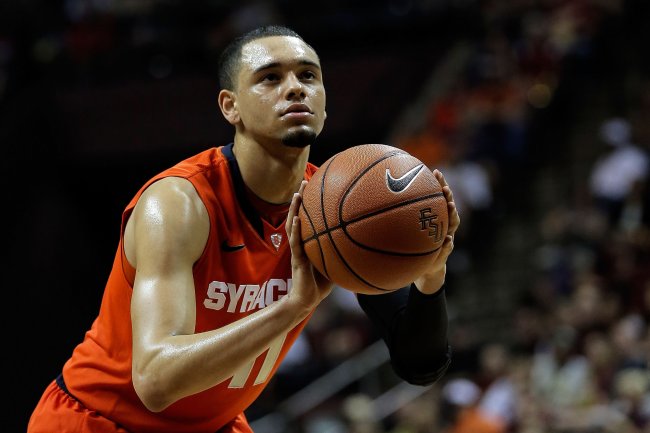 Stacy Revere/Getty Images
It is hard to imagine a better scenario for Jim Boeheim and Syracuse than playing in Buffalo. The venue is about a two-hour drive for fans to take over and create an atmosphere similar to the Carrier Dome.
The Orange had a similar situation in 2003 when they were able to play the regional finals in Albany, N.Y., in what was a very biased crowd. The head coach discussed the advantage but noted that winning still will not be easy, via Mike Waters of Syracuse.com:
We're excited to be able to play in Buffalo. That's great for our players to be pretty close.

The field is tremendously challenging. You look at any team you play in this tournament now and you've got a tough game. There's no such thing as an easy starting game in the NCAA Tournament anymore.
While possible third-round opponents Ohio State and Dayton are relatively close as well, analyst Patrick Stevens still notes that the arena will be one-sided.
Syracuse in Buffalo will be like Ohio State in Dayton or CLEVELAND. Not right around the corner from campus, but it will be VERY partisan.

— Patrick Stevens (@D1scourse) March 18, 2014
Syracuse had a lot of problems down the stretch with five losses in the final seven games of the year after starting 25-0. However, the squad got a favorable draw to the Sweet 16, especially considering Ohio State's poor outside shooting matching up against the 2-3 zone of the Orange.
This appears to be the best-case scenario for Tyler Ennis and the rest of Syracuse.
No. 4 UCLA
Location: San Diego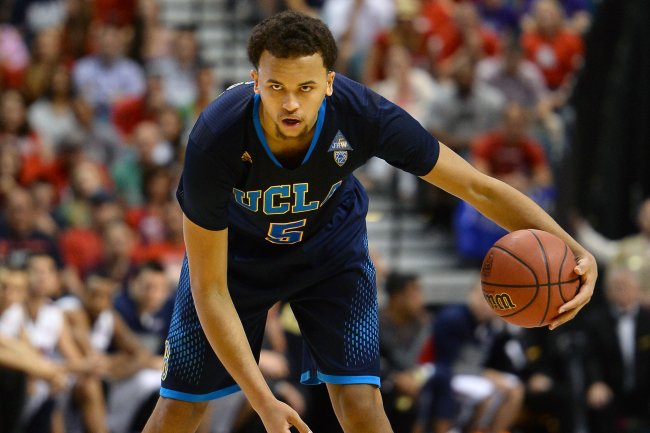 Ethan Miller/Getty Images
In most scenarios, the battle between No. 4 and No. 5 seeds is the most competitive in the round of 32. However, things will be easier for UCLA this time around.
The Bruins will remain in Southern California for their first two games, something that can make a big difference in the tournament, as noted by Kevin Pelton of ESPN:
If UCLA-VCU materializes, that's a huge geographic edge for the Bruins in San Diego, per @NateSilver538's research.

— Kevin Pelton (@kpelton) March 16, 2014
As David Teel of the Daily Press notes, this could be the second year in a row that VCU is forced to play what amounts to a road game:
VCU had to play Michigan in Auburn Hills last year. Now could get UCLA in San Diego.

— David Teel (@DavidTeelatDP) March 16, 2014
VCU ended up losing to Michigan 78-53 thanks to a huge game by Mitch McGary.
This time around, the Rams could struggle with the versatility of Kyle Anderson or the scoring ability of Jordan Adams. Of course, the fact that they would have to travel 3,000 miles to get to the game will not help either.
UCLA will have a nice advantage in both of its first two games, assuming it can get past Tulsa. Thanks to the location of the game, this should not be a problem.
No. 6 Baylor
Location: San Antonio
While the first three examples are all teams expected to be favored in the third round anyway, Baylor instead would be an underdog in its second game against Creighton. Additionally, the first-round matchup against Nebraska is anything but a piece of cake.
The good news is that Baylor comes into the tournament with a lot of momentum, winning 10 of 12 including a run to the finals of the Big 12 tournament. Additionally, the Bears will be able to play the first two rounds just a few hours from home in San Antonio.
Even head coach Scott Drew admitted the advantage, telling Kate Hairopoulos of the Dallas Morning News, "I love being in San Antonio. It will be great that our fans will be able to drive now because they make a big impact."
Although Creighton and Nebraska are not exactly traveling across the country, the arena will still likely feature a lot more green than blue or red. This will be enough to give the Bears the advantage over the Nebraska schools.
Follow Rob Goldberg on Twitter for the latest breaking news and analysis.