To navigate through March Madness, you need ruthless realism and liberal detours for creativity. Completing a bracket requires more than just picking your favorite team or choosing all the favorites except the No. 10 seeds.
We've got you covered with complete bracket essentials including the full TV schedule, a trio of sleepers for the Sweet 16 and some reasons why Michigan State and Louisville should not be such popular picks for the title game.
All Your Bracket Essentials: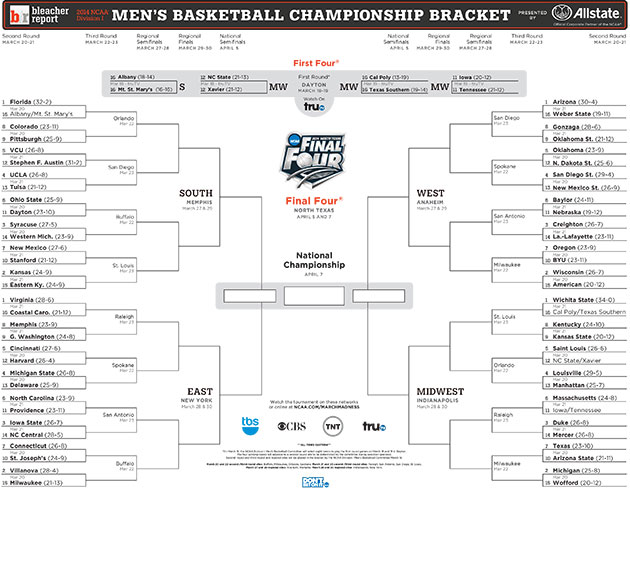 B/R
Everybody's Favorite No. 4 Seeds
Michigan State battled injuries throughout the season, so it seems to be getting healthy and peaking at the best time. That simple fact and a deep roster led virtually every ESPN employee to pick the Spartans as the eventual champs.
SPARTY is 4 seed but a 1 seed to all of us @ ESPN - All 5 on our show picked Spartans to WIN IT ALL!

— Dick Vitale (@DickieV) March 17, 2014
Louisville's status as a No. 4 in the Midwest Region shocked many experts. CBS' Seth Davis seemed beside himself on the selection broadcast, reiterating at one point: "I still can't get over Louisville as a four" (via The Courier-Journal's Jonathan Lintner).
Barack Obama picked those fourth-seeded teams to compete for the championship, but just because a consensus is formed around the Spartans and Cardinals does not mean it will be smooth sailing for either.
POTUS picks Michigan St (over Louisville) to win title; follows picks of ESPN's @SethOnHoops, @JayBilas, @DickieV

— Mike Humes (@MikeHumesESPN) March 19, 2014
Michigan State claimed the Big Ten title with a stirring 14-point win over Michigan. Coach Tom Izzo oozed confidence in his team after the win. According to the Associated Press via ESPN, Izzo told reporters: "I've said three times in my career that I thought we were good enough to get to a Final Four. I thought this team was next in line."
The combination of Gary Harris, Adreian Payne and Branden Dawson make the Spartans a very tough foe, but they now face the additional pressure of being favorites as underdogs. When all five of ESPN's college basketball experts pick you to win the tournament, that's like the Sports Illustrated cover jinx plus the Madden curse times a million.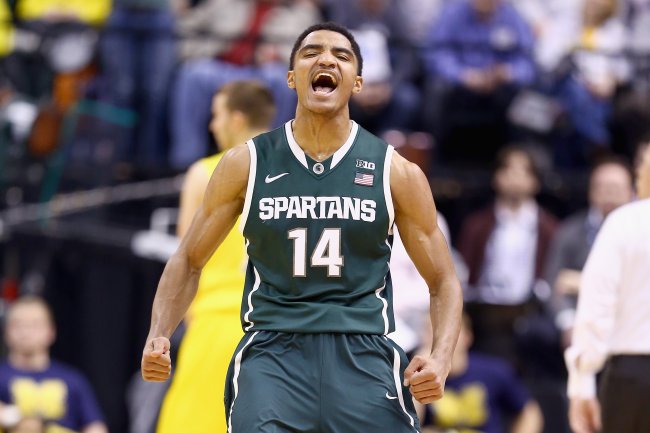 Andy Lyons/Getty Images
Since Jan. 25, the consensus pick to win the national championship has an 8-7 record, so it's far from certain that the Spartans can dispatch the likes of Virginia and Villanova.
While MSU can lay partial blame for their soft seeding on those injuries, Louisville's shocking fourth seed is somewhat understandable once you look at their record against top teams.
Why is Louisville a No. 4 seed? It might be its record against other tournament teams http://t.co/oxyiCwry8f pic.twitter.com/wl9MjGdONY

— WSJ Sports (@WSJSports) March 19, 2014
Despite winning the watered-down American Athletic Conference (sorry, Rutgers), Louisville managed to pile up 29 wins while losing four of its first five games against teams ranked in the Top 25. Just because the Cardinals are seeded too low does not mean they will survive their region.
The Cardinals start their tournament with Manhattan, and they must contend with the likes of Saint Louis and Wichita State or Kentucky just to reach the Elite Eight, where Duke or Michigan could be waiting.
No. 7 Oregon
Oregon may be a No. 7 seed, but they have a realistic path to the Sweet 16 for a matchup against Creighton. They face a weak BYU squad in the round of 64, and a likely match against Wisconsin in the third round will test their mettle.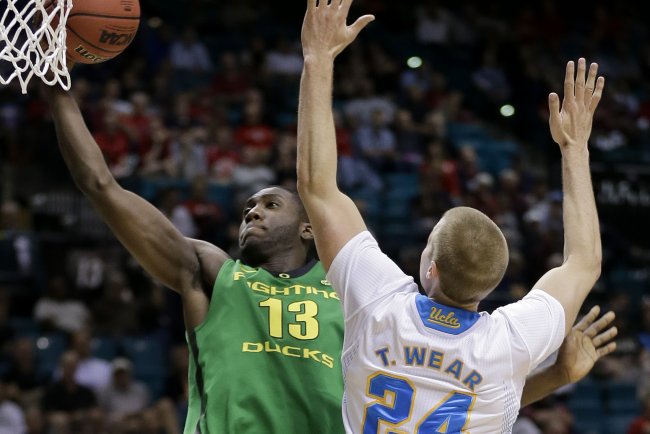 Julie Jacobson/Associated Press
The Ducks fell to UCLA in the conference tournament, but they showed tremendous toughness in beating the Bruins on their home floor in a two-overtime marathon on Feb. 27. The 64-57 victory over Arizona on March 8 put everyone on notice.
The Ducks score in bunches at 81.8 points per game, 11th in the nation, and the team shoots a tidy 47 percent. They have the weapons to fly past any team in the tournament.
No. 7 Connecticut
The Huskies beat Florida earlier in the season, and they have the talent to take down Villanova and Iowa State in potential matchups to reach the Elite Eight.
Forget the fact the Huskies completely got under-seeded. They can go to Elite 8 in that bracket. Couldn't get luckier.

— Matt Ehalt (@MattEhalt) March 16, 2014
Three wins against Memphis and a March 14 victory over Cincinnati head their resume, but the Huskies also lost twice in a one-week span to Louisville by 33 points and 10 points. Focus on the Dec. 2 win against Florida, the top team in the tournament, and it's very possible UConn reels off two or three wins.
No. 8 Kentucky
After beginning the season with some fans eyeing a historic 40-0 record, the Wildcats would happily settle for winning their final six games.
PURSUIT OF PERFECTION 40-0 #OrNAH @BBN @wildcat_world #Kentucky #Wildcats #UK #BBN cc: @MuethingTK @UKCoachCalipari pic.twitter.com/FnUegyEbER

— Eric T Lorentz (@SupBigE) March 3, 2014
For proof that they can beat the best of the best, look no further than the SEC title game against Florida. The Gators led by 15 points with 11 minutes remaining before the Wildcats busted out a 14-0 run. Kentucky had a chance to win the game down by a point in the final seconds, but James Young slipped on a drive and time expired without a shot.
The Wildcats brought in the top recruiting class, and those youngsters have now had 34 games to get acclimated. Despite a 24-10 record, they took the No. 8 seed in the Midwest and would be set to spoil Wichita State's dance to perfection in the round of 32. They would have a tall task ahead if Louisville advances to the Sweet 16.