The 2014 NCAA tournament is already underway, and the madness started from Day 1 in Dayton.
Albany jumped out to an early lead—19-2 at one point—but still needed a huge second half to down Mount St. Mary's, 71-64, to clinch a berth as the No. 16 seed in the field.
As for N.C. State, the Wolfpack controlled their matchup with Xavier in what ultimately became a rout. After winning the first four matchup with the Musketeers, 74-59, the Wolfpack have become a popular pick to pull the upset in the field of 64.
All Your Bracket Essentials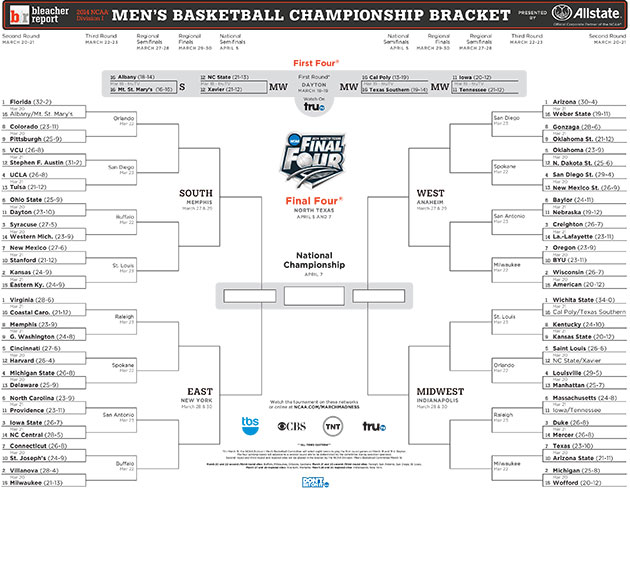 Bleacher Report
With the field of 64 just about set, here's a look at a few upset picks that will either bust or boost your brackets in the second round of the NCAA tournament.
Upset Picks
No. 9 Oklahoma State Over No. 8 Gonzaga
OK, so maybe this isn't a huge upset. But with Oklahoma State being put just behind Gonzaga in the West Region, it's still an upset worth taking.
With the likes of both Marcus Smart, a potential top-five pick in the 2014 NBA draft as a sophomore, and Markel Brown (17.1 PPG, 5.3 RPG), the Cowboys have the offensive firepower to defeat any team in the tournament.
For that reason alone, Patrick Stevens of Syracuse.com—the only bracketologist to pick all 68 teams in the bracket—believes the Cowboys will advance:
I'll go with Marcus Smart and Co. RT @NastyChicken47: A lot of people like OSU to beat Gonzaga. Who do you think wins?

— Patrick Stevens (@D1scourse) March 18, 2014
Smart has had his troubles this season, but he hasn't slowed down on the court for Oklahoma State. His recent numbers have been outstanding—averaging 19.6 points over his last five games—but ESPN Stats & Info notes that Smart has been historically great in 2013-14 for the Cowboys:
Marcus Smart became the 1st player in Big 12 history with at least 18 pts, 7 rebounds, 7 assists and 6 steals in game (league began 1996-97)

— ESPN Stats & Info (@ESPNStatsInfo) March 13, 2014
While the Zags have been a strong team throughout the season and deserve their spot in the tournament, Oklahoma State is a potential buzz saw on offense.
With both Smart and Brown on the court along with Kamari Murphy down low, the Cowboys will not only take down Gonzaga, but could also upset No. 1 Arizona to get to the Sweet 16.
No. 10 Saint Joseph's Defeats No. 7 Connecticut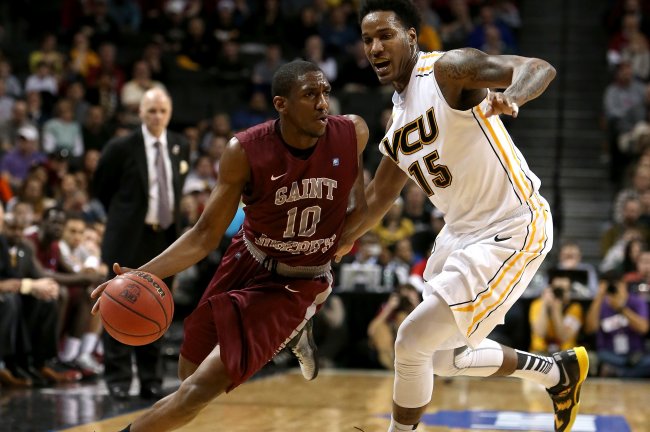 Mike Lawrie/Getty Images
Now we're getting into the hairier upsets. With both of these two teams finishing the season on a high note heading into the NCAA field, the Saint Joseph's train is just a little stronger than UConn.
Saint Joe's have not only won their last three games heading into the tournament, but they also did so in the stout Atlantic 10 tournament. After winning their first two games to make it to the final, the Hawks took down VCU by a score of 65-61.
The Hawks' biggest weapon in the tournament just so happens to be a player that essentially clinched the bid for Saint Joe's against Dayton in the conference tournament. Sporting News provides a look at the shot from Langston Galloway:
Did Langston Galloway push off on his game-winning shot against Dayton? http://t.co/4wmg5G3JYN

— Sporting News NCAAB (@sn_ncaab) March 14, 2014
Galloway has averaged 23.8 points per game over his last four and is the leading scorer for the Hawks. His presence on the court makes Saint Joe's a deadly team from anywhere, but the ability down low from Ronald Roberts Jr. will also give UConn fits.
With both size and a shooter for Saint Joe's heading into the field, the Hawks also have a shot to put together a run in the field. A matchup against No. 2 Villanova, who lost to Seton Hall in the Big East tournament, could await Saint Joe's for a chance to make it to the second weekend of the bracket.
No. 12 N.C. State Befuddles No. 5 Saint Louis
N.C. State has worn the Cinderella slipper before, back in 1983, and could do the same in 2014—for another round, at least.
The Wolfpack finished the season with a couple of upsets over both Pittsburgh and Syracuse just to get into the field. With that type of confidence, N.C. State could continue a recent trend for No. 12 seeds, as ESPN Stats & Info notes:
NC State beats Xavier, will play Saint Louis in 12-5 NCAA matchup ... No. 12 seeds are 5-3 vs 5 seeds in last 2 seasons

— ESPN Stats & Info (@ESPNStatsInfo) March 19, 2014
Which team is most likely to pull the upset?
Coach Mark Gottfried has his team in the field of 64 for the third time in his first three seasons in Raleigh. His success is due in large part to his ability to slowly transform his teams into contenders by the time March rolls around.
Gottfried spoke about N.C. State's growth this year, according to Joe Giglio of The News & Observer:
"That's what you want as a coach," Gottfried said. "You want your team to keep getting better and I think we are getting better still."
The Wolfpack runs their offense through sophomore forward T.J. Warren. The 2014 ACC Player of the Year has 30 20-point games this year and has set the N.C. State scoring record, which was held by legendary ACC player David Thompson, as the team's official Twitter account points out:
BREAKING: TJ ( @T24Warren) sets school record for points in a season. 839. Old record was 838 by David Thompson

— NC State MensBball (@PackMensBball) March 19, 2014
Shot Analytics also gives a snapshot of Warren's shot selection throughout the regular season as he led the conference in scoring:
New Shot Analytics: ACC Player of the Year TJ Warren is an old-school scorer. http://t.co/gSyqx175sy pic.twitter.com/3Sh531SNY9

— Shot Analytics (@ShotAnalytics) March 12, 2014
Along with Warren, the Pack also features great guard play from Tyler Lewis and Ralston Turner, who both hit huge three-pointers against Xavier to help pull away in their first game.
N.C. State also showed an improved defensive game against the Musketeers, something they will need against an elite defensive team in Saint Louis. But with the Billikens losing four of their last five games down the stretch, they have taken a clear step back and will fall against the Wolfpack.
As for the next round, the Pack will face a stiff test in No. 4 Louisville. That matchup doesn't swing quite as well in N.C. State's favor, as the Cardinals will move on to the Sweet 16, ending the Wolfpack's run.
Follow R. Cory Smith on Twitter: