Get your antipsychotic medication ready, as March Madness finally kicks off and brings with it one of the best events in sports. As millions of people fill out their brackets by a variety of methods from analytical to geopolitical, we have all the schedule information to get you ready, including a spotlight on a pair of potential first-round upsets.
Be careful that your TV does not overheat, because a slew of action is kicking things off as the early games roll into each other with just a half-hour break in between.
All Your Bracket Essentials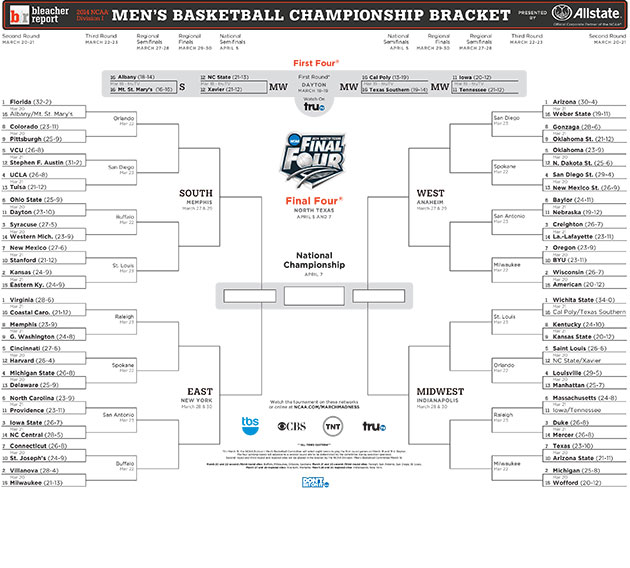 B/R
Bracketology
The "First Bracket" has been filled out by President Barack Obama, and that means the tournament has officially started. He wasn't particularly adventurous in his choice, although he probably has a lot on his mind at the moment beyond the bracket.
2014 NCAA tournament: Louisville, Michigan St., Arizona, Florida in President Barack Obama's Final Four http://t.co/iywc2s7U7Q

— ESPN New York (@ESPNNewYork) March 19, 2014
5 of 5 ESPN panelists pick Michigan State to win the National title. You know how that usually works out.

— Jason McIntyre (@jasonrmcintyre) March 17, 2014
It seems like everyone and their grandmother is picking Michigan State to win the whole thing, but there are plenty of upsets in the making as well.
Early Matchups to Watch
In recent years, No. 12 seeds have done an impressive job of knocking off a handful of fifth seeds.
NC State got into the second round with a win over Xavier and now faces a very tough St. Louis team. The Billikens bumbled their way into a No. 5 seed by losing four of the last five games, including a head-scratcher against St. Bonaventure.
NC State beats Xavier, will play Saint Louis in 12-5 NCAA matchup ... No. 12 seeds are 5-3 vs 5 seeds in last 2 seasons

— ESPN Stats & Info (@ESPNStatsInfo) March 19, 2014
The Wolfpack's most recent games include a win over Syracuse and a narrow loss to Duke. They were battle-tested in a tough ACC and will test a struggling St. Louis squad.
Another matchup with the same seeding features Harvard bringing its high-scoring offense up against fifth-seeded Cincinnati. Over the last five games, the Bearcats have three wins sandwiched between a pair of losses to Connecticut.
.@Aldubreically Best BPI Rank for double-digit seeds: 11 Iowa (21st), 11 Tenn (31st), 10 Stanford (36th), 12 Harvard (38th), 10 ASU (39th)

— ESPN Stats & Info (@ESPNStatsInfo) March 18, 2014
While the Crimson's nonconference schedule was not very tough, they have six players who average more than nine points per game.
Cincinnati averages 68.7 points per game as a team, which is good for 237th in the nation, so if the game turns into a shootout, the brainiacs could very well notch an upset.
Harvard is a 12 seed #PlanningForSuccess. Crimson ranks in top 15 in def. efficiency, 15-0 when holding opponents to 60 pts or less @NM_News

— ESPN Stats & Info (@ESPNStatsInfo) March 17, 2014
As Harvard's senior forward Kyle Casey told William Rhoden of The New York Times, "This is what we want. We don't want people looking past us. We want people's best shots."
Even if the Bearcats give their best shot against the Ivy League champs, they may not have enough firepower to keep up, and that's just the very first round.