Manchester United are on the brink of exiting the Champions League tonight at the hands of Olympiakos. After a disastrous first leg 2-0 defeat, David Moyes finds himself and his team on the edge of embarrassment.
A huge performance and win needs to happen at Old Trafford this evening or the vultures will be circling over Moyes' already targeted head.
Man United's form in 2014 has been nothing short of catastrophic. Defeats to the likes of Swansea City, Sunderland and, most recently, Liverpool have damaged the already highly scrutinised Moyes tenure. He, like his team, is living on the brink. A poor result tonight, and he may well be unemployed by the weekend.
He is confident, though, and his team must be, too. Their Champions League form is the complete opposite of their Premier League form—apart from the defeat to Olympiakos, of course.
The likes of Wayne Rooney and Phil Jones have played well in Europe, so Moyes will be praying they come good again tonight. He'll certainly be hoping for improvements from the likes of Marouane Fellaini and Patrice Evra, though.
Here are United's best and worst three players from the Champions League so far, using Squawka's Performance Score system.
Best Three
1. Wayne Rooney (219)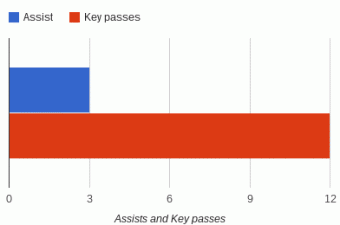 Squawka.com
With a Performance Score of 219, collected in six matches, Rooney is United's best-performing player—statistically—in Europe this season. He has scored two goals and created 15 chances, assisting three goals.
The 15 chances he has created are the most in the side, which comes as no surprise, really. Rooney has been United's best player in Europe and must show his good side against Olympiakos tonight if they are to stand a chance of qualifying for the quarter-finals.
2. Phil Jones (191)
Phil Jones missed the defeat to Olympiakos, which probably didn't help the overall result. He's played five matches in the Champions League and scored one goal—the only goal in the 1-0 win over Shakhtar in the last game of the group stages. The defender has been a vital cog in Man United's team this season and, despite being prone to the odd mistake or lapse of concentration, he will be vitally important at Old Trafford this evening.
Jones has won 14 of 20 headed duels in the Champions League so far, and even completed 88 per cent of his passes.
3. Jonny Evans (171)
Evans will be missed greatly at Old Trafford tonight, as he is still recovering from injury. He and Jones could have formed a strong partnership at the centre of Moyes' defence. Evans' Performance Score of 171 is a true sign of how well he's played in the Champions League this season, given the fact that he's only played three times. In one of those games—the 5-0 win over Bayer Leverkusen—he scored.

Squawka.com
Like Jones, Evans has completed 88 per cent of his passes but won half the number of headed duels—seven out of 12. He has lost out in just two of eight contested tackles, though.
Worst Three
1. Marouane Fellaini (-14)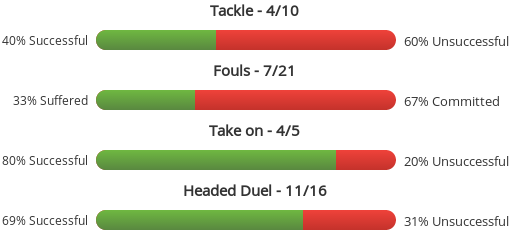 Squawka.com
Fellaini's time at United has been marred by injury and poor form. His £27 million move from Everton has not turned out like either party wanted it to. He has improved in recent weeks, but in the Champions League, he has struggled massively. With a Performance Score of minus-14, the Belgian has the lowest in the whole squad.
From three matches, he's created one chance, won four of 10 tackles and has even been sent off. He has, however, completed four of his five take-ons and won 11 from 16 headed duels. He really needs to improve tonight.
2. Javier Hernandez (0)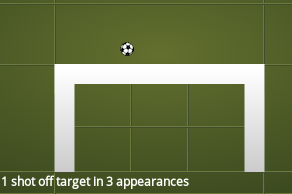 Squawka.com
The Mexican has struggled immensely in Europe this season. He looks a shadow of the player he was under Sir Alex Ferguson and is finding it very hard to hit the back of the net. Moyes seems to have lost confidence in him, too. In three Champions League appearances—two of which he started—Hernandez has failed to hit the target with a single shot. In fact, he's only had one shot, and it flew over the crossbar.
If he gets his chance against Olympiakos, which seems very unlikely, he simply has to take it. He's not hit the target or created a chance in Europe yet. He's also lost all four headed duels and not even contested a tackle. A poor season for the little striker.
3. Alexander Buttner (0)
Quite possibly a harsh inclusion in the list, but Butter has played twice and almost the full game against Shakhtar. In his time on the pitch, he's hit one shot that was high over the bar. He's also not won a headed duel and won just the one tackle so far.
There was some promise that came with his arrival at United, but it has not shown so far. As a left-back at Man United, he's expected to get forward with the ball, but he's only completed two out of six take-ons, which is quite poor when you consider how often he gets the ball down the left wing under Moyes. Tonight could be his last European experience with Manchester United.
So, Moyes will be hoping for improved performances from Buttner, Hernandez and especially Fellaini, while hoping Jones and Rooney keep up their good form. The troubled Scot will also be frustrated at the loss of Jonny Evans, who could have been so important at the heart of his defence tonight.
Moyes desperately needs United to advance to the quarter-finals tonight, or their season is well and truly over.