Two 16 seeds got the madness of the NCAA tournament started as Albany won a nail biter over Mount St. Mary's, 71-64.
The game wasn't accompanied with the hype that is coming with the rest of the tournament, but it was a fitting start and an entertaining contest.
Albany will now move on in the South region to take on Florida.
No. 12 seed North Carolina State bested Xavier, 74-59 in the evening's second and final game and now finds itself in the South region with a date against St. Louis.
All Your Bracket Essentials
NCAA Tournament Day 1 Tournament Results/Schedule

| | |
| --- | --- |
| Matchup | Score/Time (ET) |
| (16) Albany vs. (16) Mt. St. Mary's | Albany, 71-64 |
| (12) NC State vs. (12) Xavier | NC State, 74-59 |
Albany 71-64 Mount St. Mary's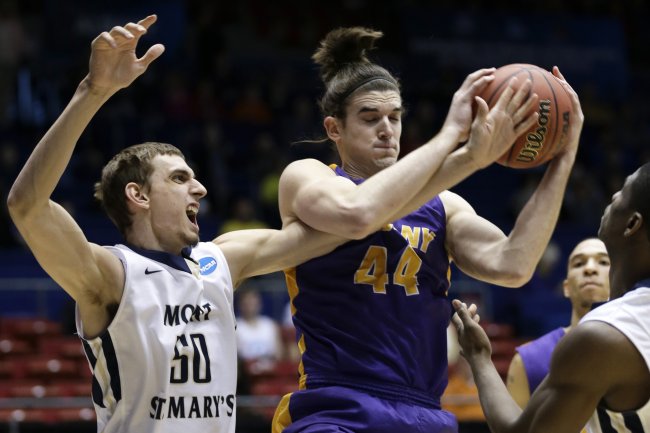 Al Behrman/Associated Press
This was an entertaining game and a distinct contrast in styles. Mount St. Mary's likes to get up and down the court while Albany is more deliberate. As the lead changed, so did the pace of this game.
CBS Sports passed along this quote from Albany coach Will Brown on the contrast in styles:
"I refused to match up to them." -Albany coach Will Brown to @KristineLeahy on difference in styles between Great Danes & Mount St. Mary's.

— CBSSports.com (@CBSSports) March 19, 2014
The Great Danes were efficient on offense and shot over 58 percent from the floor to pull out the 71-64 victory. The lead extended in the closing seconds as the Mountaineers missed a few late threes.
Guards DJ Evans and Peter Hooley led the way with 22 and 20 points, respectively.
The game began with a wild first half that looked like it was the start of a blowouts.
Mount St. Mary's got off to a dreadful start. Perhaps it was their opponent's uniforms, which had most of Twitter perplexed. Bleacher Report's Dan Levy summed it up well:
Albany has the 16 seed of uniforms.

— Dan Levy (@DanLevyThinks) March 18, 2014
Albany opened up a double-digit lead before its opponent had a point.
That opening was part of a 21-2 run to start the game for Albany. At that point, the game already felt over, but the Mountaineers came roaring back.
CBS Sports' Jeff Borzello helped highlight:
Crazy: both Albany and Mount St. Mary's had 21-2 runs in the first half.

— Jeff Borzello (@jeffborzello) March 18, 2014
Still, it was Albany that took a four-point lead into halftime.
That lead didn't last long. Mount St. Mary's started out strong in the second half to grab the lead, but the fast-paced Mountaineers couldn't sustain it.
Albany went on a run and threatened to put the game away, but with freshman Will Miller drilling three after three for the Mountaineers, Albany could do no such thing. VirginiaPreps.com was impressed with Miller's shooting:
Mount St. Mary's sure found a shooting gem in Will Miller; freshman is hitting 3's like they are lay-ups.

— Matthew Hatfield (@hatfieldsports) March 19, 2014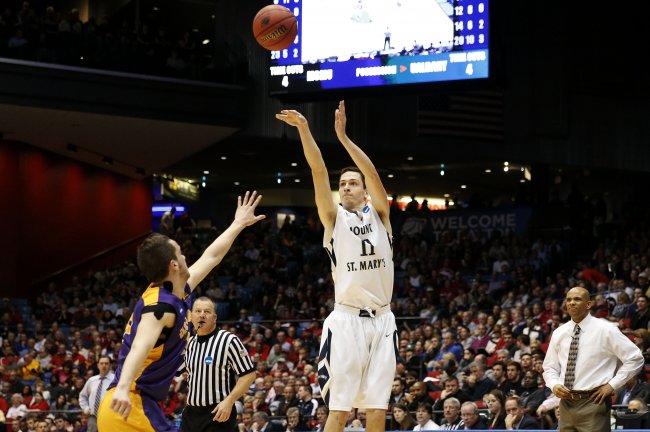 Gregory Shamus/Getty Images
Miller wound up with 21 points on 7-of-12 shooting. All of Miller's shots were from beyond the arc.
In the end, Miller's shooting was not enough to carry the Mountaineers.
Albany will be rewarded for their wonderful effort with an almost certain loss. Up next is a date with Florida, the overall No. 1 seed.
The Gators are a senior-laden team with a fierce defense and a press that can give even the most competent ball-handlers fits. In other words, they are not going to be the first No. 1 seed to lose to a 16 seed.
North Carolina State 74-59 Xavier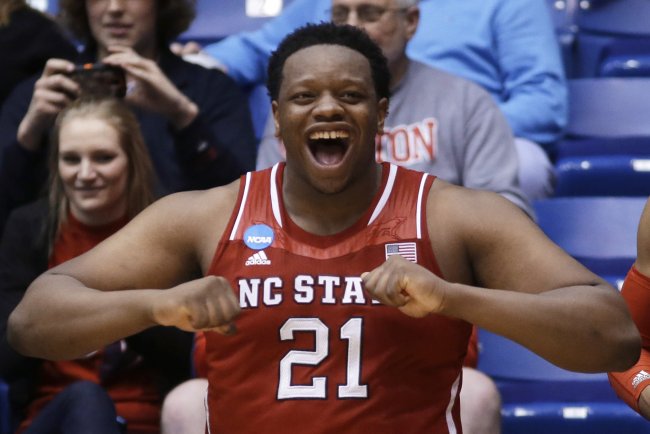 Al Behrman/Associated Press
The Wolfpack justified their inclusion in this tournament with a convincing win over Xavier.
After going just 3-9 against teams in the top-50 of the RPI, the Wolpack narrowly made the Big Dance.
Nevertheless, they took a 34-28 lead into halftime and didn't looked back. Wolfpack sophomore T.J. Warren led all scorers with 25 points on 10-of-18 shooting. Junior guard Ralston Turner also pitched in 17 points to help lead the charge.
The Wolfpack were able to limit Xavier to 41.8 percent shooting from the field, and that included the Musketeers hitting just two of their 14 shots from beyond the arc.
A big part of that was the interior defense provided by senior Jordan Vandenberg. The 7'1" center picked up four blocks in the game. In all, the Wolfpack tallied nine rejections.
The win sets up an interesting matchup against St. Louis in Round 2. CBS Sports Jon Rothstein highlights one of the more intriguing aspects of the matchup:
NC State and SLU will be a fascinating matchup. An elite scorer in T.J. Warren against an elite defensive team. Something's gotta give.

— Jon Rothstein (@JonRothstein) March 19, 2014
The following video breaks down the game:
It would be foolish to count the Wolfpack out of that matchup. The Billikens lost four of their last five heading into the tournament.