The NCAA Tournament fulfills two roles: It's a chance at national championship glory, and one final audition for NBA draft prospects before analysts go back to scouring scouting reports and game film.
NBA scouts can't be everywhere at once, nor can the most die-hard college basketball fans find the time to watch each and every talented player that comes through the collegiate ranks. The players making waves for mid-major teams may not be getting as much press as Jabari Parker or Joel Embiid, but their chance to excel in the same tournament as the biggest stars can do wonders for their draft stock.
This year's tournament will feature several players on mid-major teams ready to make sure fans and NBA executives alike remember their names.
Elfrid Payton, SG/SF, Louisiana-Lafayette
Creighton star Doug McDermott believes Elfrid Payton is a potential pro, according to Trey Iles of nola.com. McDermott may draw the eyeballs to their first-round game as the household name, but Payton will be the reason fans don't change the channel.
The do-it-all junior guard averaged 19.2 points and 5.8 assists per game for the Ragin' Cajuns. He demands the ball and does well with it, as he accounts for 24 percent of his team's total points. Payton's 6'7" wingspan allows him to beat smaller guards off the dribble and play excellent on-ball defense.
Payton's also showed some serious ability in the clutch during last week's conference title game against Western Kentucky.
If his performance from the Sun Belt Conference title game is any indication, Payton is ready for a star-making turn in the NCAA Tournament.
Cleanthony Early, PF, Wichita State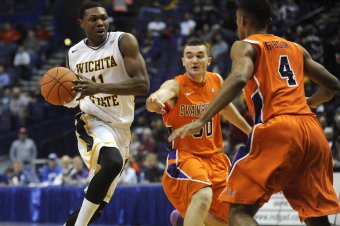 Bill Boyce/Associated Press
Yes, Wichita State is still a mid-major despite their status as a No. 1 seed. Cleanthony Early has been a big part of their success, but the athletic forward still finds himself on the fringe of NBA draft conversations.
The senior forward has been overshadowed all season by some of the other players on his team, despite averaging 15.5 points per game and connecting on 36.5 percent of his three-point attempts.
2 different NBA scouts told me they went to see Cleanthony Early and came away impressed with Ron Baker. May play some PG this year at 6-5.

— Fran

Fraschilla

(@franfraschilla) November 12, 2013
Some of this may be due to Early's lack of production in other key areas. He averages just 1.1 assists and 1.2 steals per 40 minutes, and coughs up 2.9 turnovers per 40 minutes as well.
Still, others like Eric Bossi of Rivals.com have faith in Early's professional potential.
CleAnthony Early hooping as well. I still think he'll make an NBA roster when it's all said and done.

— Eric

Bossi

(@ebosshoops) December 18, 2013
With Wichita State almost certain to make a deep tournament run, its not too late for Early to make a big impression on NBA scouts.
Xavier Thames, PG/SG, San Diego State
Xavier Thames may not have entered the NBA draft conversation until this season, mainly due to the fact the point guard is the rare late bloomer who comes up with bona fide NBA statistics.
Xavier Thames Statistics, 2012-2013 (Per game)

| | | | | | |
| --- | --- | --- | --- | --- | --- |
| Year | Points | Assists | Steals | Field Goal % | 3pt Field Goal % |
| 2012 | 9.3 | 2.4 | 1.1 | 33.0 | 34.0 |
| 2013 | 17.4 | 3.2 | 1.7 | 40.8 | 38.2 |
draftexpress.com
His game has grown by leaps and bounds, especially as a shooter. Thames also works extremely hard on the defensive end of the court thanks to the relentless tactics of head coach Steve Fisher.
Thames is a point guard who can dominate games by putting up the points himself. If he can make a splash in the tournament like Kemba Walker did in his 2010-'11 season, expect Thames' draft stock to heat up.
Aaric Murray, C, Texas Southern
Aaric Murray has NBA size, standing at 6'10" and weighing 250 pounds. He also puts up pro-ready stats, averaging 22.2 points and 6.9 rebounds per game.
However, few have discussed the Texas Southern standout due to the fact they eked their way into the NCAA tournament and play in the Southwestern Athletic Conference.
Murray is 24 years old and has led a strange, winding path through the NCAA, including getting kicked off the team at West Virginia. He has been an absolute stud for TSU, including a 48-point performance against Temple earlier this season.
Murray and TSU face off against Cal-Poly San Luis Obispo in one of the four play-in games. Should they pass that test, they will face Wichita State in the round of 64. This may give Murray two games to prove to NBA scouts he is ready to play at the next level.
All statistics courtesy of Draftexpress.com unless otherwise stated.