How Will Carolina Panthers' Free-Agency Strategy Affect Their Draft Approach?
March 20, 2014

Streeter Lecka/Getty Images
The Carolina Panthers were one of the NFL's breakout teams in 2013.  With a young roster headlined by true foundational pieces on both sides of the ball, one might have thought the Panthers were set up for sustained long-term success.
However, as Grantland.com's Bill Barnwell detailed, former general manager Marty Hurney put the Panthers in a compromising salary cap situation.  Those cap woes loomed in the background over Carolina's in-season success, and now they have come to roost.
Free agency has decimated the Panthers, creating significant gaps at multiple areas on both offense and defense.  However, despite the mass exodus, Carolina is not necessarily doomed to fail in 2014.  It is still early in the roster-building phase, and GM Dave Gettleman figures to be significantly more active in the secondary waves of free agency.
Of course, Carolina's main avenue towards adding impact talent will now be through the draft.  With six upcoming selections in the 2014 NFL draft, the Panthers must hit on some immediate contributors to address the holes that have opened up on their depth chart.
Carolina climbed its way to the top-tier of the NFC through shrewd drafting.  Although their free-agency strategy has jeopardized their short-term goals, here's a look at which positions and prospects the Panthers can target to forge another contender in 2014.
Wide Receiver
No team in the NFL has seen more turnover at a single position than the Panthers at wide receiver.  Carolina currently does not employ a receiver who caught a pass from Cam Newton last season, and after striking out on Hakeem Nicks in free agency, the position is almost a must-target in the draft.
One first-round possibility could be Florida State's Kelvin Benjamin.  Observers like SportsonEarth.com's Russ Lande have speculated about a link between Benjamin, who projects as a late first-rounder, and the Panthers, who pick 28th in the draft.
When considering Newton's strengths and weaknesses last year, deep passing fell squarely into the latter category.  Per Pro Football Focus (subscription required), Newton's 31.3 percent deep accuracy percentage in 2013 ranked 18th out of 21 qualified quarterbacks, which is partially a reflection of how Brandon LaFell and Ted Ginn Jr. never became truly reliable vertical threats.
Benjamin would provide a target who could potentially remedy that problem.  The 6'5" ex-Seminole has rare size that counteracts the press coverage tendencies NFL secondaries are gradually shifting towards.  As Bleacher Report's Matt Bowen illustrates in a comprehensive breakdown of Benjamin's game, the ex-Seminole's measureables compare favorably with Chicago standout Alshon Jeffery:
There have been comparisons made to the Bears' Alshon Jeffery, and I can agree with that because of the skill set. Jeffery did make the second-year jump in 2013 to become one of the NFL's top playmakers, but he needed the experience/reps as a rookie to develop his overall talent, technique and route-running ability to meet pro standards.
Benjamin will not provide Jeffery-like production in 2014, as the Seminole is rather raw in his route-running.  Whereas his pure size and stride length was often enough to create separation in college, Benjamin must refine his stiff hip movements and route breaks to beat NFL defensive backs.  Nevertheless, Benjamin would receive plenty of reps in Carolina, and provide Newton with the best outside target of his career.
Of course, the Panthers also lost an invaluable possession receiver in Steve Smith.  No rookie can replace Smith's locker room presence or importance to Carolina's history, but at least one receiver prospect has garnered comparison to the Panthers' all-time leading receiver:
Brandin Cooks has been on the rise after an impressive combine performance, and could be available in the early to mid-second round if Carolina trades down to stockpile more picks.  Cooks is a similarly undersized, yet tough-as-nails, possession receiver, and it's not hard to understand the Smith comparisons:
YouTube
NFL Game Rewind
Besides possessing the route-running and hands, Cooks is also a lightning-fast receiver (as evidenced by his position-leading 4.33 40-yard dash time at the combine, per NFL.com) who demonstrates terrific open-field elusiveness.  Though he only returned punts sparingly at Oregon State, that skill set could potentially fulfill another role, one vacated by Ginn's defection.
Cooks and Benjamin are both early-round options, and given the total dearth of depth, the Panthers may seek to double-down at the position with a mid-round selection as well.  Still, considering where Newton is on his development curve, it would behoove the Panthers to aid their young quarterback with a high-upside receiver in the early rounds.
Left Tackle

However, the obvious need at receiver does not force the Panthers into selecting one with their first draft pick.  Bleacher Report's Matt Miller believes the draft's superior depth at other need positions might cause Carolina to consider a tackle in the first round:
Indeed, after the retirement of longtime left tackle Jordan Gross, the need to find a blindside protector for Newton is nearly as important as supplying him with weapons.  Gross was still an elite left tackle last year, as his plus-33.5 overall grade was third-best in the league among offensive tackles. 
Right tackle Byron Bell could be a candidate to flip to the other side, but he's been an uneven performer during his three years in Carolina.  Bell conceded 38 pressures over 465 pass-blocking snaps, leading to a pass-blocking efficiency that ranked 42nd out of 58 qualified tackles.  It seems likely that the Panthers could find a better option.
One possibility could be Alabama's Cyrus Kouandjio, who ESPN's Mel Kiper Jr. slotted to the Panthers in his most recent mock draft.  In commenting on the fit, Kiper (subscription required) suggested Kouandjio's high ceiling could tempt Carolina:
There were some concerns about his medicals at the combine, but Kouandjio is going to come in healthy and ready to contribute. And it's worth remembering that he won't turn 21 until after the draft. While Kouandjio has a high ceiling, he's not merely a physical talent who could develop -- this is a kid who was battering SEC defensive linemen at the age of 19. If the health is there, so is the ceiling. It's a good bet for the Panthers at this point.
When breaking down Kouandjio, it appears the Bama product could be an immediate net-positive in the running game.  His 6'7", 322-pound frame and long arms allow him to latch onto his man and maul him to the ground.  On this play against Virginia Tech, interior pressure stopped the running back for a two-yard gain, but Kouandjio pancaked his man five yards downfield:

YouTube
The flip side to Kouandjio's size is a heavy lower body, as his relatively unrefined footwork and poor lateral quickness can get him into trouble against finesse pass-rushers and linebackers coming on delayed blitzes.  Kouandjio gets beat across his face a bit too frequently, as he did here, forcing the quarterback to throw the ball away: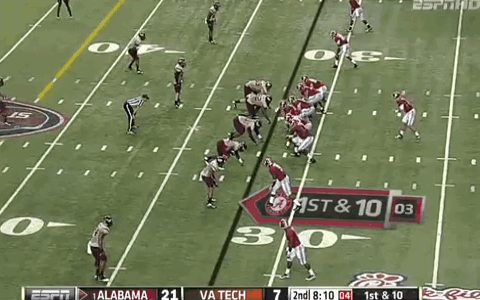 YouTube
Those flaws put him a notch below the early first-rounders like Greg Robinson, Taylor Lewan and Jake Matthews.  Still, according to TeamRankings.com, Carolina ran the ball on 48.2 percent of their offensive plays, fifth-most in the league, and their power-based usage of "21" personnel is conducive to Kouandjio's strengths.
Some Day 2 prospects, like Tennessee's Antonio Richardson and Ohio State's Jack Mewhort, offer the upside to start.  But Carolina needs a rookie capable of starting right away, and it is unlikely they would want to sacrifice the cargo necessary to trade up for one of the elite left tackles.  Thus, Kouandjio seems like a solid first-round fit, even considering the need at receiver.
Secondary

The secondary also stands out as an area needing immediate contributors.  However, Carolina's sterling front seven covers up a lot of warts, an invaluable insurance that makes the secondary less of a pressing concern.
Still, there are multiple holes after the departures of slot corner Captain Munnerlyn and safety Mike Mitchell.  Carolina may also lose veteran corner Drayton Florence, though, per Kent Somers of The Arizona Republic, the Panthers are expected to sign Cardinals corner Antoine Cason to replace Florence.
Nevertheless, Carolina still needs to fill Munnerlyn's slot corner position.  Florida's Jaylen Watkins could be a nice fit for the Panthers' zone-based schemes.  The Gators have a pair of higher-profile corners entering the draft in Marcus Roberson and Loucheiz Purifoy, but Watkins opened eyes at the Senior Bowl practices:
Watkins is a bit bigger than the average slot corner at 5'11" and 194 pounds, but his fluidity in short spaces allowed him to thrive in the slot at Gainesville.  Watkins actually played safety, outside corner and on special teams as well, and such versatility figures to help his cause for playing time as a rookie.
Watkins does not have much bulk, but is willing in run support nonetheless.  Carolina is not a press team, however, which would protect him from needing to re-route receivers and thus expose his biggest flaw.  The Panthers could have Watkins in the third or fourth round, and fill Munnerlyn's void.
Accounting for Mitchell might be trickier.  Mitchell fulfilled a variety of roles for the Panthers, playing both in the box and as a center fielder, though his inconsistency in the latter department often led Carolina to play two-deep coverages.
Second-year strong safety Robert Lester is better suited to play closer towards the line of scrimmage, as is free-agent signing Roman Harper.  Quintin Mikell also left in free agency, and Charles Godfrey is no guarantee to stay on the roster coming off an Achilles injury and with a $7.1 million cap hit. 
While Carolina has replaced one of Mitchell's skill sets, they have not yet found a free safety who can provide blanket coverage over the top.  Florida State's Terrence Brooks represents a mid-round possibility who would fulfill that need.  One of Brooks' greatest strengths is his anticipation in zone coverage, as this interception illustrates his instincts and aggressive anticipation:
YouTube
Those qualities also translate to Brooks in the run game, as his confidence and fearless downhill style makes him a playmaker in run support as well:
YouTube
The downside is that Brooks can be a bit reckless, losing containment in both facets of the game.  The Panthers are unlikely to play much single-high coverage with their secondary personnel, so Brooks could be more of a read-and-react Cover 2 safety providing support, reducing the amount of real estate he would need to cover.
As ESPN.com's Jared Shanker describes, Brooks' stock has been on the rise since a superb combine, where he ran the fastest 40-yard dash time and had the highest vertical jump among safeties.  As such, he's probably more of a third-round pick at this time, rather than the Day 3 selection he was projected as before the combine.
With six picks, one in each of the first six rounds, Carolina does have the ammunition to address some of its needs.  Panthers fans are surely anxious after seeing the Saints unexpectedly bag All-Pro safety Jairus Byrd, as well as Tampa Bay's multitude of impact additions.  But patience is important in the team-building process, and though the early returns have been discouraging, the picture of the 2014 Panthers is far from complete.
*All stats via ProFootballFocus.com (subscription required).