While the Real side of the Spanish capital may now be favourites for another La Liga title, whisper it in the red-and-white part of town: Atletico still firmly believe they can emerge triumphant.
It's going to take a very good side indeed to knock Atletico out of the Champions League, and Real also certainly know that any slip up they might make as they chase the league will probably be jumped on by their ambitious neighbours.
The fact is that Atletico believe they can win every tournament they compete in, and the main reason for that, of course, is the club's fiercely committed manager, Diego Simeone, a lion and a leader as a player and now as a coach.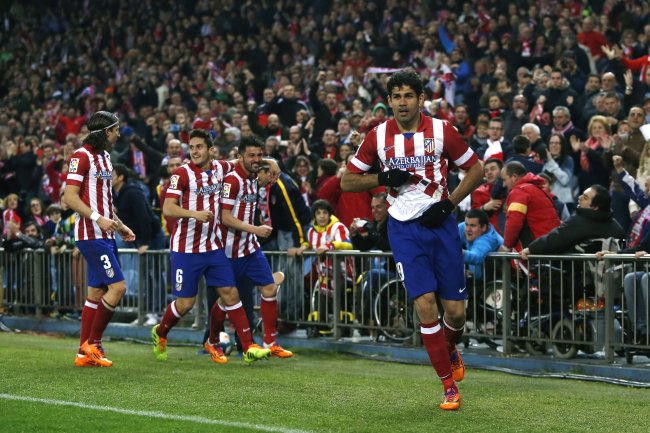 Andres Kudacki/Associated Press
But there are also three key players in his side who make the difference, not least his inspirational captain, Gabi, a player who has been transformed since returning to Atletico following a four-year spell at Zaragoza.
What you need at this stage of the season are strong hearts and minds, and Gabi possesses both in abundance. The yo-yo years with Zaragoza—when the side was relegated before winning back promotion and then hanging onto their status by the skin of their teeth—was where he cultivated his grit and determination.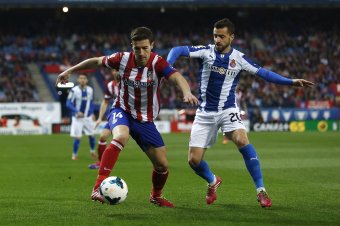 Andres Kudacki/Associated Press
No player in the whole of the Champions League runs more, which is strange for a player who, when he graduated from the Atletico B side into the first team some 10 years ago, looked more like a laid-back attacking midfielder. That is what he wanted to be. But his captaincy at Zaragoza, and the suffering, changed his mentality.
Simeone obviously saw in him what he saw in himself—a leader and an inspiration. When it's all about rolling up your sleeves and keeping a strong mind to combat a tired and battered body, Gabi's your man.
His influence on the club has been significant, and now for the first time he is actually talking about the possibility of Atletico winning the league. Against AC Milan he went across to speak to Simeone to suggest that Raul Garcia would be more effective on the right wing. Simeone agreed, a sure sign that he listens to his captain.
Recently he has been speaking to goalkeeper Thibaut Courtois, who is worried about his future, and like the true captain that he is, has offered him the support he needs.
And speaking of Courtois: He is the second player to make a huge difference to Atletico's progress this season.
The Belgian keeper has been told that Chelsea, who actually own the player, want him next season, which will probably mean two years on the bench for him until his contract runs out in 2016.
Atletico want him to stay another season on loan and Real Madrid have set their sights on him from 2016, although the player himself denies that there is any type of agreement in place between him and Los Blancos to go there.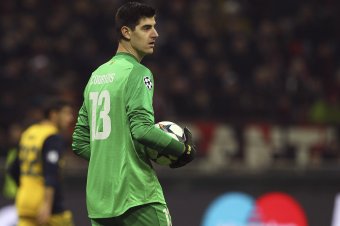 Marco Luzzani/Getty Images
In the meantime he is having another great campaign. I recently spoke to David Villa, who told me that the feeling of confidence within the team emanated early on from the fact that they had such a strong defence and that there was always Courtois in goal to save you if things went wrong.
You always knew, he said, that at some time or another you would score at one end while not conceding at the other and that meant you didn't have to rush things.
And on the subject of scoring, there's the third player to make a difference: Diego Costa.
After a sticky start to the second half of the season, a new-look, slightly more disciplined Costa has once again found his scoring boots, hitting eight goals in the past six games.
Atletico won't try to keep him at the end of the season because they know the millions of Euros he will bring in are needed for the future. But in the meantime he has scored three goals in the past two games, and despite a disappointing display for Spain recently he knows he will be on the plane to Brazil at the end of the season.
Where will Atletico Madrid finish in La Liga?
"[Simeone] has been important not only for me, but the whole group," Costa told Jonathan Fadugba of FourFourTwo last November. "He's changed our way of thinking. He asks us to get into every single game as if it were the last one of our careers, demanding you leave all you can on the pitch, always showing that there's room for growing. It wasn't like this before his arrival."

Costa is also, first and foremost, a player for the big occasion, as he showed recently with his two goals against AC Milan in the Champions League.
With 30 goals already, he is for me, along with Luka Modric, the La Liga player of the season and a more than worthy successor to the last two goal machines at the Vicente Calderon, Radamel Falcao and Diego Forlan.