The 2014 NCAA men's basketball tournament is almost upon us, and the excitement surrounding March Madness has hardcore and casual fans alike rushing to fill out their brackets before it's too late.
Everyone must be wary of the Cinderella teams putting the top-ranked teams on upset alert.
All of the following programs have played well over the course of the regular season and into their respective conference championships, and each will look to play spoiler while making a deep run at a national title.
All Your Bracket Essentials: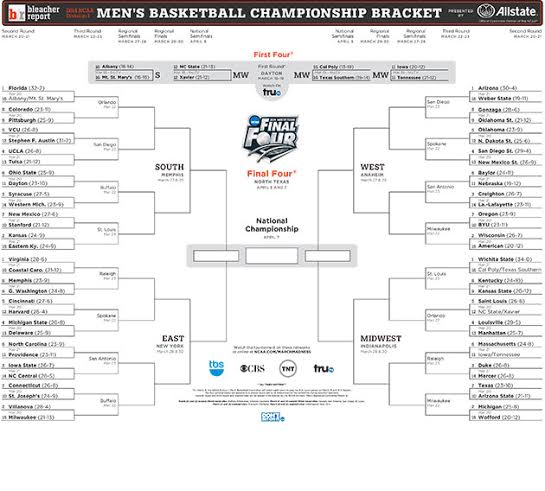 Bleacher Report
George Washington Colonials (24-8, 11-5 Atlantic 10)
The George Washington Colonials were stunned in the semifinals of the Atlantic 10 Conference tournament by VCU, but the No. 9-seeded program still has plenty of heart and tenacity left to make it past No. 8-seeded Memphis in the second round.
Despite the loss in the conference tourney, George Washington has huge victories over VCU, UMass, St. Joseph's, Georgia and Creighton, and has proved that no matchup is too overwhelming for the tough team.
The program has assumed the underdog role all season, and that was on full display before the Colonials' loss to VCU in the A-10 tournament when head coach Mike Lonergan spoke to The Associated Press:
We're a 3 seed, we earned it and it's great, but you know sometimes I feel like a 10 seed. We were picked 10th. I don't feel like we're sitting here like Saint Louis and VCU. We're playing, but I don't feel like we're the favorite.
What makes the program so dangerous is the weapons collected from around the nation. Guard Maurice Creek was formerly at Indiana, and senior shot-blocker Isaiah Armwood is a former Villanova reserve. That big-school experience makes the Colonials a legitimate threat.
Add in the elite play of the entire offensive unit (all starters averaged between 11.3 and 14.5 points per game) and the shutdown defense, and George Washington will roll past Memphis to advance to the third round.
Predicted Second-Round Winner: George Washington
Saint Joseph's Hawks (24-9, 11-5 A 10)
As talented as George Washington has been this season, one of the most dangerous seeds in the entire tournament is the Saint Joseph's Hawks. After winning the Atlantic 10 Conference championship against VCU, the 10th-seeded Hawks have serious momentum heading into the big dance.
The fans aren't the only people excited about St. Joe's in the NCAA tourney, though, as CSN Philly's Neil Hartman is just as pumped:
Yes, looking forward to it "@DaveM_PSL: @NeilHartmanCSN you going to be Traveling to Buffalo with Villanova & Saint Joes in #NCAATournament"

— Neil Hartman (@NeilHartmanCSN) March 17, 2014
While many programs would lean on its previous successes after winning a conference title, head coach Phil Martelli will have his highly efficient team (.468 field-goal percentage) ready for everything No. 7-seeded Connecticut has to offer.
Saint Joseph's won nine of its last 11 games to end the season on the strength of shooting guard Langston Galloway (17.4 points per game). Add in the effective presence of forward Halil Kanacevic (4.4 assists per game) setting up threes all night, and the Hawks will be an offensive force.
Predicted Second-Round Winner: Saint Joseph's
Eastern Kentucky Colonels (24-9, 11-5 OVC)
Many experts were predicting Murray State or Belmont to win the Ohio Valley Conference's automatic bid, but the Eastern Kentucky Colonels shocked the NCAA tournament when they cleaned house and took home the conference title.
Which Cinderella will make the deepest run?
The No. 15-seeded Colonels face a huge test against No. 2-seeded Kansas, but just as Florida Gulf Coast proved last season, it is possible for Eastern Kentucky to make a run. The Jayhawks have lost three of their last five games and are vulnerable right now.
The Colonels must strike while the iron is hot.
While Kansas has struggled, Eastern Kentucky has won 14 of its last 17 games to end the season, and the second-half success has come from the team's efficient offensive play.
Not only does this Colonels team rank 11th in the nation with a .490 field-goal percentage, but the program also ranks 28th with an average of 79 points per game. This should be a fierce battle.
Predicted Second-Round Winner: Eastern Kentucky
*Stats and information via NCAA.com and ESPN.com.