The 2014 NCAA men's basketball tournament schedule has been announced, and the frenzy to fill out brackets has every fan looking to find the upset predictions that will help keep their picks perfect throughout March Madness.
With possible Cinderella teams like Delaware, Mercer and North Dakota State not going out without a fight, the likelihood of several upsets through the first three rounds is something college basketball fans know all too well.
Here are the bracket busters smart NCAA tournament experts and fans alike are watching.
All Your Bracket Essentials: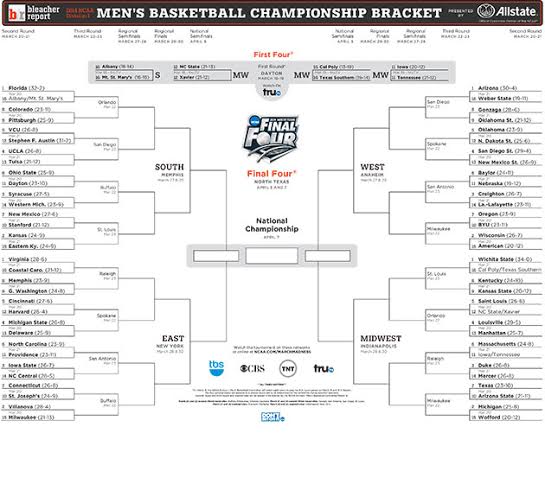 Bleacher Report
Delaware Fightin' Blue Hens (25-9, 14-2 CAA)
The No. 13-seeded Delaware Fightin' Blue Hens may be taking on the vaunted No. 4 Michigan State Spartans in the second round, but the Colonial Athletic Association champions have the firepower and consistency to upset one of the tournament favorites.
Head coach Monte Ross told Kevin Tresolini of The News Journal about his team's second-round matchup:
Like I told the guys, there are going to be no bad teams in this tournament. There are going to be no teams that aren't worthy of being in the tournament. So we were going to get a very, very good team. I didn't think we'd get the winner of the Big Ten Tournament championship. But with Tom Izzo you're getting a Hall-of-Fame coach. You're getting a team that's battle-tested in the NCAA Tournament. But, you know what? That's the beauty of March, that you get an opportunity to play games just like this.
With an average of 79.5 points per game, Delaware will push Michigan State to its limit.
The Spartans lost seven of their last 15 games to end season and haven't looked like the unbeatable powerhouse as they had in years prior. On the other hand, the Blue Hens lost just nine games all season and only two since Jan. 1, going 19-2 during that stretch.
Led by huge center Carl Baptiste (6'9" and 260 pounds) and high-scoring guard Devon Saddler (19.7 points per game), this is the kind of team that can give top programs a fierce matchup and possibly upset their foes.
Predicted Second-Round Winner: Delaware
Mercer Bears (26-8, 14-4 A-Sun)
The Mercer Bears dominated the Atlantic Sun Conference throughout the season and beat last year's Cinderella Florida Gulf Coast Eagles in the conference championship to earn a berth in the NCAA tournament.
Now the No. 14-seeded Mercer goes one-on-one with the No. 3-seeded Duke Blue Devils.
As Seth Davis of CBS Sports explained, this is a very difficult matchup to pick:
I came THISCLOSE to picking Mercer over Duke. That is very dangerous game for the Blue Devils. Bears have legit size for a midmajor.

— Seth Davis (@SethDavisHoops) March 16, 2014
Duke is a perennial powerhouse in college basketball, but a loss in the ACC finals to Virginia and three losses since Feb. 20 have limited the momentum the team could build heading into March Madness.
Mercer has only two losses since Feb. 7 and managed to win the conference title against a tough FGCU opponent. With the scoring talent (25th in the nation with 79.3 points per game) and the efficiency (29th with a .475 field-goal percentage), the Bears have the offensive depth to give the Blue Devils a serious test.
Add in Mercer's ability to rebound—the program ranked 38th with 38 rebound per game—and Duke has officially been placed on upset alert.
Predicted Second-Round Winner: Mercer
North Dakota State Bison (25-6, 12-2 Summit)
The North Dakota State Bison aren't the flashiest team in the tournament, and they won't be the fastest either. What the program does have is incredibly efficient shooters that will not miss the opportunity to make a deep run in the NCAA tournament.
Which Cinderella will make the deepest run?
Led by top scorer Taylor Braun (18.2 points per game), North Dakota State has a starting lineup consisting of three seniors who will be the calming force in the biggest moments. Not only do the Bison rank first in the nation with a field-goal percentage of .509, but they are also 12th in the country in turnovers per game.
The No. 12-seeded North Dakota State will face a tough test against No. 5 Oklahoma, though.
While the Sooners have played well and taken advantage of their weak Big 12 conference schedule, there is just too much controlled tenacity with North Dakota State to lose in the second round.
Predicted Second-Round Winner: North Dakota State
*Stats and information via NCAA.com and ESPN.com.