Tottenham boss Tim Sherwood was defiant in defeat on Sunday afternoon after his side lost the North London derby.
Arsenal triumphed in the game 1-0 after a stunning finish from Tomas Rosicky after just 72 seconds of the match.
The defeat was a double blow for Spurs as it leaves them seven points outside of the Premier League top four, per BBC Sport, and also reinforces Arsenal's title challenge.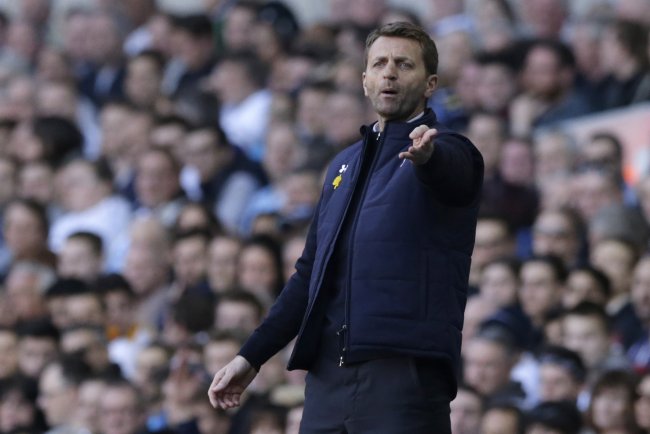 Matt Dunham/Associated Press
The game saw the White Hart Lane hosts dominate for much of the game, close to scoring on a number of occasions. Adrian Kajumba of the Daily Star reports that Sherwood questioned Arsenal's title credentials after the game, saying:
The result for Arsenal will paper over a lot of cracks. They were out-played today. Credit to them, but we out-played them and they're title contenders. We were better than them and anyone who sees that game today knows that we don't deserve to lose that.
Sherwood was involved in another touchline incident during the derby, following his recent altercation with Jorge Jesus of Benfica in the Europa League, per Charles Reynolds of The Independent.
This time he appeared to throw the ball at Arsenal defender Bacary Sagna, igniting some angry words from both parties. Earlier in the match he had thrown his own gilet at the Spurs bench out of disgust at his team's defending.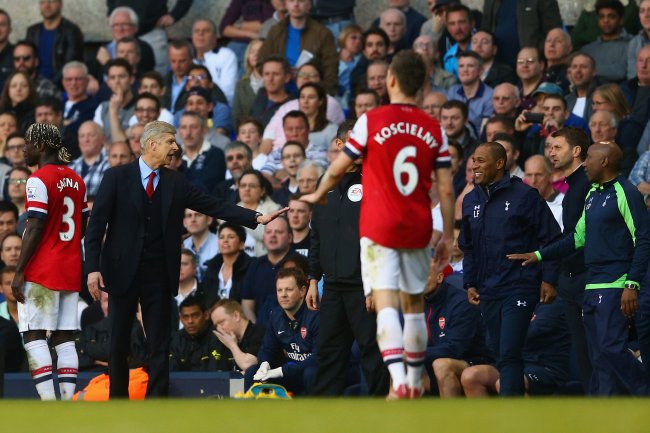 Paul Gilham/Getty Images
Kajumba quoted Sherwood saying of the two incidents: "I can't apologise for it and I can't say it won't ever happen again. I've got to show my emotions. I just want to wear my heart on my sleeve - when I wear them! It was too hot for that gilet anyway."
He played down the Sagna incident though, adding: "No problem, we shook hands and it was the heat of the moment."
Sherwood's lack of control on the touchline appears to be having a destabilising effect on his club as their challenge for Champions League places almost comes to an end. He is systematically hurting his own credibility with regular losses of control in front of the viewing public.

The Telegraph's chief sports writer Paul Hayward described Sherwood in his post-match article as "like an angry Chippendale, Sherwood astonished the Tottenham bench by launching not only his outer garment into space but the word 'gilet' into common usage."
This is surely not the sort of press that Tottenham chairman Daniel Levy wants for his club.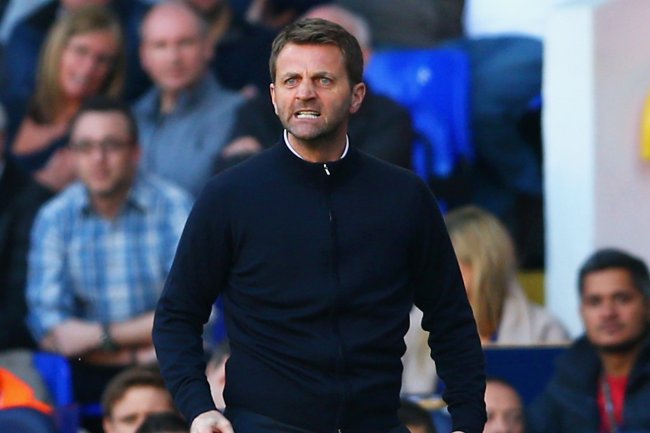 Paul Gilham/Getty Images
It was always questionable whether Sherwood was the right man to take the helm after the dismissal of Andre Villas-Boas, earlier in the season. His lack of big-game managerial experience was always an issue, and his reaction to adversity proves he may not be ready for this kind of responsibility.
Will Tim Sherwood be in charge of Tottenham next season?
Some might muse that Sherwood's approach is refreshing, and that his kind of honesty should be welcomed in a sport that hides behind the biased opinions of club managers. The coach attacked his own players after the recent defeat at Stamford Bridge against Chelsea, as reported by James Riach of The Guardian, saying that he is not their "babysitter."
This kind of rhetoric might make a good story in the press, but it is not the kind of professionalism a club looking to achieve Champions League football needs.
If things continue like this, there is every chance Levy will once again be looking to change his manager, regardless of whether Arsenal were "outplayed" in their 1-0 victory.