Not all NCAA tournament hopefuls get to go dancing.
The selection committee was rough on a few teams this year. As a result, the NIT tournament will feature several quality teams that could dominate the lesser competition of the bracket.
Speaking of the bracket, here's what it looks like, courtesy of ESPNU's official Twitter account:
Here's the 2014 NIT Bracket - SMU, St. John's, Minnesota & FSU #1 seeds pic.twitter.com/kcR8riEQa7

— ESPNU (@ESPNU) March 17, 2014
Now that you know the field, it's important to know about the three teams that will likely make quick work of their opponents. These are the three biggest snubs from the NCAA tournament.
SMU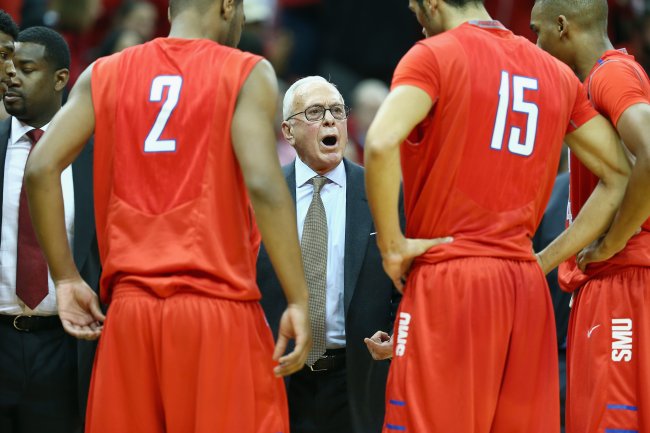 Andy Lyons/Getty Images
When SMU wasn't called as one of the final at-large bids, many were left scratching their heads. CBS Sports provides the explanation as to why they were left out from committee chairman Ron Wellman, via Jeff Eisenberg of Yahoo! Sports:
SMU had an outstanding resume but their non-conference strength of schedule was in the 300s, which is not very good obviously. Their overall strength of schedule was 129. The next lowest strength of schedule in the field is 91, so there was quite a bit of difference between their strength of schedule and the other teams in the field.

It still remained a very difficult decision because when you give them the eye test, they're very good and they're very impressive to the committee. But when you start comparing the team sheets of those teams they were fighting to get into the tournament with, we sided with the other teams and the strength of schedule was a very big factor.
The Mustangs picked up wins against Memphis, UConn and Cincinnati this season, but that apparently wasn't good enough for Wellman and Co. Regardless, the Mustangs will now focus on the NIT tournament.
Brown, SMU snubbed by NCAA tournament http://t.co/GyqULAFBTh via @espncbb

— Andy Katz (@ESPNAndyKatz) March 17, 2014
Head coach Larry Brown will make sure his team is prepared. He won't allow the locker room to wallow in negativity following the snub. Expect SMU to be ready to go from the start of the NIT.
Watch out for sophomore guard Nic Moore. He shot an uncanny 44.7 percent from three this season and was the team's leading scorer with 13.7 per night. He isn't the flashiest of players, but his ability to convert from distance will help the Mustangs pile it on against the competition.
Minnesota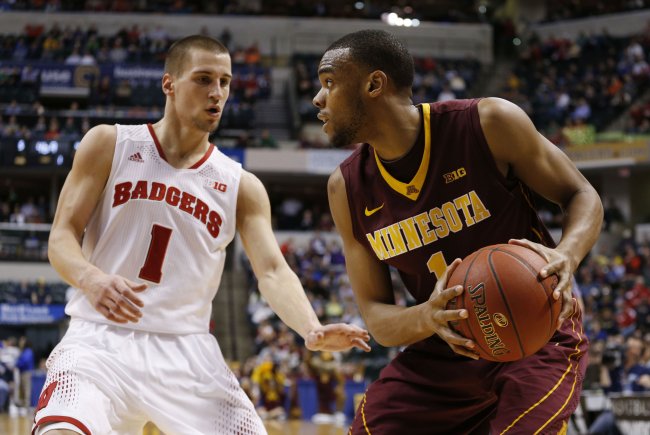 Brian Spurlock-USA TODAY Sports
The Golden Gophers aren't dancing, but they'll certainly skip their way to a very easy victory over High Point when the tournament gets under way. As a No. 1 seed, a lot is expected of Minnesota.
Mi-NIT-sota Golden Gophers.

— John Kriesel (@johnkriesel) March 16, 2014
Minnesota made it to the NIT championship in 2012, falling to Stanford at Madison Square Garden. They're hoping the game against High Point is the first step toward getting back to the Garden.
Tyler Mason of Fox Sports North breaks down what makes Minnesota worthy of a No. 1 seed in the NIT tournament:
Under first-year coach Richard Pitino, the Gophers had several big wins, including beating the Badgers in Minneapolis back on Jan. 22 and a victory over Iowa on Feb. 25. But several close losses in Big Ten play ultimately proved to doom Pitino's team. That includes a 3-point loss to Michigan, a No. 2 seed, to open the Big Ten season.
What likely hurt Minnesota was its loss to Northwestern on Feb. 1. It was easily the most crippling loss of the season for the Golden Gophers. They missed two layup chances in the final seconds and lost by just one.
Despite the heart-wrenching loss to Northwestern, many felt Minnesota was deserving of a bid.
Leading scorer Andre Hollins will look to keep his season alive in order to play at the Garden. The junior got there back in 2012, but he knows that this season is his chance to win. He averaged 14.2 points per game on 39.8 percent shooting this season.
Southern Miss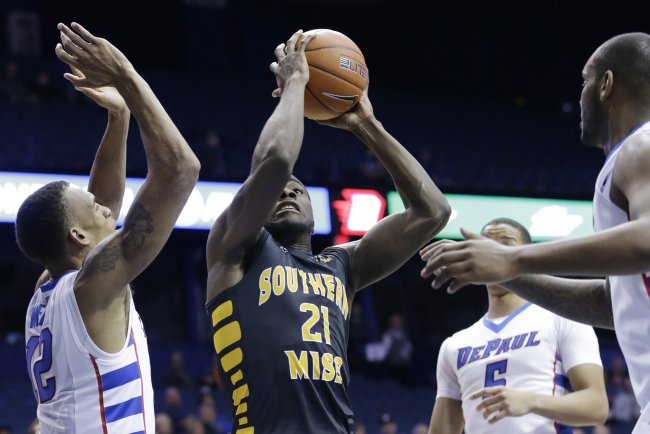 Nam Y. Huh/Associated Press
For the second straight year, Southern Miss was the highest RPI team left out of the NCAA tournament. In the most recent RPI rankings, the team was No. 33, via the Sun Herald (sign-in required).
The Golden Eagles earned a No. 3 seed in the NIT tournament and will face Toledo in the first round. The No. 3 seed is shocking in itself when you consider their high RPI. It might have to do with their strength of schedule, as in their lone contest against a ranked opponent (Louisville), they took a loss.
Southern Miss shut out of NCAA tournament again, will play in NIT: Golden Eagles host Dayton in NIT first round http://t.co/Z65q6ngYlU

— Mobile AL Journal (@mobilealjournal) March 17, 2014
The Conference USA team is very efficient from the field. This will make them a tough draw for any of their opponents in the tournament. They ranked 80th overall in the country with a shooting percentage of 46.1. Leading scorer Michael Craig shot an incredible 59.3 percent from the field.
Against Toledo, the Golden Eagles—led by Craig—will prove that they were deserving of far more recognition after a strong regular season.