Ten Bold Predictions for the Remainder of the Red Sox' Season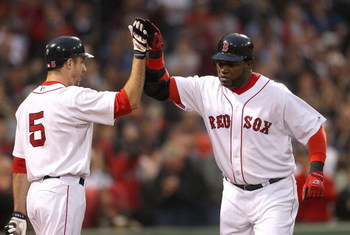 The first half of the 2009 season has introduced the Boston Red Sox to a wide array of surprises both good and bad. It's always important to evaluate a club's progress from opening day, and weigh the pros and cons as the season approaches the All-Star break.
On the mound, relief pitchers Takashi Saito and Ramon Ramirez, with a combined six wins and 2.25 ERA, smoothly incorporated themselves into easily the best bullpen in the game.
Fully-loaded long relief has been crucial, especially on Daisuke Matsuzaka's day in the rotation. Matsuzaka, still suffering from a World Baseball Classic hangover, sports a disastrous 1-4 record with a 7.55 ERA and 2.10 WHIP.
Jason Bay leads the Majors in RBI with 61, Kevin Youkilis has the third best average in the American League, and Jacoby Ellsbury is quite possibly exceeding expectations with a .306 average and 25 steals.
David "Dry Eyes" Ortiz, however, has struggled to hit .200, and 155 players in the league have outperformed his total of 4 home runs.
Maintaining his worth with eight wins, Tim Wakefield started the season as, gasp, the ace of the franchise, until Josh Beckett and Jon Lester returned to form. Still not returned to form, though, are the injured John Smoltz and Jed Lowrie and the day-to-day J.D. Drew and Rocco Baldelli.
Jason Varitek, with 10 homers already, has brought his bat to work this season power-wise. And recovered hip surgery patient Mike Lowell has been a gem offensively and defensively. Julio Lugo, on the other hand, has supplied little to no impact for the majority of the season.
Before slipping into a mind-boggled state, remember the format of the league. MLB teams generally endure roller-coaster-like seasons, because after all, 162 games is a lot of baseball, and seven months is a hefty chunk of the calendar year.
Injuries happen, as do slumps. Hitting streaks also happen, and so do steals of home plate.
Sure, it's possible that the Sox just happened to experience their share of surprises early on. But it's also possible that the proverbial hits will keep on coming, and the club will continue to be tested for resiliency and effectiveness. So far, their glass remains half-full, as they lead the AL race with 38 wins.
Will the glass still be half-full in October, or will it be bone-dry like Papi's peepers? Here are 10 predictions for the rest of the year.
Red Sox Will Send Five to All-Star Game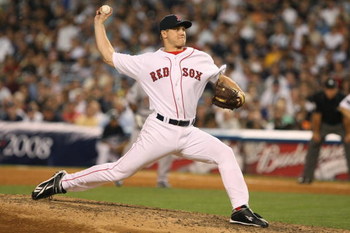 Jason Bay deservedly leads all outfielders in votes for the 2009 Midsummer Classic in St. Louis. Three factors that assisted his campaign have been 1) his huge numbers, 2) Red Sox nation, and 3) the fact that he replaced Manny Ramirez. In Pittsburgh, Bay was a solid player. At Fenway, he is a God.
Kevin Youkilis may have been surpassed since Mark Teixeira's "A-Rod's back!" hot streak; however, Youkilis still has the better average and has had a more consistent year overall.
He also returned from oblique issues quicker than most, assuring manager Terry Francona that nothing could keep Youk from being on the field. Nothing will keep him from Busch Stadium, either, even if Teixeira wins the fans' ballots.
Reigning MVP Dustin Pedroia will also make the cut thanks to the managers' vote, as will Jonathan Papelbon. Both players have exhibited the type of consistency that Boston has come to expect from them.
Here's where the prediction gets sticky: Either Jason Varitek or Mike Lowell have legitimate chances of attaining vote-ins, by either the managers or the infamous "Final Vote," in which the fans cast ballots for the final player on each 32-man roster.
Logic says it will be Varitek, who is having a much better year than his horrendous 2008 season (in which he was an All-Star), but give Lowell a shot. He plays excellent defense, he's hit 10 home runs, he runs out every ground ball (not easy for him), and he is well-liked by everyone in and around the league.
Daisuke Matsuzaka Will Turn it Around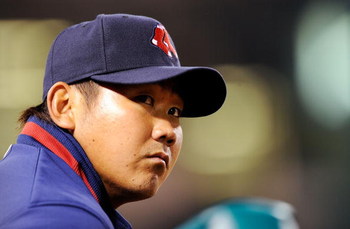 Perhaps the only reason why acclaimed Japanese pitcher Daisuke Matsuzaka's sophomore season hasn't been subject to more scrutiny is David Ortiz. After all, the only news better than a slump is a total breakdown.
Matsuzaka has been bordering breakdown level. Experts speculate his woes can be attributed to his hard-throwing contribution to Team Japan in the World Baseball Classic, which cut out Spring Training from Matsuzaka's schedule. Should he be placed in a mock Spring Training now?
Should the Red Sox consider dealing Matsuzaka? Keep dreaming. GM Theo Epstein paid $51 million just to be able to negotiate with Matsuzaka and agent Scott Boras.
Superagent, er, Boras, would never allow a demotion, a non-lucrative mid-season Spring Training session, or a trade, even if the Sox wanted any of these things.
The fact is, they will not touch him. Francona will ride his struggles out, and cross his fingers. In baseball, fans are quick to replace a year of quality service with two to three months of struggle.
He went 18-3 with a 2.90 ERA last year, finishing fourth in the league in Cy Young voting. He will turn it around, and he will win at least 10 games.
That will have to be enough for the Sox, at this point.
David Ortiz Will See Clearly Now...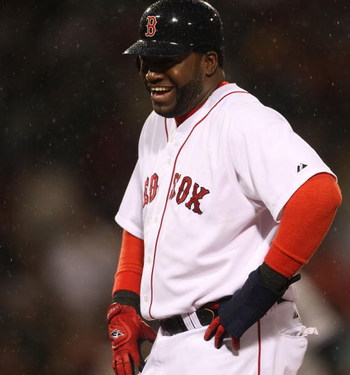 ...and sign a lucrative contract with Visine.
Well, maybe he won't go too well next to Ben Stein and an oversized model of an eyeball, but he will go well next to the 2009 World Series trophy. Ortiz and the Red Sox can't go all the way without each other, so fans should hope that Papi's recent offensive developments indicate that the worst is over.
Chances are, that is the case. Ortiz will take care of "los ojos dry-os" and finish the season batting .260 with 25 home runs. Those numbers won't look great in 10 years, but they'll look much better than .202 with four homers on June 15.
Say it with me, Ben... "WOOOW."
Injury Issues Will Persist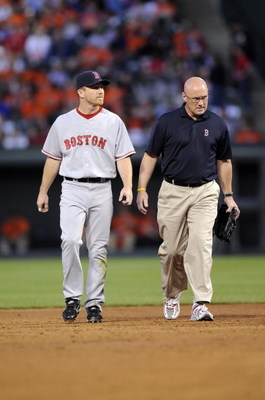 Tim Wakefield, John Smoltz, and Jason Varitek are old. Mike Lowell had hip surgery. Youkilis has an oblique problem. The shortstop position is plagued with injuries. J.D. Drew and Rocco Baldelli often seem like disabled-listers waiting to happen.
It's all realistic, but it's a horrifying set of information for the Fenway Faithful. The brown paper bag for their hyperventilation comes with a stacked rotation and bullpen, a good farm system, and a crafty utility infielder named Nick Green.
Someway, somehow, the Red Sox always find a way.
Brad Penny Will Be Traded for a Bat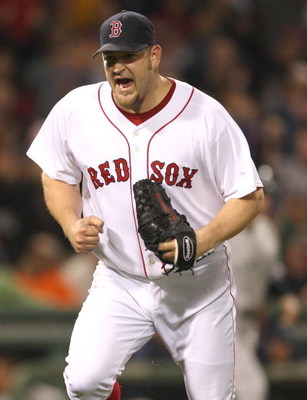 Of all the types of players Theo Epstein would like to bring aboard, power hitter remains atop the list. Of all the types of players the Red Sox can spare, hard-throwing fly-ball pitcher tops the list. Brad Penny, in fact, makes up that list.
With John Smoltz returning, Clay Buchholz and Michael Bowden waiting their turn in the farm system, and Justin Masterson tending the bullpen, the rotation has options.
The aforementioned injury-prone lineup and bench, however, do not, so it would be highly beneficial in the long run to go out and try for a Victor Martinez, Nick Johnson or Adam Dunn, regardless of the thought of sacrificing a pitcher when his stock is on the rise.
Yankees Will be Sox's Greatest Concern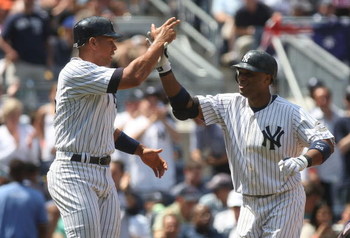 Not to discredit their great start, but forget the Toronto Blue Jays. And nothing against their amazing 2008 run, but don't even concern yourself with the Tampa Bay Rays.
The AL East, in the end, is all about Boston and New York, and the war between them towards September.
Simply put, the Jays and Rays do not match up with the Sox and Yanks on any level-- experience, pitching, timely hitting, or leadership, among others. CC Sabathia vs. Josh Beckett and AJ Burnett vs. Jon Lester will sell more $300 tickets than Roy Halladay vs. Matt Garza would sell for $50.
There's good reason for that. The big picture is overall greatness and competition. The Boston-New York rivalry is, well, unrivaled.
Boston will win 94 games total, riding their aces and the bullpen to five more victories than the Yanks in the end. New York will easily take the Wild Card with 89 wins, but the Sox will stop them in seven in the playoffs.
Josh Beckett Will Win 18
Beckett's won seven so far, and with the exception of his meltdown against the Phillies, he has looked like the real deal in his past few starts.
When he combines his inner drive with his intense focus, and locks in on his out pitches (two-seam fastball and curve), he's arguably the best pitcher in the bigs.
Beckett adding another 11 wins, during a pennant race with the Yankees, his least favorite, isn't that bizarre of a prediction.
Going out on a limb would be predicting he throws a no-hitter. Hmmm....
Jacoby Ellsbury Will Steal Team Record 60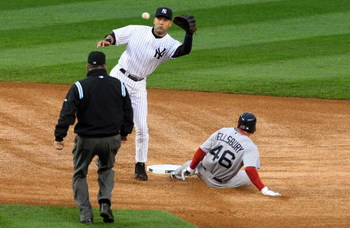 Ready for an understatement? Jacoby Ellsbury is fast.
He can get a double out of a bloop hit to the right fielder. He can get home from first on a single. He can tag up from second on a pop fly to deep center and score. He can steal even when the pitcher turns and catches him in a run-down. He can steal second and then go home when the catcher's throw gets away into the outfield. He can steal home.
Like I said, he's really fast. And he'll get 60 swipes to break Tommy Harper's current record, 54, because he keeps improving with the bat, and he's an obvious threat every time he gets on base.
Boston Will Break Team Record for Most Gold Gloves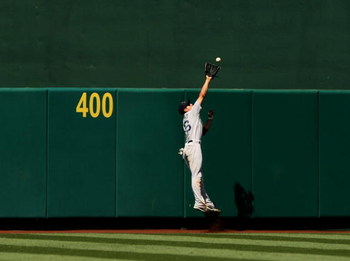 One of the most exciting facets of the Sox season to date has been the tremendous displays on defense.
Whether it's Pedroia ranging to his right and pouncing on a grounder, Lowell stabbing a line-drive in mid-air, Youkilis saving an error by scooping a low-throw, or Ellsbury spanning the distance of the outfield to track down a fly, it's an amazing defensive team.
With Grady Sizemore out in Cleveland, Ellsbury has a real opportunity to be the front-runner for Gold Glove in center field. Lowell and Varitek are always a part of the Gold Glove discussion. Pedroia will win it again for back-to-back awards, and Youkilis will win his second.
Getting bolder, here.
Jason Bay Will Hoist the MVP Trophy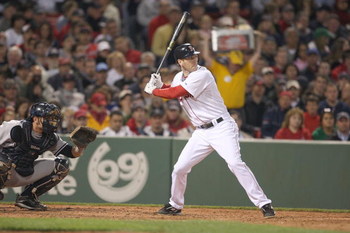 In a tight race with Mark Teixeira, Bay will prevail as the second consecutive Red Sox to win the MVP.
He's a great player who happens to be peaking with a great franchise. And the Green Monster is his best friend on offense and defense. Sure, it will be hard for him to hold Teixeira back, especially the way that balls are flying out of the new Yankee Stadium.
Still, you have to respect the continuous pace Bay is engaged in. He always comes through in the clutch, he's tearing the cover off of the ball, and he drives in runs at any spot in the order. Watch for 40 homers and 125 RBI, because remember, if Ortiz picks it up, Bay simply gets more chances to thrive.
And if he thrives any more, Red Sox nation actually would find themselves saying "Manny who?"
Boston Red Sox Will Win the World Series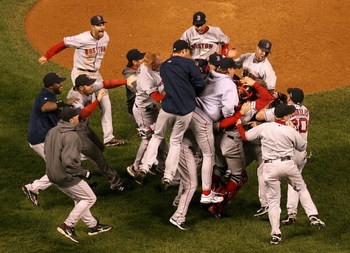 ALDS - Sox over Angels
ALCS - Sox over Yankees
World Series - Sox over Dodgers
The stage is set. The drama will be hyped up. Manny vs. Bay. LA versus Boston (again). The monster returns to his former lair. Maybe he'll even take a piss in the Green Monster again. Who cares?
They'll say that they don't, but Boston cares. They want to get to the World Series and they want Ramirez and the Dodgers to get there as well. Half are still closet Manny fans, the other half want to see him fail without their beloved Sox.
Technically, he already has failed without them—a test for a woman's fertility drug. Compared to that, losing the World Series to your former team and a city of boos is nothing, right?
Wrong. This is Boston. This is where they want it all, and they want to take it all from you if you cross 'em. And they want it to hurt. This is the nation, where they aren't fans, they're citizens. It's not a game, it's life. It's always going to be that way here.
That's the easiest prediction yet.
Keep Reading

Boston Red Sox: Like this team?