On Sunday, March 16, the Nepali cricket team made history when they became the first Associate nation ever to win a game at the World Twenty20, beating Hong Kong by 80 runs at the Shere Bangla National Stadium in Bangladesh.
The victory was a historic one, and not only because it marked the team's first World T20 win or first ever World T20 appearance.
Congratulations to the Nepali cricket team! A win for #Nepal on their debut at T20 World Cup! #ICCT20WC

— DFID Nepal (@DFIDNepal) March 16, 2014
Nepal absolutely dominated Hong Kong, announcing their arrival on the World T20 circuit with an 80-run trashing of a solid team that had recently beaten an ICC Full Member in Zimbabwe.
Wow! Nepal wins against Hongkong so comprehensively. Very well done boys.

— Ramesh Baryal (@rameshbaryal) March 16, 2014
No, this wasn't the first time Nepal beat Hong Kong. Both teams locked horns at the World T20 qualifiers last year, and that victory booked Nepal's ticket to this year's tournament in Bangladesh. But to do it on this stage, in front of this crowd and in such dominant fashion is something else entirely.
The Nepali team must have been nervous about appearing in their very first global ICC tournament, and when Hong Kong's Jamie Atkinson won the toss and decided to let Nepal bat first, the decision seemed logical. Put extra pressure on the newcomers. Make the team sweat.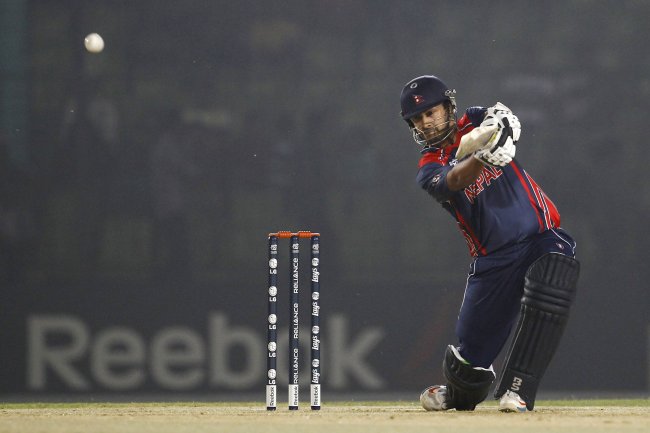 A.M. Ahad/Associated Press
But Nepal answered brilliantly and, led by Paras Khadka and Gyanendra Malla, jumped out to a 149-run lead. It was an impressive performance from an inexperienced group of batsmen, but not nearly as impressive as the way the team's bowlers handled the Hong Kong batting attack when it was their turn to bat.
Basant Regmi and Shakti Gauchan each took three wickets and four overs, and the Nepali bowlers only surrendered 69 total runs to give the team a comfortable 80-run win. No Hong Kong batsman scored more than 20 runs. Four of them didn't score a single run.
It was a truly impressive bowling display, and Twitter noticed:
4 wickets lost by Hong Kong between the 11th and 12th overs bowled by Basant Regmi and Shakti Gauchan. All bowled

— Bishal Bhandari (@VJBishal) March 16, 2014
Good job Nepal Cricket Team... Awesome Bowling. First Win Accomplished, More to come...

— Jitesh Surendren (@JiteshSurendren) March 16, 2014
Nepal's on-field product was everything the team could have hoped for, but that's not the only reason the future of Nepali cricket looks bright. The incredible fan support in the stadium and the enormous amount of congratulatory tweets that came out once history had been made prove one thing: Nepal loves its cricket.
"Tremendous support from Nepal...dancing and singing....they have barely sited on their seats" - commentator #NepVsHkg

— Vivek Bhandari (@vivekbhan) March 16, 2014
Now that's fantastic support our people are showing!! Proud and loud!! #Nepal :))

— #NaruHina (@TraffordGarL) March 16, 2014
The foundation is there, and the sport still has a lot of room to grow. The fact that the nation's debut match on this big stage went so well will only enhance the popularity the sport has gained in the country these past few years.
There is one thing that can unite & excite #Nepal: Cricket. Congratulations to the Nepali cricket team! #ICCT20WC

— Ravi Kumar (@RaviNepal) March 16, 2014
The squad is one of the youngest teams to have travelled to Bangladesh this year, and top players like Khadka (26 years old), Malla (23) and Regmi (27) still have many more years of top-level cricket ahead of them. This team has nowhere to go but up, and the fans know it.
Nepal will face the heavily favoured hosts on Tuesday, and the winner of that match will most likely qualify for the Super 10 group stage that houses only the very best nations of T20 cricket.
Expecting the Nepali team to beat Bangladesh and qualify for the Super 10 would be too much to ask, and even if the team loses on Tuesday, the 2014 World T20 Championship will still go down in history as a major success for the team.
But given the way this team handled Hong Kong in their very first global T20 tournament, you can be sure at least some of the Bangladeshi players will be nervous about facing a squad that very much looks like the real deal.
All statistics used are courtesy of ESPN Cricinfo.